House Clearance Creekmouth IG11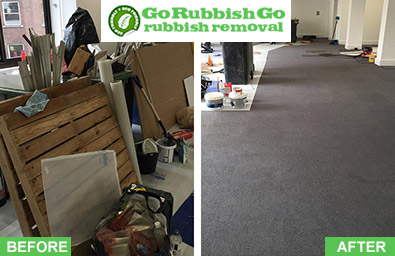 Do you find yourself short of valuable space?
Do you have a lot of clutter and kept items that you no longer need? Do you often find yourself looking to buy new belongings but can't think where you would find the space to put it? Go Rubbish Go are here to help you! With our quality IG11 house clearance services, you too can have your house back with all of the room you desire. You won't find a Creekmouth house clearance team with the level of customer satisfaction in the IG11 area higher than ours! Talk to an experts today on 020 8610 9182 and book your clearance with us!
Hire Cheap House Clearance Services in Creekmouth
No longer do you have to count pennies to save up for clearance services! Our IG11 house clearance prices are so competitive that you don't have to compare any further. We provide some of the best assistance in IG11 and we offer such a wide range of prices, and packages that you are guaranteed to find something that suits your requirements perfectly. We don't hide any costs and don't charge you for anything you don't need so you don't have to worry about any wasted money. You pay based on your individual needs and not a penny more! Clear-outs are now so much easier with our cost-effective Creekmouth house clearance services!
We Make Creekmouth House Clearance IG11 so Simple!
House clearance in IG11 is no light task and not something that many people look forward to. It takes hours of manually sorting, lifting, and clearing to get through everything and then you have to hire a skip or something to remove the waste from your property, which puts you under a time pressure to get it done. Our Creekmouth house clearance company provides a straight forward service for any IG11 home so you don't have any stress regardless of how large the task at hand! We handle everything from start to finish so skip hire and disposal isn't even a concern for you. Get your home cleared with Go Rubbish Go for a hassle free process!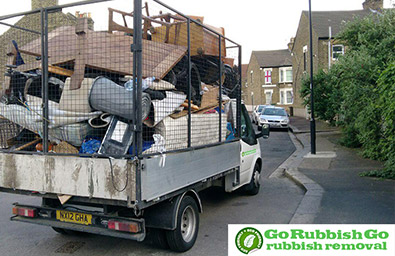 Hire Us for House Clearance in IG11 and Enjoy the Benefits of Having a Clutter-free Home
If you are running out of room to even think, let alone get anything else done, our Creekmouth  house clearance company is here to help you. A clutter-free home not only leaves you will the space to breathe again, but it also opens up so many more opportunities to make changes that you want to your IG11 home that you haven't had the space for before. We can clear junk so a crowed hallway is now an open space! If you're thinking of selling your home, IG11 house clearance is essential for improving the selling price! So call today on 020 8610 9182 and see what we can do for you!
List of services we provide in Creekmouth, IG11:
Household Rubbish Clearance Creekmouth, IG11
Commercial Rubbish Disposal Creekmouth, IG11
Garage Clearance Creekmouth, IG11
Garden Rubbish Removal Creekmouth, IG11
Electronic Waste Collection Creekmouth, IG11
Building Waste Removal Creekmouth, IG11
We Have Years of House Clearance Creekmouth Experience
Over the years, we have built up a solid reputation in the local community as a top Creekmouth  house clearance company. Both as a company and as individuals, we have years of experience in the business and it shows in our work! You don't have to worry about half-effort jobs or lousy and unreliable employees with us when we can provide you with both top quality clearance as well as a fast response time to get what you want done. Homeowners all over the area have been helped in all sorts of IG11 house clearance jobs and we have yet to find a job too tough for us!
We Have Great Deals on House Clearance Services Creekmouth, IG11!
We are well aware that individual customer needs vary dramatically from person to person which is why we have a number of great deals on IG11 house clearance services so you are guaranteed to find something to perfectly suit you! All of our deals are designed around previous demands so they are based around people just like you! No matter what size or what kind of a Creekmouth house clearance service you are looking for, Go Rubbish Go are the perfect company to come and give you the help you need at great prices across the board! Put your feet up and leave the decluttering to us. Get in touch with us on 020 8610 9182 and get a free estimate!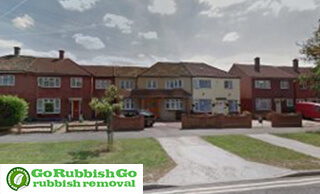 Useful Information about Creekmouth
Creekmouth is situated in East London in the London Borough of Barking and Dagenham and it is one of the largest employment areas in this borough. Creekmouth has a large industrial estate to thank for this, with a range of companies ranging from large to small businesses. As of current, Creekmouth doesn't have any stations however, does have frequent bus services. There is a proposed station, Creekmouth DLR station which is still being preliminarily discussed. There is also a beautiful mural, which was made as part of the Creekmouth heritage project) of the 1878 disaster in which many were killed in.