Waste Disposal London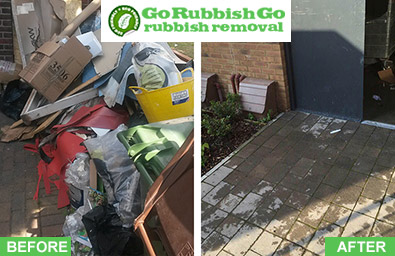 Go Rubbish Go. works incredibly hard to ensure your every need is met when it comes to London waste disposal services.
With a huge team of waste disposal experts on our side, you can't lose when you hire us. Whether it is for your office, restaurant, apartment, shop, or anywhere else, we can be the solution to your waste problems. We can clear it away in next to no time. Just give us a call, tell us when and where, and we will do our very best to ensure it is done. You can rely on us completely for our waste disposal London expertise.
Hire Cheap Waste Disposal Services in London
We are a waste disposal London company committed to satisfying our clients, which is why we do everything in our means to fulfill your every need. Whatever you want, need or require, just let us know on the phone and we will make sure it happens. Our goal, as a company in London, is to make sure our customers are always 100% satisfied with our services and if you are not, we want to know about it. We can find solutions for any of your London waste disposal issues. Just get in touch now for a free quote on 020 8610 9182!
We Work Hard to Meet Your Waste Disposal Needs – Book Now Our London Company!
Waste can come in many different forms. Maybe its garden waste, building waste, or whatever else, the most important thing is that you hire a professional waste disposal company in London that you can put your full trust in to do the job properly. It makes no sense to keep putting up with rubbish all around you when we are literally one single phone call away. So if you need waste disposal in London, we are right here and we are not going anywhere.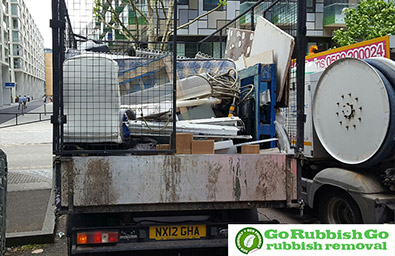 Waste Disposal Can Be Fun, Check Our Experts in London!
You can make up your excuses for why you are choosing not to hire an expert company but when it comes down to it, you know you are far better off hiring a professional London waste disposal company than you are trying to attempt a DIY waste clearance, which normally never goes to plan. It is much safer to hire experts in London like ourselves to do the job properly. With our expertise, experience, and enthusiasm – and top of the range equipment – we can make a far better job of it and it won't have to cost you the earth either.
Get Waste Disposal Services at the Most Budget-friendly Prices across London!
You should definitely hire Go Rubbish Go. if you need professional waste disposal London services. Whatever rubbish you have lying around you, the important thing to remember is that it must be disposed. You can do it yourself but let us look at the down sides to this method. For the most cost-effective waste disposal in London, call us now and book a date on 020 8610 9182. We are here to offer support and help. You will additionally receive a free quote. And with us, there is no such thing as added fees. Ours is a fixed fee.
We Can Satisfy All Your Waste Disposal Needs in London!
First of all, you will drain your time and spend hours because you don't have much experience in handling waste disposal in London. Another negative side to the DIY is that you could end up causing yourself a bigger problem, meaning more costs, if you do not know what you are doing. It is always risky when it is a first time doing something. Instead, hire us and we won't let you down for a minute. Find out more by calling us now on 020 8610 9182 and we're happy to help you!