Rubbish Removal London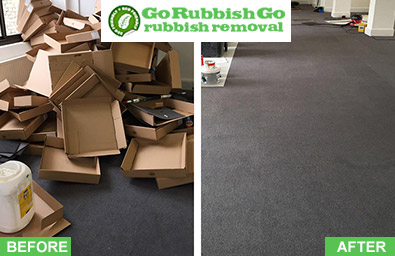 Are you fed up of having piles of waste all around your house?
Or maybe it is around your commercial property. Whether it is your home or office that needs a rubbish removal London service, it doesn't matter, we can help you. Here at Go Rubbish Go., we pride ourselves in being one of the greatest companies around for first class London rubbish removal services. So if you have just had a house renovation or an office renovation and now all that's left is waste, you should think about making the most out of our London rubbish removal service.
Hire Cheap Rubbish Removal Services in London
We have a team of experts that will handle it all for you and we can assure you that they will make a truly terrific job of it. You can count on them for amazing services in London. So why don't you call us today on 020 8610 9182 to book a date. Without a doubt, it is a timely task, which is why we suggest considering using a professional London rubbish removal company like ourselves. There are a number of reasons why using this company is the best option for you. Of course, one of the main reasons is that you will save stacks and stacks of time. Another advantage is that you will have a team of experts on your side all over London. And there are many more benefits to look forward to…
Hire Us and You'll See Why We're the Best Rubbish Removal Company in London
Are you desperate to find a decent rubbish removal London service at an inexpensive price? If so, we recommend ourselves! It sounds funny but we are telling you the honest truth when you say that we are the best and most professional companies around London. Finding a decent company for rubbish removal in London is a challenge as it is. However, we can promise you that when you hire us, you will not be disappointed for a second. You are more than likely to be more than happy.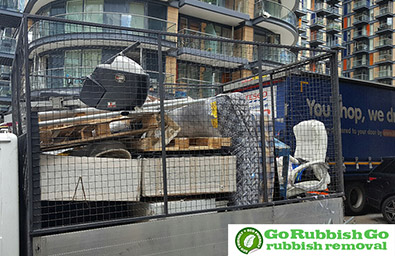 Rubbish Removal Problems in London? We Have The Answer!
There are numerous reasons why you could be left with stacks of rubbish in your home or office. We recommend hiring us because we are one of the most reliable rubbish removal London companies around with, indeed, one of the best reputations around. For rubbish collection, you can count on us 100% and you are bound to be happy with our rubbish removal London services. We are dedicated to ensuring everything goes well so there are no problems before, during, or after the rubbish collection process.
Make Your Home Shiningly Clean by Hiring Our London Rubbish Removal Company
Go Rubbish Go. boasts an amazing team of London rubbish removal workers. Each and every one of them has been trained and they all have so much experience, so you can trust them to provide you with excellent services at all times. It is hard to believe but moving your rubbish is a hard and skillful job.  If you want to know more about our rubbish removal in London, just call 020 8610 9182 and you'd be more than delighted with our price list.
For Every Rubbish Removal Issue in London We Are the Company to Call
Unless you have the skill, the time, the patience and the right tools to do it, it would be a wise idea to get the professionals in. If not, you are going to have a hard challenge on your hands and you may just ending up causing yourself paying out more money for rubbish removal in London. It is much easier to book a date with us now by calling 020 8610 9182 and we promise you will not be disappointed. So get in touch now and get a free quote! You certainly will have no regrets hiring us – we're the best rubbish removal company in London!