House Clearance Chinatown W1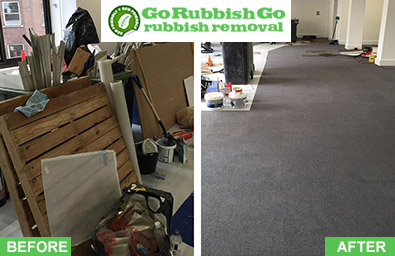 Is your home currently feeling cluttered with things you no longer need? Are you searching for a friendly, helping hand to clear out your home?
If a house clearance W1 is what you need, Go Rubbish Go offers cheap and reliable services in Chinatown W1 which will free your home from any unwanted items. Our company has been an upstanding service throughout many communities for the past 10 years, so if it is trust and professionalism which you demand, we will be more than happy to supply you with it. If you feel that we could solve your problems, don't hesitate to contact us! Call us on 020 8610 9182 to find out more about our Chinatown W1 house clearance services and to book your appointment today.
Hire Cheap House Clearance Services in Chinatown
Perhaps you feel that you cannot afford our services or that maybe there are cheaper companies who can deliver better work in Chinatown at a better price to suit your budget? Go Rubbish Go takes extra care in providing affordable house clearance prices. We believe that our services can provide for everyone, regardless of price. We provide numerous deals which we are confident will suit your budget. Not only this, but we will only charge for the items which are removed, meaning you are given total freedom when paying for what you want removed. Call 020 8610 9182 to receive a quote on your W1house clearance Chinatown.
Providing Professional House Clearance Quality in Chinatown W1
If you are unsure about and you demand proof of our professionalism, look no further! Our workers undergo thorough background checks and training to ensure that they are the best in the business. Not only that, but our workers are furthermore equipped with the best tools and vehicles to ensure that your house clearance in the W1 area is efficient. Our team are there to carry out any of your requests, to dispose of any waste, all with utmost professionalism. We are proud of our selected workers, and it has taken more than a decade of our quality and care to bring you the best service. Book a house clearance Chinatown now on 020 8610 9182!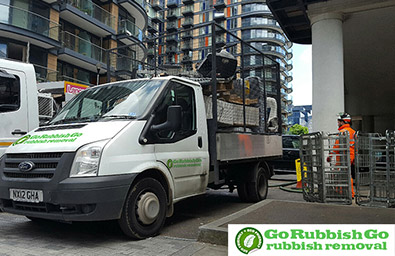 Why You Should Hire Our House Clearance Services in Chinatown Today
With our Chinatown house clearance services, you can finally look around your home again with the same love and pride which you once had. After getting rid of all the useless junk within your W1 home, you can now take pride in your space again and recommence with a fresh start. There will finally be more space for the hobbies which you love, or for the kids to play and run around in, or simply more space to decorate and to fill your home with brand new furniture. Ultimately, with our house clearance, you can reboot your home and importantly your lifestyle. A happy home creates a happier life! Call today on 020 8610 9182!
List of services we provide in Chinatown, W1:
Household Rubbish Clearance Chinatown, W1
Commercial Rubbish Disposal Chinatown, W1
Garage Clearance Chinatown, W1
Garden Rubbish Removal Chinatown, W1
Electronic Waste Collection Chinatown, W1
Building Waste Removal Chinatown, W1
How Our House Clearances Manage To Help the Environment In W1 and Other Areas
We always have the state and care of the environment in mind. Each of our house clearances in Chinatown, W1 is designed to suit the needs of the environment. Around 85% of the discarded junk is given to legal recycling centres and thus given back to the environment. Furthermore, our vehicles are ozone-friendly, and we carefully select the shortest possible routes to your home in the Chinatown area to ensure that we use a little fuel as possible on our journey. If the protection of the environment is within your better interests, booking a W1 house clearance with our company will not only provide you with professional care and quality, but it will also serve the environment.
We Are Always Available for A House Clearance In Chinatown and Other Deals
Another testimony to our top quality and our expertise are our emergency services. When called upon, we can deliver same-day Chinatown house clearance W1 and even at weekends! With this, you need not worry about us being unavailable for house clearance – we are perfectly willing to do our job on holidays, evenings and weekends. Your busy schedule should not be fitted around our hours, but vice versa. We are here to fit our hours around your schedule! You can get professional assistance on the very day you need it at an affordable price so don't hesitate to call us, regardless of your busy day!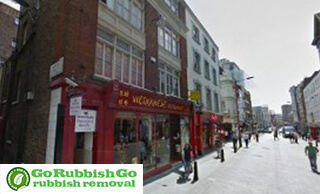 Information On Chinatown Worth Knowing
Chinatown is an area part of the City of Westminster. The present Chinatown area in London began in the 1970s. It is situated just off Shaftesbury Avenue and holds a high number of restaurants and retail, all of which representing the customs of the Asian continent. The area also has some typical Western customs, such as jazz clubs, music revenues and bustling markets. Throughout the past few decades, many notable persons have visited and lived in the area, such as writers John Dryden, Edmund Burke and Samuel Johnson, director Michael Powell, and rock band, Led Zeppelin. The London Underground stations which are available for this area are Piccadilly Circus and Leicester Square.