House Clearance Brent NW1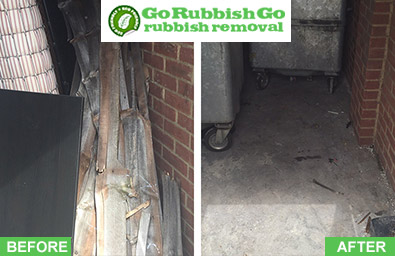 Collecting useless objects for years is something that everyone does, but not everyone takes care of the piles of rubbish and scrap objects.
Brent house clearance NW1 should take place at least once a year, but if you keep hoarding useless objects in the basement or garage for a long time, it should take place more often. The crews of Go Rubbish Go are experts in this dirty job and the best thing is that we do it professionally. We can start your house clearance in Brent, NW1 as soon as you call us on 020 8610 9182. Don't waste your time wondering where to start from or whether you can handle it all by yourself. Instead, call us and tell us your expectations. We will help with advice and a free consultation, and we can get started on the same day.
Hire Cheap House Clearance Services in Brent
Our services also come at the lowest prices, so this will be the best option that will fit within your budget. Although our Brent house clearance services are cheap, the quality is always very high. Our crew arrives on time and the men will remove all the rubbish from your house, all according to your requirements. We do nothing less or more. Add the biggest discounts in the area for regular clients and you will get a better idea of how you'll save money with our NW1 house clearance services. There is no need to buy special tools or heavy-duty bags and boxes, because we have those too, as well as specialized pick-up vehicles and a number of other complementary services.
Do You Know what Makes Us the Best Brent House Clearance Company?
The professionalism of our men sits high on the list of benefits we offer. It is the key to a flawlessly de-cluttered and more visually pleasing house. With dozens of combined years of experience, our men have developed skills that allow them to assess and get the job done quickly and efficiently. House clearance NW1 is much easier with Go Rubbish Go. Our range of special tools and professional equipment is another one of our unrivalled advantages. Getting through narrow stairs, handling big bulky objects through dark basements, de-cluttering dozens of piles of junk and other difficult tasks are a big, and yet only one part of our Brent house clearance services. We have the right equipment such as ladders, torches, ropes and handling materials to deal with all the different cases.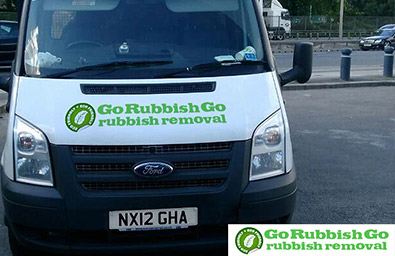 We Offer Special House Clearance Services to Clear the Junk from Every Corner in Your NW1 House
A number of strange places in the house cannot be reached easily. That's why we have special skills and know how to make everything look easier. Our Brent house clearance services include clearing sheds and garages clearance, as well as basements, cellars and lofts– we can de-clutter just about every space in your house. Recycling as a way to reduce the landfill dumping of waste is another modern method and we offer it too. We can propose reuse some of the useless objects that are still in a good condition, and thus reduce the depletion of raw material resources. This is only a hint of our NW1 house clearance services and you can always find exactly what you are looking for by talking to an expert on 020 8610 9182.
List of services we provide in Brent, NW1:
Household Rubbish Clearance Brent, NW1
Commercial Rubbish Disposal Brent, NW1
Garage Clearance Brent, NW1
Garden Rubbish Removal Brent, NW1
Electronic Waste Collection Brent, NW1
Building Waste Removal Brent, NW1
Our Crew Takes Care of Your NW1 House Clearance As Well As the Environment
Apart from being a meticulous team that will provide the best house clearance NW1 service, our men don't forget to take care of nature and public safety either. Throwing big, hazardous or commercial rubbish in the bin is often not appropriate, but we have the right solutions for such objects. Our pick-up vehicles have a low carbon footprint and are fully fuel-efficient, which is very important for the densely populated Brent area. Our recycling program itself is the "greenest" way to get rid of rubbish or at least to reduce its volume. Most of the waste objects can be recycled, but not everything. This journey requires special care in sorting the rubbish by type. Our Brent house clearance crews can deal with it in no time, because they are experienced and very skilled in this task.
Make Your House Clearance Booking Now - Your House in Brent Will Appreciate It
This is the best moment to make your house tidy and spacious again! Now you don't have to spend a whole weekend in sorting and de-cluttering everything from the basement to the garage and your outdoor area. Not when there is a much easier way to go about the task at hand. Do only the easy parts of the job and leave the difficult ones to the professionals. Book your professional house clearance Brent on 020 8610 9182 and we can immediately deal with the collection and disposal of your rubbish. This is the best moment to get the biggest seasonal discounts and to make the house clearance NW1 even cheaper. Call us and enjoy the benefits of a clutter-free house on the same day!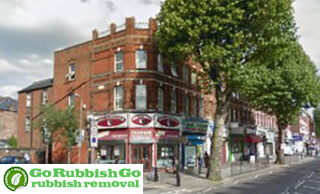 Explore the Delights of Brent
The London Borough of Brent is situated in the north-western part of the capital and its major districts include Willesden, Harlesden, Kilburn and Wembley. There are 21 Electoral Wards in the borough and it includes 3 parliamentary constituencies, namely Hampstead and Kilburn, Brent North and Brent Central. Many major landmarks can be found here, such as the Wembley Arena and the Wembley Stadium, which hosts the home games of the English national football team. Other interesting places in Brent include the Jubilee clock in Harlesden, erected in 1888 in commemoration of the Golden Jubilee of Queen Victoria; BAPS Shri Swaminarayan Mandir, also called Neasden Temple; and the Grade II listed Brent Town Hall. The Borough of Brent has a twin town in Ireland – South Dublin.