House Clearance Bromley BR1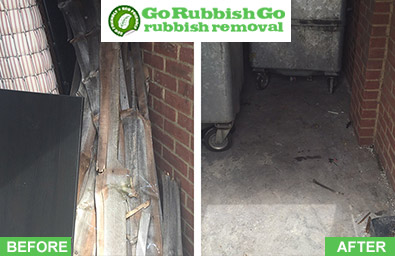 If you're after house clearance in Bromley and are looking for a local company to provide you with a solution, you're in luck, because Go Rubbish Go are in the vicinity of BR1 and will come to your aid whenever and wherever to provide you with some expert assistance.
So if you've got junk cluttering up your property in Bromley, there's no need to continue turning a blind eye to it, pretending that it doesn't exist and that it will vanish into thin air. Hire a clearance service from us and it won't vanish into thin air, but we'll remove every trace of rubbish from your property and will dispose of it in the appropriate manner. Call our team on 020 8610 9182 and get your house clearance Bromley, BR1 needs sorted today.
Hire cheap house clearance services in Bromley
Enquire about our BR1 house clearance Bromley service, have a free consultation with our friendly and knowledgeable staff, and you'll soon learn that house clearance doesn't always have to come at premium rates. We're sure you'll marvel at our prices when you receive your free estimate, and will subsequently book a service for your house in Bromley right away. When you do, you'll certainly get value for money. Our services provide all-round excellent value – the cost-effective and financially smart decision to getting your needs seen to, from the best company in BR1. We can assure you that cheap, reasonable prices don't signal disaster in terms of quality of service – give Go Rubbish Go a call on 020 8610 9182 and you'll soon see for yourself.
Why we stand apart as the best house clearance company in Bromley
We're now an established house clearance company in Bromley and have built a strong reputation for ourselves in the BR1 area, simply because our customer service is on point, and our overall standard of Bromley, BR1 house clearance service is top-notch. We understand that everyone who books a house clearance service in BR1 from our team has different needs; you may think rubbish is rubbish, which it is, but some require us to remove boxes of junk, whereas others need a hand getting rid of large items of furniture. Everyone who calls our company has different requirements, but we pay attention to the details and can remove anything and everything you want. With customer satisfaction guaranteed, calling us is a no-brainer.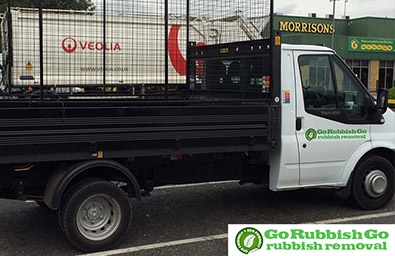 House clearance in a jiffy – same-day service available for our Bromley-based customers
If you need house clearance in Bromley, call our team and we'll come to your aid. You can book a house clearance service to clear the junk from your property at a time that suits your schedule. Alternatively, if you're fed up with walking around your house and seeing cupboards bursting to the brim with household junk, your spare room overflowing with unwanted items or that old piece of furniture you want to replace – why wait? Don't put up with it for a moment longer, and get your junk issues rectified that very same day. We offer same-day BR2 house clearance services, and to those in BR1 in urgent need of some help – contact us and we'll get everything sorted in a jiffy.
List of services we provide in Bromley, BR1:
Household Rubbish Clearance Bromley, BR1
Commercial Rubbish Disposal Bromley, BR1
Garage Clearance Bromley, BR1
Garden Rubbish Removal Bromley, BR1
Electronic Waste Collection Bromley, BR1
Building Waste Removal Bromley, BR1
How our Bromley house clearance service can benefit your property in BR1
A clean and rubbish-free domestic environment equates to a happy home life and domestic bliss – something we're sure everyone living in your household wants to experience. Hire a Bromley house clearance service and you'll soon begin to revel in your new-found space and start making proper use of your home in BR2. Not only will freeing up clutter and junk provide you with a lot more house, it will also just improve the overall scheme of things in your property. No junk means no clutter which means there're less cleanliness issues to contend with – an overall improvement in your domestic life. To reap the benefits of hiring a Bromley house clearance BR1 service for your property in, give us a call today.
Special prices and offers galore with our house clearance services in BR1
Depending on the scale of the job at hand, what type of items you need clearing and the amount that needs to be taken away for disposal in Bromley, you can see fees cut and may be able to save yourself a nice little bit of money. House clearance in BR1 can be pricy, but pick the right company and it doesn't have to be. Our prices are very reasonable to begin with, but we want to make the experience even better for our customers from a financial point of view. To enquire about offers and discounts, you'll first have to give us a call on 020 8610 9182 and have a friendly chat with our staff during a no-obligation discussion.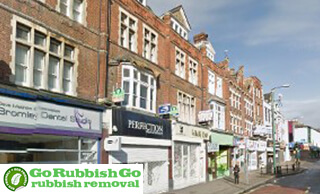 A Sneak Peek at Bromley and Its Attractions
Bromley is home to the administration of the Borough of Bromley, South East London and it is a big London suburb with about 72,000 residents. The area is close to Hayes, Plaistow, Beckenham, Chislehurst and Bromley Common, among other districts. Many theatres can be found here, like the Bromley Little Theatre and the prominent Churchill Theatre, and the latter's building also houses a library. Bromley also has its very own team of Morris Dancers, The Ravensbourne Morris Men, who play a role in preserving local traditions. St Peter and St Paul Church is one of the notable local landmarks and Bromley College is another historic building worth a visit. The famous writer Herbert George Wells was born here in 1866.