House Clearance Canary Wharf E14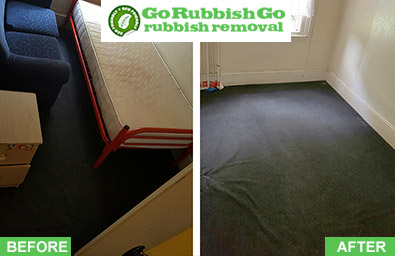 Have you accumulated a load of junk in your property in E14 and have finally made the decision to do something about it?
Perhaps you're getting some new furniture in and are going through an 'out with the old, in with the new' type of situation. Regardless of the specifics around your job in Canary Wharf, Go Rubbish Go will be able to help. We have Canary Wharf, E14 house clearance services that can cater for all your rubbish-related needs. Call us and struggling on by yourself, packing everything into the car and transporting it all to the local disposal site will be a thing of the past. We'll take care of absolutely everything when it comes to E14 house clearance Canary Wharf so you won't have to lift a finger.
Hire cheap house clearance services in Canary Wharf
Cheap, cheerful but also mightily efficient and professional – these are the terms many people in Canary Wharf use to describe our house clearance services! We're sure you will too, because not only do we provide top-notch Canary Wharf house clearance E14 services that are rated highly in terms of quality, but our house clearance services are also cheap – very cheap and reasonably priced. Book with Go Rubbish Go and you will not regret it! But we don't want to toot our own horn, so if you're in need, why not give our services a try and see for yourself? We're a local company that are here for you, so get in touch with us today on 020 8610 9182, enquire about our services and find out about our prices during a free consultation.
Rely on our house clearance team in E14
If you're in need of professional help and are based within the E14 area, utilise our local house clearance services and we guarantee that you'll be storing our details in your contact list for future use. That's because we're the premier house clearance E14 company in Canary Wharf, catering to the needs of those living in the local area, helping to keep E1 homes clean, tidy and importantly, rubbish-free. Our experts have a vast amount of experience in this industry and have encountered everything from large items of furniture to smaller boxes filled with weird and wonderful junk. Nothing to date has posed us any problems. Whatever you need throwing away, we are the team to hire, the team you should rely upon to provide a hassle-free service.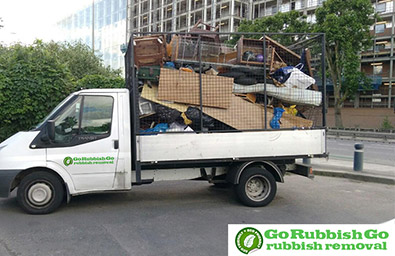 Same-day services in E14 for a hassle-free house clearance in Canary Wharf
Everything we do is geared towards ensuring you get a stress-free experience when it comes to Canary Wharf house clearance. We are well aware that without the right house clearance company on board, the process can be a stressful undertaking, which is why our experts operate in the E14 vicinity with the aim of alleviating your stress levels should you need us. That's also why we offer flexible services, services that can be booked whenever and hired whenever for jobs in Canary Wharf. When that spark's lit in your head and you realise you want to do something about the junk in your house, we don't want you to delay putting your ideas into action for another day; that's why we also offer a same-day service.
List of services we provide in Canary Wharf, E14:
Household Rubbish Clearance Canary Wharf, E14
Commercial Rubbish Disposal Canary Wharf, E14
Garage Clearance Canary Wharf, E14
Garden Rubbish Removal Canary Wharf, E14
Electronic Waste Collection Canary Wharf, E14
Building Waste Removal Canary Wharf, E14
House clearance services in Canary Wharf E14 that won't harm the environment
The environmental impact of chucking waste into landfill is getting bigger and more serious every year. Despite these issues, many house clearance companies in E14 – and the industry as a whole – continue to transport their collections to local landfill sites, and just chuck everything straight into the ground without taking the time to sort through items and choose alterative disposal methods. These kinds of E14 house clearance practices are certainly easier, reduce time, but do nothing to reduce the environmental impact of dumping waste. That's why we recycle and take as many items from Canary Wharf to recycling plants as possible – every little bit helps! To discover more about our recycling practices, contact us today on 020 8610 9182 and join us in carrying out clearances the right way.
Our company's ethos when it comes to house clearance in E14
Our company's ethos – professionalism, efficiency and integrity – when it comes to delivering house clearance in Canary Wharf, is engrained into each and every member of our workforce, which has contributed to our success in E1 in recent years. Locals know that we're the team to call when the need arises for a house clearance Canary Wharf, E14 service, because we're an established local company and can be trusted to carry out professional clearance services in households in the local area. It's a testimony to our entire workforce that we're still the number one company in E14. If your property's in need of a good clear-out, call the best team around on 020 8610 9182 and let us come to your aid.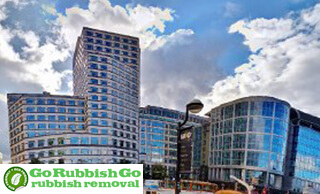 Come to One of London's Financial Hubs – Canary Wharf
Canary Wharf is a district in East London, in the Borough of Tower Hamlets that is most famous as being home to a significant part of the capital's financial institutions and many large corporations. Situated on the Isle of Dogs and part of the West Indian Docks, in the 19th and the first half of the 20th century Canary Wharf was among the world's busiest docks. However, by 1980s all docks had been closed and the government decided to stimulate redeveloping the area into a business district. Today, there are over 1.5 million square meters of retail and office space in Canary Wharf and some of the highest buildings in the capital can be found here too, like One Canada Square, which is second in height in London after The Shard. The DLR has services to the London City Airport and the Jubilee Line Extension serves the area too.