House Clearance Catford SE6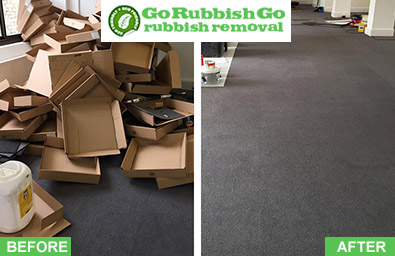 Welcome to Go Rubbish Go, your one-stop shop for everything to do with house clearance in Catford.
Whether you're just having a clear-out, want to free up some extra space or just have some junk you want removed from a spare room, we'll be able to help and can cater to the Catford house clearance needs of anyone living in SE6. Our crews of expert house clearance professionals can remove pretty much anything that you want from your property, and will do so in a quick and efficient manner, leaving you to figure out how to make better use of your newfound space. Whatever type of service you need, we'll accommodate all of your requirements. To get started contact us today on 020 8610 9182!
Hire cheap house clearance services in Catford
At Go Rubbish Go we provide house clearance Catford services to make things easier for you when getting rid of rubbish – for your convenience. That means providing top class house clearance Catford, SE26 services that can be tailored based on your specific requirements, but it also means providing such services at low prices – costs that can be paid by people in SE6, without the service putting a major dent on your finances. We want locals to come to us and seek our help and expertise when in need of a clearance service, not be put off by steep rates. That's ultimately why our pricing strategy is the way it is and we've devised such a price-service combination. To make full use of this combination, call us on 020 8610 9182 today.
House clearance services in SE6 – the best in the business
Our team and company as a whole differ from other Catford house clearance SE6 companies  on so many levels. One of the main differences that sets our company apart from the rest is the skillset our workers possess. Our staff are extensively trained in every aspect of Catford, SE6 house clearance. They will come to your property in SE6 equipped with the knowledge and expertise required to provide you with a hassle-free service – which is what we're sure is exactly what you're after. As a company we also have years of experience operating in the industry, in and around the local area of Catford, so locals know that we're the team to call to take care of their clearance jobs.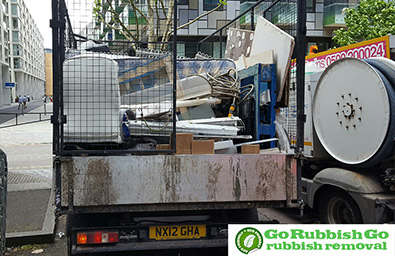 In need of an urgent house clearance service? Same-day services are available in Catford
Everything we do here, from our prices to the level of service, is geared towards delivering a hassle free and comprehensive service. That's also why you'll be able to hire our house clearance Catford services in SE26 whenever you're in need – services that can be hired at your convenience. There are no rigid time slots we have to abide by, so you'll be able to get the SE6 house clearance Catford you want, when you want. This means that if you feel your property is in urgent need of a clear-out, you'll be able to get everything sorted that very same day. For a same-day service or to book our services for another day, call anytime on 020 8610 9182.
List of services we provide in Catford, SE6:
Household Rubbish Clearance Catford, SE6
Commercial Rubbish Disposal Catford, SE6
Garage Clearance Catford, SE6
Garden Rubbish Removal Catford, SE6
Electronic Waste Collection Catford, SE6
Building Waste Removal Catford, SE6
Hassle-free house clearance in Catford SE6 for your peace of mind
Having a house filled with rubbish and living amongst a load of junk, can be stressful, but sometimes, getting rid of all your unwanted items can prove to be even more infuriating. Deciding how to go about it is stressful enough as it is. Doing it all yourself, hiring a skip or phoning the first SE6 house clearance company you come across – all of these are fraught with potential dangers. You want a house clearance team you trust, that has some pedigree in the industry. Ask around Catford and we guarantee that you'll keep hearing our name cropping up in conversation. It's all about you at our company, all about ensuring you enjoy a smooth experience. Get in touch with us to take things further.
Catford House clearance that will benefit you and the environment in SE6
Despite any preconceived notions about house clearance SE6 services you may possess, house clearance doesn't have to involve landfill sites in SE6. At our company, we try to do away with the use of landfill sites completely, and prefer to stick to the environmentally friendly way of disposing of rubbish. Eco-friendly clearances are great for the environment – every bit of rubbish that doesn't make it to a landfill site is benefiting the planet; it may seem inconsequential, but it's true. That's why we strive to use recycling plants so that your unwanted junk can be put to better use. We certainly don't see recycling as an inconvenience – it's a common practice at Go Rubbish Go. Get in touch with us today to get a free quote!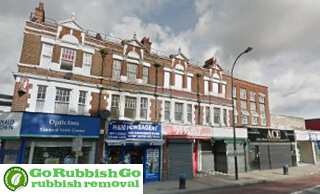 Check Out the Curiosities of Catford
Catford can be found in the Borough of Lewisham, in South East London and is the administrative centre of the local civic authority. The name of the area comes from the ford on the River Ravensbourne where cattle used to cross the river. In addition to the art deco building of the Broadway Theatre, several buildings that represent the Brutalist architecture style still stand in Catford today, such as the Milford Towers and the Catford shopping centre. The Catford Cat adorns the entrance of the Catford Centre and is a large statue of a black cat made from fibreglass. The Black Horse and Harrow is the oldest pub in the area and another historical building here is the Catford Bridge Tavern.