House Clearance East Dulwich SE22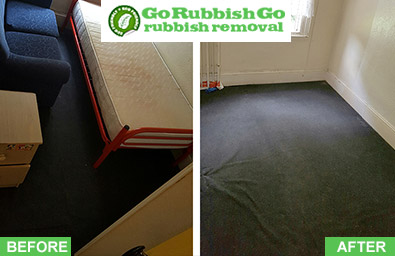 If you are looking for a solution for your East Dulwich SE22 house clearance, then look no further.
Go Rubbish Go have the experience and know-how needed to get your home into tip-top shape again. Are you looking to free your life from clutter? Then we have the answers, our East Dulwich house clearance SE22 prices are hard to beat and the service we provide will leave you recommending us to friends and neighbours. Any clearance job in your SE22 property, large or small, can be finished in no time at all, so call us at 020 8610 9182 for a free quote today.
Hire Cheap House Clearance Services In East Dulwich
Years ago we started up a house clearance company in East Dulwich because we loved the feel of a clutter-free life. There is nothing more satisfying to us than leaving a room with more floor space than it started with. We provide SE22 home owners with more space to live their lives and make their mark. We simply do it because we love it, that's why we don't charge an arm and a leg for our East Dulwich house clearance services. It's more important to us to leave our customers satisfied. Plus, you get exactly what you pay for – reliable clearance, disposal and a speedy job.
Why Is Our House Clearance Firm The Best In SE22?
Call us crazy but we really love what we do! That is why our customers in SE22 return to us because our service is delivered with enthusiasm. We can send a number of team members suitable to the amount of house clearance work you need done in East Dulwich and the time you would like it done in. Go Rubbish Go have all the expertise and advice on how to keep your home clutter free after our service has taken place. Our jobs involve garages, lofts, cellars, homes and more. So call us now at 020 8610 9182 to discuss what services you are seeking for your cheap house clearance SE22.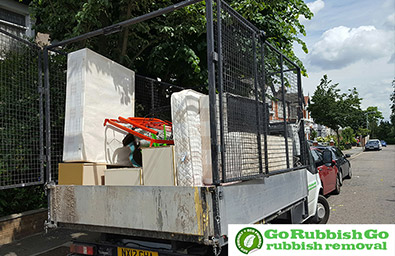 You Could Have More Space By Tomorrow With Our SE22 House Clearance East Dulwich
If you are looking for a fast way to handle East Dulwich, SE22 house clearance, then call us today at 020 8610 9182, tell us your time frame and we promise to do our best at clearing your home within the time frame provided. We know our SE22 clients have busy lives and don't really want to hang around waiting for a house clearance job to get finished. That is why we put together a team that work well together and get things done quickly. Since we know our way around the local area of East Dulwich and serve the whole area, we know exactly where to park, where your rubbish is going and more.
List of services we provide in East Dulwich, SE22:
Household Rubbish Clearance East Dulwich, SE22
Commercial Rubbish Disposal East Dulwich, SE22
Garage Clearance East Dulwich, SE22
Garden Rubbish Removal East Dulwich, SE22
Electronic Waste Collection East Dulwich, SE22
Building Waste Removal East Dulwich, SE22
Keeping East Dulwich House Clearance SE22 Simple
The big things in life don't have to be complicated. We recycle close to ninety percent of the items we pick up during house clearance in East Dulwich and use the fastest routes to your door so that our vans aren't on the road for longer than they have to be. Any tools or products we use are eco-friendly and we take the time to reuse materials rather than buying new ones. House clearance East Dulwich, SE22 can be done without causing any harm to the environment, in fact if anything, we help it more by putting waste in the right place. We know all of this because we are experts in the field and you can relax knowing you are in the best hands with us on board.
What Makes Us Experts In House Clearance East Dulwich?
It's simple really, this is what we do. Our motto is if you are going to do something, then do it right. We have taken all our years of experience and put them together to make sure we are meeting customers' needs, and go about East Dulwich house clearance SE22 jobs in the most timely and effective way. We have regular meetings to discuss what we could be doing better and how we can continue to keep costs down. We also keep up with local laws in the area so that we are ready to answer any of your questions on SE22 house clearance or just so you can let us get on with get your space back to you without any worries.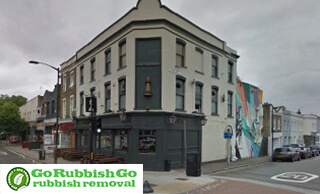 Exploring East Dulwich
East Dulwich, in the London Borough of Southwark, is an area in the south part of London. This activity full area boasts the impressive Dulwich Park not far away with facilities such as horse riding, boating and tennis courts. Steeped in history, the district is home to many a pub, church and restaurant. The 'Concrete House' is said to be the only example of a concrete house from the 19th century left in England. Easy bus links serve the area and London Victoria station can be reached in about 12 minutes by taking a train from West Dulwich railway. The area also has easy links via car sitting next to the South Circular and the A2199 which is still home to a working tollgate from 1789.