House Clearance Forest Gate E7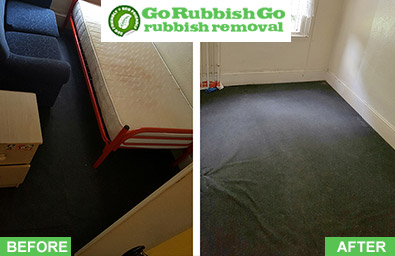 We offer a wide range of E7 house clearance services at low cost.
You'll find what you're after directly from Go Rubbish Go. We can take care of everything, different types of household waste, so you can get all your junk cleared and eliminated from your property after just a single visit from our team. You won't have anything to worry about with our professionals on your job. So to do away with the stresses and strains of what can sometimes be quite a daunting task and time-consuming undertaking – Forest Gate house clearance – contact our team on 020 8610 9182 and book a service for your requirements today.
Hire Cheap House Clearance Services in Forest Gate
We'll remove the entire contents of your property – if that's what's required – and the house clear-out still won't cost you an arm and a leg. People in Forest Gate have found it staggering that we've managed to keep our E7 house clearance prices down over the years, but we're astute like that; we cut costs in other areas – whilst ensuring our standard of service doesn't waiver – to ensure you get the lowest Forest Gate house clearance costs. At Go Rubbish Go we take plenty of things into account to help you save money. To kick things off with a free consultation and a no-obligation price quote, call us today on 020 8610 9182.
A Team You Can Rely On for House Clearance in E7
We're the Forest Gate house clearance specialists– the only team you need to call upon when you have junk that needs to be cleared and removed from your property. We consider ourselves the premier house clearance E7 company, and are considered to be by many of our clients, simply because we make the entire process less stressful and easier to manage. Our services have been designed and are available to make things easier for you. If you're after help with your clearance task, ease the burden of having to do everything yourself and call us on 020 8610 9182 instead.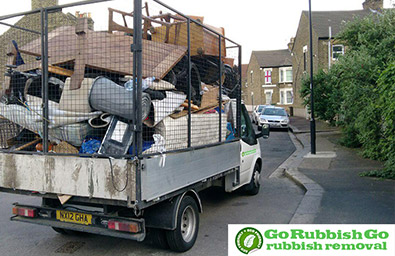 Just a Taste of What You'll Receive when Booking a House Clearance Service Forest Gate E7
Book a house clearance in Forest Gate, and you'll see straight away that what we're offering is far superior than any other house clearance E7 service. We're highly renowned in the local area, because of one reason: we keep our clearance services simple – they're easy to understand and what's discussed over the phone is exactly what will happen on the arranged clearance day. You won't receive any unpleasant surprises; you won't be lumbered with any unexpected bills. We're transparent and trustworthy – that's what our clients want and appreciate and we're sure you will too.
List of services we provide in Forest Gate, E7:
Household Rubbish Clearance Forest Gate, E7
Commercial Rubbish Disposal Forest Gate, E7
Garage Clearance Forest Gate, E7
Garden Rubbish Removal Forest Gate, E7
Electronic Waste Collection Forest Gate, E7
Building Waste Removal Forest Gate, E7
Our House Clearance Services Forest Gate E7 Aren't Limited in Any Way
With us on hand, you won't have to deal with multiple contractors when after some assistance with house clearance Forest Gate. We can handle absolutely everything when it comes to house clearance in E7 – just as well because we're sure you wouldn't want to be flitting around the place from one company to the next, hiring multiple companies for the same task. If you want things done properly, hire us – we'll be able to help you out. So why go elsewhere? Give us a call today and let us get the ball rolling!
Environmental Benefits of Going Green with Our House Clearance Services in E7
We consider our establishment to be a green E7 house clearance company. That's because our eco-friendly credentials are unmatched by other clearance companies. We put a great deal of emphasis on recycling – being as green as possible so the environment doesn't suffer. The little bit we can do – the little bit that's in our hands – when it comes to helping the environment, we make sure we do. Book our Forest Gate house clearance service today and you can be sure that the environment won't suffer.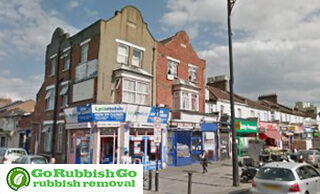 The Prime London Location of Forest Gate
Today Forest Gate is known as "the Hollywood" of East London, mainly because a number of prominent names live in the area. Situated in the London Borough of Newham, Forest Gate is a mainly residential district, but it's got plenty going for it in terms of it being a major London district. The area's bordered by Stratford Town Centre, and the Westfield Stratford City and the Olympic Park is in close vicinity to Forest Gate. Green Street is the main road in Forest Gate. Forest Gate is also home to West Ham Park and Spotted Dog. There are clubs, plenty of restaurants and other eateries, and transport links dotted around the area; Forest Gate is perfect for city living.