House Clearance Marylebone W1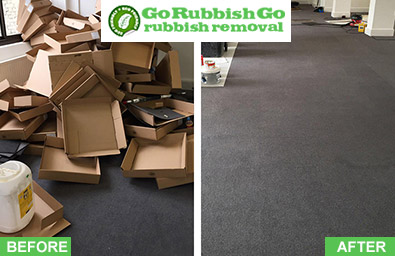 Here at Go Rubbish Go we make a stand and announce that we are the last line of defence against household clutter.
Make use of the services of the proper company for house clearance Marylebone to clear all that nasty clutter and free up some space at home. Get rid of the junk so that you can use your free space for whatever you need. With our help you no longer have to care about being negligible with your old items. Just make one phone call to our customer service representatives on 020 8610 9182 and we will send over a team of excellent W1 house clearance specialists to take care of it all for you. Get in touch with us today and get your free quote!
Hire Cheap House Clearance Services in Marylebone
House clearance in Marylebone is all too simple when you have the right help. But we take a step further and we stand out from the rest of the companies in this industry with another vow. We pledge to be useful by being reasonably priced and affordable all the times. We make sure that we are well-known for our great prices as well as for the excellent Marylebone W1 house clearance service we offer all over the area and the surrounding NW1 region. We will handle the work all by ourselves and you will only have to pay according to the amount of rubbish we are clearing – no more, no less! Let us remove the junk and save you money and time!
How We Are The Top Marylebone House Clearance Company?
It is actually quite simple to be the best. When we offer our services, we make sure that we perform outstandingly and in no way any different than what you would expect. To be the best we do not actually offer unique services – we only do it better than the rest. When you call 020 8610 9182 you immediately get friendly operators who are working for you – waiting to help you in any way they can and provide you with a free quote. Then you get an excellent deal, and then our W1 house clearance team take it upon themselves to help you with whatever you like. Your house clearance job in NW1 will be completed in a jiffy and then all of the waste collected from your home will be taken for recycling. That is house clearance Marylebone done right!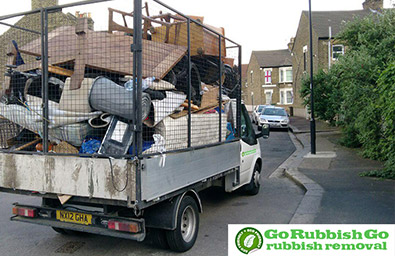 Hire Our House Clearance Services in Marylebone W1 Today and Get your House Decluttered by The End of The Day
We offer excellent same day house clearance W1 services. When you are in urgent need of help and you want the job done as soon as possible, give us a call and tell us about your emergency. We will provide you with a great price estimate and then make sure that a team arrive by the end of the day to handle that nasty house clearance job Marylebone. Never doubt our ability to please the customer in a speedy fashion and handle the job you want quickly and efficiently. This is what we do and we are that good at it. Don't worry about the cost – our house clearance prices are the lowest in W1! Book now and see for yourself!
List of services we provide in Marylebone, W1:
Household Rubbish Clearance Marylebone, W1
Commercial Rubbish Disposal Marylebone, W1
Garage Clearance Marylebone, W1
Garden Rubbish Removal Marylebone, W1
Electronic Waste Collection Marylebone, W1
Building Waste Removal Marylebone, W1
House Clearance Done Right with Our Professional W1 Service
Forget about other Marylebone house clearance companies! When you experience our excellent services you will see that there is no point in looking around. We do it all just right and with the best intentions in mind. A great example of that is our eco-friendly local house clearance W1 which cares for you just as much as it cares for the environment. We are all about green Marylebone house clearance W1, which means that whatever is taken from your loft or garage for example is taken to the local recycling centre where we make sure that at least 85% of your clutter is recycled, reused and not contributing to environmental pollution. Landfills are off limits and recyclables are our specialty.
We are THE House Clearance Company That Covers the Entire Marylebone Area
When you want quality house clearance Marylebone W1, Go Rubbish Go is what you need. Hire us and become one of our happy customers. We will provide you with the best deals and services that are affordable and provide you with excellent rubbish collectors to deal with your rubbish-related troubles. No more dealing with too many items, no more hoarding tendencies, no more lack of space in the house. If you want to hire top tier W1 house clearance Marylebone at low prices, then you want us. Act now and contact our customer service team on 020 8610 9182 as soon as possible – get a heavy discount right now. Our discounts are the first thing to take advantage of when it comes to booking with us – dig deeper and see what else we have in store for you.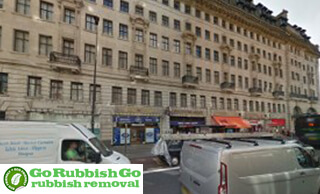 High-End Living in Marylebone
Marylebone is one of the most affluent areas in the City of Westminster, Central London and it forms part of London's West End. It borders Regent's Park to the north and Mayfair to the south, with other prominent areas such as Paddington, Hyde Park and Fitzrovia also found nearby. St Marylebone Parish Church is located on Marylebone Road, as is the Royal Academy of Music, and Regent's College is based here too. 221B Baker Street, most famous as the home of Sherlock Holmes, is one of the local attractions, but apart from him, many real-life celebrities and notable people have lived in Marylebone, such as writers H.G. Wells and Charles Dickens, musician John Lennon and Prime Minister David Cameron. Marylebone railway station and a number of tube stops and bus routes make travel to and from the area easy.