House Clearance Watford WD1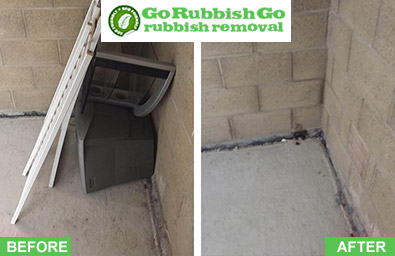 The hustle and bustle of today's busy life hardly leaves us any time to keep our personal space clean and organised the way we want to.
One of the reasons is – we cannot cope with clearing all the useless clutter and disposing of it. However, Go Rubbish Go offers reliable and affordable Watford house clearance services and can help you with the latter. We offer house clearance in WD1 and nearby areas and will pick up the waste and clutter from your doorstep and dispose of it in a proper manner. All you need to do is call us on 020 8610 9182 and book our services for a particular time and we will be there to remove the rubbish.
Hire Cheap House Clearance Services in Watford
House clearance in Watford doesn't have to be an expensive affair. We offer WD1 house clearance services at highly competitive rates and this is one of the reasons why we are the most popular clearance companies in Watford. Our history of customer satisfaction would be another strong reason for our popularity. We always strive to give our customers the best service at the best prices so that whenever they think of house clearance, they think of us. As we look to build lasting relations with our customers, we offer long-term loyalty discounts for the frequent customers as a token of appreciation for their loyalty. Call us on 020 8610 9182 to book right away and start saving money with us!
What Sets Our WD1 House Clearance Company Apart from Others?
Just providing a good service is not enough for any service company: it is a requisite not a bonus. What sets Go Rubbish Go apart from other Watford house clearance companies is our commitment to our customers, care for our environment and respect for the social rules and regulations. Apart from providing top-notch house clearance WD1 services to our customers, we are also environmentally conscious. We always dispose of waste in a legal and responsible manner while recycling around 85% of the total waste collected. That makes us the most eco-friendly clearance company in WD2, and one of the most environment-friendly companies in London. If you also want to make an effort towards helping the environment, let's join hands in this noble venture.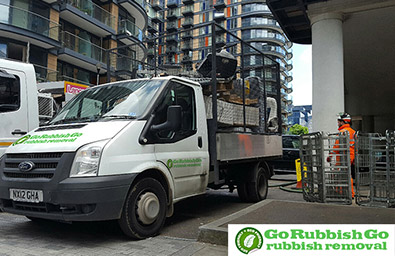 Book Our House Clearance Service in Watford, WD1 for Quick Results
If you are looking for a fast-acting house clearance WD1 company that will help you get rid of domestic waste or any kind of junk from your private property at short notice, we are there for you. With our same day Watford house clearance service, we provide fast and efficient service to our customers. You can call us in the morning to book our services and get the rubbish removed by evening. Our clearance experts will try their best to make the whole experience as easy and convenient for you as possible. We pay attention to the smallest of details to make sure that you get exactly what you want in the most professional manner possible.
List of services we provide in Watford, WD1:
Household Rubbish Clearance Watford, WD1
Commercial Rubbish Disposal Watford, WD1
Garage Clearance Watford, WD1
Garden Rubbish Removal Watford, WD1
Electronic Waste Collection Watford, WD1
Building Waste Removal Watford, WD1
We Make House Clearance Easy For You in WD1
Removing the rubbish is not the easiest job you need to do around your house. In fact, it is a laborious and time-consuming task. With shuffling between office, friends and family, you hardly have time for proper disposal of household waste. That is where we come in. Our Watford house clearance company is easily one of the most reliable and efficient clearance companies around with a single aim, i.e., to satisfy our customers and make their lives easier. We provide services on weekends, holidays, early mornings and late evenings to ensure the convenience of our customers. So, if you are looking for quality house clearance WD1 services, get in touch with us on 020 8610 9182 right now!
The Most Experienced House Clearance Professionals in Watford
All of our Watford house clearance professionals are well-trained individuals with years of experience under their belt. We have a very strict employment policy and choose our team members after rigorous background checks and a comprehensive selection process. Once selected, each individual in thoroughly trained in WD1 house clearance techniques, professional etiquette and customer dealing. With one of the most experienced teams in this business in WD2, we are sure that we will provide the best possible service to satisfy your needs. To prove our belief in our clearance team, we offer a full money-back guarantee to our customers in case we fail to live up to their expectations. So, since you have nothing to lose, go ahead and book one of our services and experience the difference yourself.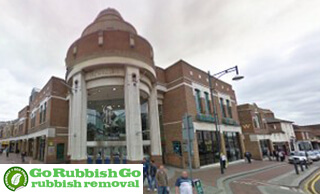 Get to Know Watford Better
Watford is a borough in Hertfordshire, located 27 km from central London. Watford is rich in culture and is known for its parks, museums, theatres and other heritage buildings. The Cassiobury Park, Cheslyn House and Gardens and Woodside Park are the most popular of the 43 public parks in Watford. The Watford Colosseum and the Watford Palace Theatre are the main theatres; St Mary's Church and Holy Rood Church the major heritage buildings; and Watford Museum and Leavesden Film Studios the most well-known museums in Watford. There are three railway and one London underground station in central Watford while there are numerous bus routes operated by different companies that pass through Watford.