House Clearance West Hampstead NW6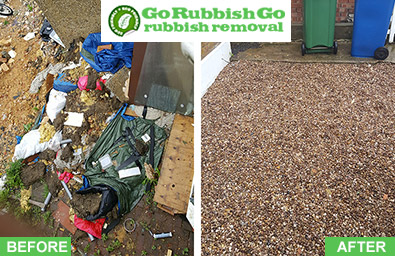 If the idea of disposing of the rubbish from you property is keeping you from cleaning the place up and organising everything the way you want, let Go Rubbish Go do it for you.
Our NW6 house clearance company offers a one-off cost-effective clearance service that will suit your needs perfectly. So, take your time and decide which items you want to get rid of. Once you are done, give us a call on 020 8610 9182 and we will come and pick it up and take it for disposal. We offer West Hampstead house clearance services and the neighbouring areas. So, get in touch right away and get rid of that undesirable clutter in your property.
Hire Cheap House Clearance Services in West Hampstead
House clearance NW6 services can be expensive and that is why it is important to survey before selecting a clearance company. Some companies might overcharge their customers for services that are being offered by other companies in NW6 for much lower prices. We offer the cheapest West Hampstead house clearance service and if you want quick and efficient service without having to pay too much, we are the right choice for you. The low costs of our services, however, are not indicative of the quality of service. We offer the same quality of service, if not better, that you will get with companies charging almost twice as much as us.
What Makes Our NW6 House Clearance Company Special?
Wherever there is need, there is supply. It is no surprise that there are so many companies offering NW6 house clearance services as it is a necessity. However, out of so many companies in NW6, Go Rubbish Go stands out because of a few reasons. Firstly we are one of the long-standing West Hampstead house clearance companies in NW3 and have tons of experience in doing this. Secondly, we have more than 98% customer satisfaction rate, which is currently unmatched. Thirdly, we offer a money back guarantee on our house clearance services, as we are confident of delivering the best value that your money can buy. Pick up your phone and call on 020 8610 9182 to find out more about the services we offer.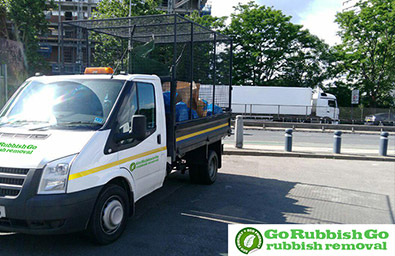 Book Our NW6 House Clearance Service West Hampstead for Quick Results
If you are looking for a NW6 house clearance service that is quick, efficient and affordable, you have found it. Our West Hampstead house clearance company offers numerous options that you can choose from and we even have same day clearance options for quick and efficient jobs. Ever since we started out, we have been consistently offering dependable services for competitive prices, so, you do not have to worry about spending a fortune. You can call us on 020 8610 9182 in the morning to make a booking and get any rubbish or waste cleared away by the evening. We also operate on weekends, early morning, late evenings and holidays to make sure that you get the service when you need it! Your convenience and satisfaction are our top priority.
List of services we provide in West Hampstead, NW6:
Household Rubbish Clearance West Hampstead, NW6
Commercial Rubbish Disposal West Hampstead, NW6
Garage Clearance West Hampstead, NW6
Garden Rubbish Removal West Hampstead, NW6
Electronic Waste Collection West Hampstead, NW6
Building Waste Removal West Hampstead, NW6
We Make West Hampstead House Clearance Easy and Hassle-Free
House clearance in West Hampstead is a tedious and time-consuming job, especially if it has to be done on a daily basis. The whole process of clearance involves organising the waste, transporting it to an appropriate disposal site and disposing of it in a responsible manner. This is clearly hectic and people can always rely on our clearance service as an alternative. While it is much more convenient and time-saving, it doesn't cost much more than driving to the disposal site on your own every day. Our NW6 house clearance services are fairly priced and we also offer numerous discounts to make the process even a more affordable for you. Book now to make the most of the cheapest service in NW6!
The Most Experienced and Reliable NW6 House Clearance Team
House clearance West Hampstead is a simple job, if done properly. That is why it is important to have dependable people at your disposal. Our NW6 house clearance professionals are well trained and experienced professionals who take their job seriously. In our years of service in NW6, we have never had any complaints about our service or the behaviour of our experts. This can be attributed to our careful selection process, training and experience. Our staff are always friendly and approachable and will assist you with anything related to clearance. Do not hesitate to seek advice from them about waste management as they would love to be of any help. Get a free quote by calling us on 020 8610 9182!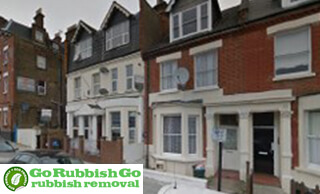 What's to Know About West Hampstead?
An area in the London Borough of Camden, West Hampstead is located in North West London, around 5 miles from Charing Cross. Mainly a residential area, West Hampstead was converted into a housing estate from farmland in the early years of the nineteenth century. The area is served by London Underground (West Hampstead on Jubilee Line), a London Overground (West Hampstead Overground station – Thameslink route) and the National Rail (Hampstead Thameslink railway station – North London Line). There are several notable building and landmarks in the area; the most notable are: Hampstead Cemetery, Emmanuel Church, Hampstead Synagogue, West Hampstead Fire Station and Decca Studios.