House Clearance Blackfriars EC4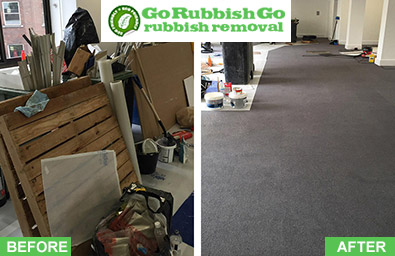 Are you finding there is less and less room in your house?
Are you having to shuffle sideways to get through your house? Well, if you are struggling to find space to do anything, you might want to consider hiring our Blackfriars house clearance team to give you a hand in disposing of all that unwanted clutter. We at Go Rubbish Go are specialised in EC4 house clearance of any type, so you will get a very professional service. This will free up much-needed space in your home for all those things you require. If you want to find out more, just give us a call on 020 8610 9182 and we will do the rest. Call now and we will offer you the cheapest quote locally!
Hire Cheap House Clearance Services in Blackfriars
If you are looking to hire a Blackfriars house clearance service, then there are a few things you are going to expect. You will want them to be reliable, professional and fast. But you shouldn't have to pay a lot of money to get this service. We believe that value for money is important, but not at the cost of standards. This is why we offer the cheapest EC4 house clearance services. You can be assured that as well as a good service, you will also be getting a good price. Contact us for the best, no hassle service in the Blackfriars area. We keep the cost down to offer you an affordable service you will love!
Are We The Best House Clearance Company In Blackfriars EC4?
If you have never used a Blackfriars house clearance company before, you might not realise how important it can be to get the best service. There is a lot more to the job than removing unwanted things from your home. A truly professional EC4 house clearance company will have plans in place will be able to handle any house or flat clear-out. They will have specially trained teams that are used to removing large items carefully and safely. We have all that and more because we also have vehicles that are picked for the job in hand. We are also fully insured so there is no need to worry about your home or property. All you need to do is give us a call on 020 8610 9182 and speak to one of our experts.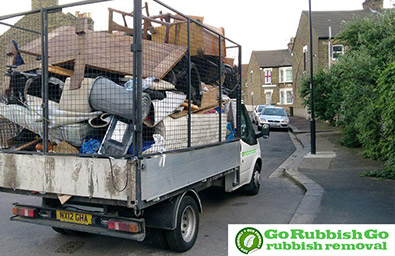 Our House Clearance Service in Blackfriars Can Have Your Property Cleared By the End of the Day
When you have gone through the arduous task of sorting out all your clutter, that last thing you want is for it to still be hanging around for days at a time. Hire us and we will clear away all your rubbish by the end of the day. All our EC4 house clearance teams work very hard to make sure we take everything away with us and leave you with a clutter-free house.  It is this and many other reasons why we are considered the best and most reliable Blackfriars house clearance company. We can arrange everything for you in advance so that we can get on with the job straight away on the day you choose. We have a reputation for offering reliable same day services so call us and get a free estimate right now!
List of services we provide in Blackfriars, EC4:
Household Rubbish Clearance Blackfriars, EC4
Commercial Rubbish Disposal Blackfriars, EC4
Garage Clearance Blackfriars, EC4
Garden Rubbish Removal Blackfriars, EC4
Electronic Waste Collection Blackfriars, EC4
Building Waste Removal Blackfriars, EC4
Our House Clearance Service in EC4 Uses the Best Equipment
The professionalism and reliability of our workforce are not the only reason we are the best Blackfriars house clearance company. We also use the latest technology and best tools so that we can give you the best service. All our vans are fully equipped and maintained to ensure reliability and safety. We use the best safety clothing and tools to protect not only our teams but also you and your property. There is no need to go anywhere else for cheap EC4 house clearance services, we can do it all for you on the same day. You can have a clutter-free house much sooner than you think.
Get a Simple, No-Hassle House Clearance Service with Us in Blackfriars EC4
From the moment that you choose to use our service, we will help you to set everything up so you won't have to worry about a thing. Our fully trained staff will go through everything about the house clearance in Blackfriars with you and answer any questions you may have. They will then discuss the type of rubbish you have and any details about the property and access. We will always work with you on the best time and day to suit you. That way, you don't have to stay in or wait around longer than you need to. Want to save some cash? If you are looking for great EC4 house clearance prices then look no further than Go Rubbish Go. Give us a call 020 8610 9182 to arrange a booking.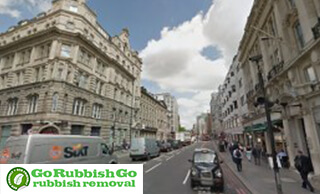 What Should You Know About Blackfriars?
Blackfriars is a central London area, which lies in the City of London. Blackfriars has a long and colourful history. It is home to many of London's financial institutions as well as theatres and restaurants. The area is served by Blackfriars station as well as the London Underground line. This makes it a great place to work for those outside of London. Many of the buildings were rebuilt after the great fire of London, these include the Apothecaries Hall. Notable buildings include the Art Nouveau Black Friar pub and large Art Deco Unilever House. Nearby areas are Temple, St Paul's, Barbican and Tower Hill.