House Clearance Blackwall E14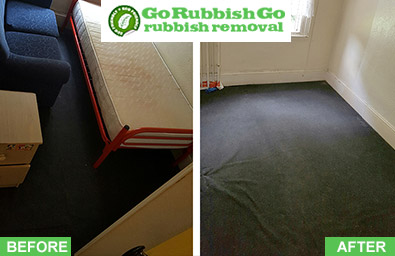 It can be a wonderful feeling when you decide to clear out your home.
Whether it's in the loft or the cupboard, there is a real sense of accomplishment when it's finished. The only problem that remains is what do you do with all this junk? Taking it to the refuse centre can be time-consuming and hard work. This is where our Blackwall house clearance services can really help you. We at Go Rubbish Go have teams all over London who can take all your rubbish and dispose of it properly at a low cost. Why not hire our E14 house clearance team by calling 020 8610 9182 now? Let us see how we can help you!
Hire Cheap House Clearance Services in Blackwall
We know that there are many companies out there that offer Blackwall house clearance services, but we think we are the best you will find anywhere in this area. This is because we are dedicated to giving you the best experience you can get. We want you to come back to us next time, so we offer a fast, reliable and most importantly, cheap service. We don't believe that you should be paying more for your house clear-out than you need to. It is things like this, which make us believe we are the best and cheapest E14 house clearance company.
We Can Handle Any Type of House Clearance in Blackwall E14
We pride ourselves on our ability to deal with any type of property clear-out you have. Regardless of the location or building, we will always get the job done quickly and easily. As well as house clearance in Blackwall, we can also help you to clear out your office or shop. No matter how much you need to clear, our teams will be on hand to get everything cleared away. We also offer the best deals on clearance services in the E14 area, so check us out. If you want to find out more information about our E14 house clearance prices, just give us a call on 020 8610 9182 today.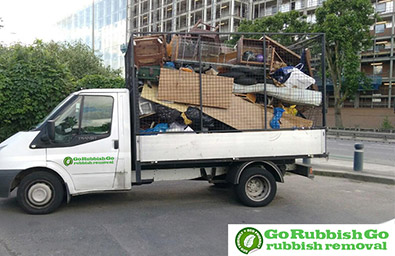 We Can Get Your House Clearance in Blackwall Completed in the Same Day
Once you have cleared and sorted all that junk, you want to get rid of it as soon as possible. You don't want it hanging around and causing further problems. When you book us for a house clearance E14, you can be assured that we will clear your home the same day. All you need to do is give us a call and we will arrange everything for you. This includes arranging a time and day that suits you, we don't want you waiting around for no reason. We are the ones you need if you want a fast, efficient and cost-effective Blackwall house clearance service, completed the same day.
List of services we provide in Blackwall, E14:
Household Rubbish Clearance Blackwall, E14
Commercial Rubbish Disposal Blackwall, E14
Garage Clearance Blackwall, E14
Garden Rubbish Removal Blackwall, E14
Electronic Waste Collection Blackwall, E14
Building Waste Removal Blackwall, E14
Our Equipment and Vehicles Will Help Your House Clearance in E14 Go Smoothly
To ensure that we provide the best service, we use the latest technology and vehicles to keep our E14 house clearance service reliable. We use the best safety equipment and clothing not only to protect our teams, but also your property. We also choose the best vehicles for the job. They are regularly maintained and serviced to ensure they never let us down. They are all kind to the environment and are fully insured as are our teams. For a reliable and environmentally friendly Blackwall house clearance company, you need to look no further than us. Contact us for more information on our prices and services.
Our E14 House Clearance Services in Blackwall Dispose of Our Waste Safely
When you hire a Blackwall house clearance company, you rely on them to dispose of your junk in the best way. You want to know that it will all be taken to the correct recycling centre and as little as possible taken to landfill. We at Go Rubbish Go have always disposed of all our rubbish in the most environmentally-friendly way possible. This is because we care about the planet and the rubbish that is thrown away. We will always recycle as much as we can from any E14 house clearance project and only that which we can't recycle will be disposed of safely and legally. Call 020 8610 9182 today for more information or to get a free quote!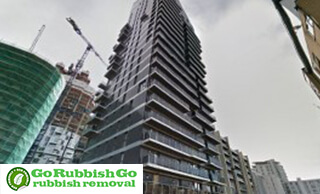 Explore the Delights of Blackwall
Blackwall is situated in the London Borough of Tower Hamlets in the East End of London. Once a significant ocean-going port, Blackwell was also the centre of shipbuilding and repair until 1987. One big transport hub is the Docklands Light Railway which runs on the old London and Blackwall railway lines. It is also famous for the Blackwall Tunnel that connects areas north and south of the Thames. While Blackwall is primarily a residential area, there are many shops and restaurants around as well as street markets. It is home to one of the oldest rowing clubs in the UK – Blackwall and District Rowing Club. Blackwall is also close to the famous O2 centre and Emirates Sky Bus.