Rubbish Removal Kensington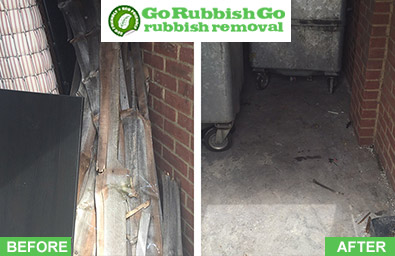 Take a look around your home or your office. In each room you will likely find some items that you don't need.
This can be something small such as a book or a piece of clothing, or it could be larger such as a piece of furniture or an appliance. These goods are taking up room that can be used for other items, they are making the place look cluttered and messy, have to be cleaned, and can ruin the ambiance and look of the room. Getting rid of many goods at once or eliminating large objects can be difficult. There is a lot of work involved in shifting them, but if you call Go Rubbish Go now on 020 8610 9182, we can help with all your waste disposal in W8, Kensington.
Book Cheap Rubbish Clearance Service in W8
We are the leading house clearance company of W8 and we can take care of each aspect of the process. We can send our rubbish removal Kensington professionals to your house who will help you to sort items, bag them and take them apart. Our staff will then carefully carry every item from the building, taking precautions so nothing is damaged and no injuries occur. We have various removal vehicles that will enable us to take every item from your address at once and then we will take them away to be properly disposed. We cover every aspect of rubbish disposal in W8. We can help you with office clearance, garden waste removal, builders waste disposal, basement junk clearance, and more. Whatever type of rubbish and old items you have, we can take them from you swiftly and safely.
Tackling Rubbish Removal in Kensington
The property clearance team we send to you in Kensington will work hard to get the job done. They have experience and skill in the process, so they know what to do, and how to do everything quickly and safely. They will help with whatever part of the job you need, arrive when you like and we will send as many staff and vehicles as necessary. They will sort, shift and transport goods safely, taking the work from your hands. We work with various Kensington waste removal agencies and firms in W8 so that everything we take from you is handled properly and legally. We follow all environmental guidelines when disposing of your goods.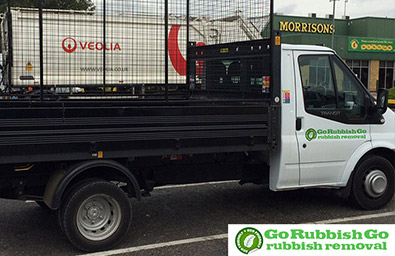 Testimonials
This company tops my list of rubbish removal firms in Kensington! As an owner of a retail business in W8, I've worked with many companies over the years but none as good as this one. I wouldn't hesitate one bit in endorsing their services.

A Range of W8 Rubbish Removal Options
To get exactly what you need from us, we offer cheap waste collection W8 and free quotes. These will match exactly that you need from us, so there is no need to choose from deals and rating to find the one that best matches what you require. These quotes are free and need no commitment so this is no risk in soliciting one. You can pass on any offer so that you can get the prefect deal. For more info and support on Go Rubbish Go's rubbish clearance in Kensington, W8, call 020 8610 9182 today. Claim your discount if you call now!
List of services we provide in Kensington, W8:
Household Rubbish Clearance Kensington, W8
Commercial Rubbish Disposal Kensington, W8
Garage Clearance Kensington, W8
Garden Rubbish Removal Kensington, W8
Electronic Waste Collection Kensington, W8
Building Waste Removal Kensington, W8
Quality Rubbish Clearance W8 Services to Get Your House in Order
There's nothing worse than owning a beautiful home that you've worked so hard to get, only to then see it deteriorate over the years due to bad practices and excess clutter and mess. Whether your house is just generally messy, or you've recently had some work done at your property that has left your home in a tip, do something about it and get it sorted out with some help from an expert rubbish removal company that you can trust. Our W8 waste clearance services are great value for money and can be hired at any day of the week. Why not call us and see for yourself?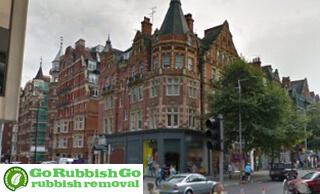 Kensington Caters to You
Kensington borders both West London and Central London, and is a part of the Royal Borough of Kensington and Chelsea. Close by areas include Earl's Court, Notting Hill, Hammersmith, Knightsbridge, Chelsea and Shepherd's Bush. Kensington uses the W8 and SW7 postcodes, with nearby codes being SW1X, SW3, SW5, SW10, W6, W10, W11 and W12. Kensington is a populous area with a wide range of homes at various prices. Kensington Street is the centre of the town and has numerous stores and London's leading shopping centre. Transport links are strong, and you can find galleries and museums here, including the Victoria and Albert Museum, the Science Museum and the Natural History Museum. The Royal Albert Hall hosts many big events throughout the year and The Royal Park Kensington Gardens and Holland Park are popular open spaces.