Rubbish Removal Richmond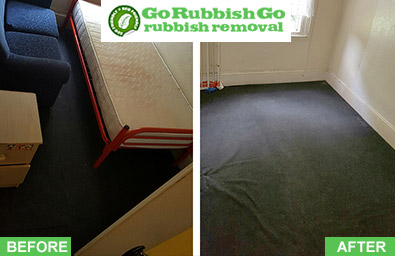 Congratulations! Moving your possessions to new premises was a tremendous decision, but now that you have just about settled in, you may find that the stuff that you piled up in the previous place has gotten old quickly! You know that you need to hire a TW9 rubbish clearance company to clear it all out for you. Waste clearance in Richmond is often something that a lot of people invest into because we know the importance of clutter-free space.
Book Cheap Rubbish Clearance Service in TW9
Go Rubbish Go specializes in clearances for your office and home in TW9 or TW10 and our waste removal teams work in a professional and efficient manner to help you impress your staff and guests. For more information or a free quote on our Richmond, TW9 rubbish removal services, call us today on 020 8610 9182 and speak to one of our representatives!
A Clean House TW9 Equals a Clean Mind! Choose Our Waste Removal Richmond
It is tempting for you to think that rubbish disposal Richmond, TW9 is the only thing that you need for your house, when your office deserves the same type of attention. Our teams that deal with your waste collection TW9 will offer you the same expertise for your commercial and house clearance and ensure that your premises in Richmond are pristine and clean as best as you can imagine they would be! You owe it to both yourself and your staff to work in a place in the TW10 region that is free of junk and dirt, to enable you to focus on making money. A lot of people underestimate the importance of having a clean and clutter-free office to attract the right type of clients.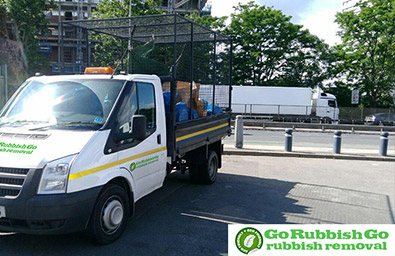 Testimonials
Hired them last week to clear away some waste from my back garden in Richmond. I must say, I was really impressed with the incredibly fast work and the low price of their waste clearance services in TW9. If I ever need a helping hand with similar tasks, they'll be the first company I'll call. 5 stars!

Commercial Rubbish Clearance In Richmond Made Easy!
It gives a fantastic impression of your business and enables you to feel all that more lighter, rapidly. Clean offices give a light and bright feeling and having a clearance done enhances it. Waste removal in Richmond is challenging to carry out all by yourself, so having us helping you will take the pressure off you because no one does it better than the professionals! Hiring Go Rubbish Go in the TW9 area is as simple as calling us on 020 8610 9182 now and speaking to one of our advisors to receive a quote with no obligation attached. See how we can help you with all your TW9 waste disposal needs! We also offer other clearance services such as garage clearance as well as garden waste clearances.
List of services we provide in Richmond, TW9:
Household Rubbish Clearance Richmond, TW9
Commercial Rubbish Disposal Richmond, TW9
Garage Clearance Richmond, TW9
Garden Rubbish Removal Richmond, TW9
Electronic Waste Collection Richmond, TW9
Building Waste Removal Richmond, TW9
Top Quality TW9 Waste Removal Services at Reasonable Prices
We have the skills, the experience and the tools to the best Richmond waste removal TW9. All of these are necessary for us to be able to deliver you a first-class rubbish disposal service. Don't just take our word for it – get in touch with us today to book one of our cost-effective services. We can assure you that we'll leave you completely satisfied with the quality of service that we constantly strive to deliver. At our company, we really do pay attention to detail and provide services to fit the specific requirements of each of our customers. So, if you've got any kind of rubbish that you just don't know how to get rid of, we're the only company in London for you.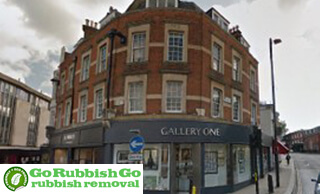 The Jewel of South West London
Richmond is based in South West London, in the London Borough of Richmond. It has a plethora of open green spaces and parks, which is the main picturesque feature of the area. It also has galleries as well as its own theatre. Richmond has the lowest levels of poverty in the entire London region and most of its residents are considerably wealthy. Richmond Green and the banks of the river towards Twickenham are the places where most people go on the weekend as this is a very scenic area. Nearby surrounding areas include Teddington, Twickenham as well as Isleworth, Strawberry Hill and Kingston. Richmond has many high street stores as well as some large department stores. It also has a market in the town square every Saturday, which has a very olden feel to it. It is very well connected to Central London via motorways as well as train services.