Rubbish Removal Wimbledon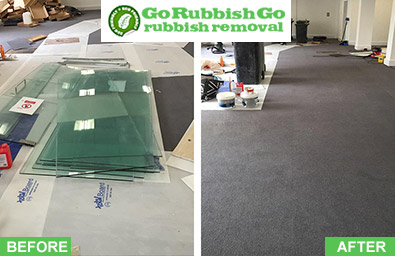 The Wimbledon, SW19 rubbish clearance services that Go Rubbish Go offers in are unmatched. You are at the right place for your complete peace of mind. We strive to provide only the highest quality domestic and commercial rubbish removal services. If you are searching for a company to deal with furniture removals or any other similar job, you should make sure to choose our professionals. We provide professional waste disposal SW19 services at affordable prices, and do everything feasible to make sure your clearance is a pleasure. We undertake the majority of house clearance jobs in the SW20 area.
Book Cheap Rubbish Clearance Service in SW19
If you reside in the local area, and you want to move or even sell your home, you may not have the time needed to get rid of all the stuff cluttering up your property. With the busy lives we live, it will not be easy for you to clear your home. Luckily, an excellent service is obtainable in town to help you. All your Wimbledon waste removal needs can be met with a call to 020 8610 9182 today. Whether you have to tidy up, clear the house for the buyer, or simply make it look nicer for guests, our services will help you bring your home back up to scratch. We are fully covered and licensed, and a large percentage of all our work comes from repeating customers and word of mouth referrals.
We Deliver Commercial Waste Disposal in Wimbledon Too
Get your office junk removed by the commercial clearance experts of Go Rubbish Go based within the Wimbledon area. Our SW19 rubbish clearance offers all come with a full guarantee policy. High-quality clearance services at reasonable prices are our forte. Call 020 8610 9182 now to discover how we can sort out your rubbish issues. Business gear, IT hardware, business furniture – we can clear everything in SW19. Just allow our experts to clear everything for you in a hassle-free manner! We are a professional, affordable Wimbledon waste collection company. We offer quick, friendly, low price services from a genuinely trustworthy local property clearance services. Nothing is really a problem for us, we will tailor our work to suit your needs best.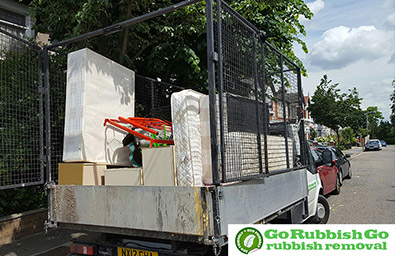 Testimonials
I don't have enough words to express how grateful I am to this rubbish removal company! They provided me with an excellent service and my home in Wimbledon was cleared out from all of the junk! Their team were simply amazing! The two men were really nice and worked very efficiently! At the end of the day I couldn't recognise my place! They made a great difference! The best help you can get in SW19!

Take a Load off Your Mind – Let Us Tackle Your Rubbish Removal Jobs in Wimbledon
Our most frequently booked rubbish disposal Wimbledon SW19 services include getting single furniture items cleared, carrying out complete home and office clearances, and we are a registered waste materials carrier too. Houses, lofts, garages and industrial properties will get cleared by our experts. Simply put, any type of item can be cleared by our rubbish removal specialists in SW20. You do not have to worry about conducting all the decluttering of your home yourself. Booking a SW19 Wimbledon waste clearance service from our wide range will ensure that we do all the dirty work, and you get to relax.
List of services we provide in Wimbledon, SW19:
Household Rubbish Clearance Wimbledon, SW19
Commercial Rubbish Disposal Wimbledon, SW19
Garage Clearance Wimbledon, SW19
Garden Rubbish Removal Wimbledon, SW19
Electronic Waste Collection Wimbledon, SW19
Building Waste Removal Wimbledon, SW19
A variety of Rubbish Collection Services to Fit Your Budget and Needs
Rubbish removal in Wimbledon, SW19 is just the tip of the iceberg when it comes to what we can offer you as a company. We can also take care of furniture and can handle garden clear-outs, so that you can get the rubbish-free property you have been dreaming of. So, if you need a quality and dependable waste clearance service, put your trust in us and give us a call today. We can be reached on 020 8610 9182, so give us a call, get any questions you may have answered, book one of our services and prepare to be amazed at what takes place.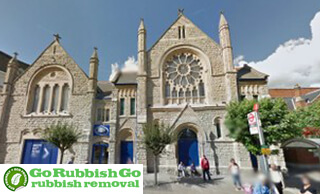 Wimbledon – More about the Area
Wimbledon has a very long history and an interesting one too. In 1087, once the Domesday Book had been compiled, the area was a part of the Mortlake manor. The possession of the area changed often among numerous wealthy families during the centuries, and the region also attracted additional wealthy families that built large homes such as the Wimbledon Manor House as well as Warren House. The village developed from having a stable rural populace coexisting alongside with the aristocracy and the wealthy retailers from the town. In the 1700s, the Dog & Fox pub became a stop of the stagecoach route from Portsmouth to London. After that, in 1838, a railway station was built southeast of the village at the foot of Wimbledon hill. The area of the train station shifted the concentration of the subsequent development away from the original village centre.