Rubbish Removal Wandsworth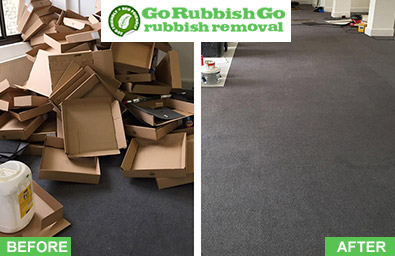 Garden waste clearance becomes increasingly popular in the summer.
A lot of people look to hire a Wandsworth rubbish clearance company to help them with all the trash that has been built up over the winter months. Services can range from carrying out furniture clearance to helping you clear up all the extra bits and bobs that are lying around.
Book Cheap Rubbish Clearance Service in SW8
We often treat our gardens as a cesspit, throwing things around and don't take much care of them. You would only seem to realise that there is a problem when you see that you're unable to have a barbecue or even walk around freely! Go Rubbish Go. can help you with that by arranging for our SW8 waste removal team to visit you as soon as possible. We work flexible hours and our clearance services cover the SW18 region too. So why not give us a call on 020 8610 9182 now and speak to one of our expert team members to tell us what you need!
Get Top-expert Waste Removal in Wandsworth
Gardens are areas that tend to be neglected in Wandsworth because you feel that you wouldn't really need to pay attention to them, especially if they are just there and not being used. Did you know that when you have a full garden clearance in SW8, it increases your house value by at least 20%? Most people, when they are looking to sell their house, have professional rubbish removal SW8 services carried out in their gardens and even have them landscaped. As much as we are led to believe that human beings can be deep, the truth is that aesthetics will always count because we are designed to like pretty things.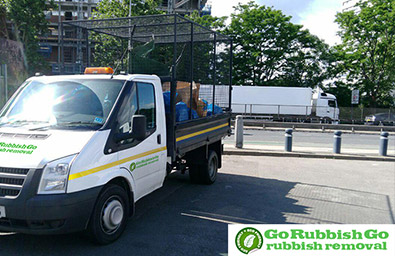 Testimonials
Words cannot express how grateful I am to Go Rubbish Go for their magnificent waste collection services! My entire home in Wandsworth, SW8 looks so much better now, all thanks to your fast acting team of experts! Great performance, keep it up!

Choose Our SW8 Rubbish Clearance Experts to Take Care of Your Garden Waste
So how is a garden clearance carried out? The simple answer is that hiring a company in the SW11 district such as us cuts your work out in half. We do all the hard work for you and our waste clearance Wandsworth teams ensure that we are cost effective and reliable to hire. Go Rubbish Go. has been in the waste clearance business for over 10 years in the SW17 area and we know a thing or two about how to clear your garden for that perfect finish! We work around tight work schedules, so why not give us a call today on 020 8610 9182 and speak to one of our representatives who will ensure that we are able to fit you in when you desire. All our quotes are inclusive of VAT, so you don't end up having nasty sticker shocks by the end of it all. Alternatively, just drop us a line on our website contact form and a member of our staff will be in touch with you within a few hours!
List of services we provide in Wandsworth, SW8:
Household Rubbish Clearance Wandsworth, SW8
Commercial Rubbish Disposal Wandsworth, SW8
Garage Clearance Wandsworth, SW8
Garden Rubbish Removal Wandsworth, SW8
Electronic Waste Collection Wandsworth, SW8
Building Waste Removal Wandsworth, SW8
Great Value Waste Clearance Services!
We at Go Rubbish Go have been helping people in Wandsworth sort out the state of their properties for many years by providing a fully comprehensive waste disposal in SW8, guaranteed to keep everyone satisfied. After all, what exactly are you looking for from a rubbish disposal Wandsworth, SW8 company? A quick, quality and efficient waste collection in Wandsworth at affordable prices? Well, our services can offer you all this and much more so that you're left with the easy and stress-free experience that you deserve. So, if you fancy getting rid of your rubbish and junk and freeing up some extra space in your house, give us a call today on 020 8610 9182.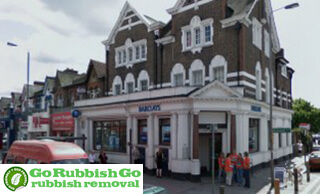 Lush Green Gardens in South West London
Wandsworth is based in South West London in the London Borough of Wandsworth. It takes its name from the River Wandle. The Wandsworth borough encompasses quite a few areas in the vicinity such as Tooting and Balham. The area itself is very well connected to Central London with the nearest train station being Wandsworth Common which can be found on the Southern services that run to Brighton. Nearby train stations include Clapham Junction and Earlsfield. It is around a 12 minute journey to Waterloo station. Wandsworth is also home to a large Category B men's prison. It has some of the most expensive townhouses in the London region and is densely populated. It is famously known for its common, Wandsworth Common and the lush greenery that can be found within it. A lot of infrastructure has been developed in large within the last 10 years that has transformed it into an area with mainly apartment blocks and many pubs and bars.