Rubbish Removal Kingston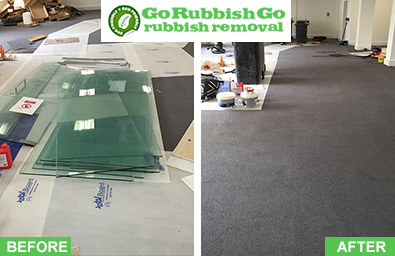 The work you put in cleaning your home each week can all be ruined though if the building is filled with clutter.
Old clothes, books, furniture, toys, appliances, electronics and more can take up valuable space, leaving you with nowhere to put things. This ruins the feel of a room, as you can't feel comfy if the place is a mess. It will add wok to cleaning and if you have this problem in your workplace, it can add other difficulties. You can't impress clients, find places for staff to work, store items if your office is full of clutter. This problem can be combated with our help. Contact Go Rubbish Go on 020 8610 9182 and we can help with rubbish removal in Kingston.
Book Cheap Rubbish Clearance Service in KT1
We are a leading KT1 rubbish clearance company who can help in all aspects of the job. We can send our property clearance team to your address in KT2 and they will tackle the necessary chores. Our staff will sort your things with you, take them apart and whatever is needed. They can move items, even large and unwieldy ones, through your building safely. They will load the goods onto their vans and then whisk them away to the proper disposal sites. We can handle a domestic clearance, commercial clearance, garden waste removal, builders waste removal, and much more, as well as offer skip hire.
Our Kingston Waste Removal Services in Action
Our rubbish disposal in KT1 covers everything the job entails. We are also flexible, so that we can give you the exact nature of support you require. You can find out more when you call us and we will run through everything. We will tell you more about our Kingston waste clearance professionals and what property clearance services we offer. Our team can be with you when you need it and in an appropriate number. We have the suited vehicles for the job and each member of our team is trained and experienced. They will handle all junk properly and carefully when in your home and dispose of it properly later. We follow all rules and guidelines, so no item is disposed of incorrectly or illegally.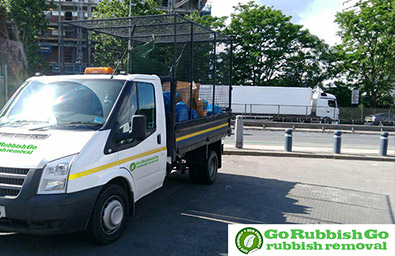 Testimonials
Call this company if you ever need a rubbish disposal service in Kingston at short notice! I did and I'm really happy I did – they came to my home in KT1 an hour after my call and lifted a huge weight off my shoulders, collecting and disposing of all the waste that was making living at my home unbearable. Huge thanks to everyone involved!!!

We Will Handle Your Home and Office Waste Removal in Kingston. Hire Us Today!
Our services are offered with free quotes. This allows you to get the perfect waste disposal support in Kingston, as you select everything you need instead of selecting from existing deals of packages. We will give you a customised experience and because the quotes are free and no commitment, there is no risk if requesting one. For more info on our great deals and expert waste removal in Kingston, KT1, contact Go Rubbish Go today. Book with us today on 020 8610 9182!
List of services we provide in Kingston, KT1:
Household Rubbish Clearance Kingston, KT1
Commercial Rubbish Disposal Kingston, KT1
Garage Clearance Kingston, KT1
Garden Rubbish Removal Kingston, KT1
Electronic Waste Collection Kingston, KT1
Building Waste Removal Kingston, KT1
Hire Our Rubbish Removal KT1 Services and Get Rid of the Waste Now
Hard grafting and manual labour isn't for everyone, and to top it off, there are proper practices and regulations that you must adhere to when disposing of rubbish and waste. There could very well be disastrous consequences if you dispose of waste in an improper manner. So if you're not one hundred percent sure what you're doing, proceed on your own at your peril. However, the smarter choice would be to call our waste disposal KT1 company and let us take care of the job for you. We can be contacted on 020 8610 9182, where you can find some more information about what we're about and book one of our waste collection Kingston, KT1 services.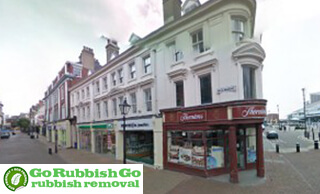 A Compendium of Kingston
Kingston is within the southern part of West London and helps make up the Royal Borough of Kingston upon Thames. It is close to Richmond Park, Petersham, Kingston Vale, Wimbledon, Teddington, Surbiton, Hampton Court, Chessington and Hampton. It uses the KT1 and KT2 postcodes, with nearby places utilising TW10-TW11, SW15, SW19-SW20, KT5-KT6, and KT9. As a settlement, the town dates back to 826 AD and was recorded in the Domesday Book. Anglo-Saxon kings were crowned here in St. Mary's Church. In the 20th century it became known for the production of aircraft, with some notable planes being the Hurricane, the Sopwith Camel and the Harrier. Today, Kingston is a university town based around Kingston University. Two shopping centres can be found here and a market has been held regularly for hundreds of years. The Rotunda is a leisure complex and the Rose Theatre and the Crack Comedy are notable entertainment venues. Nearby places include the River Thames and Canburry Gardens.