Rubbish Removal Ruislip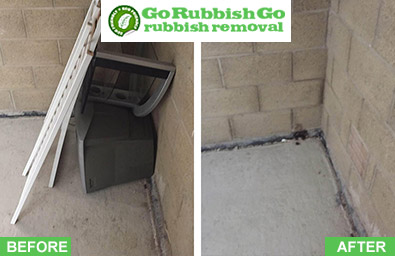 Having a garden clearance is usually one of the first things on any house owner's mind, especially if the seasons have just changed.
Having your grass cut or your leaves cleared up is one thing, however when you start realising that there is broken furniture that is lying around, you know that something needs to be done. Junk will soon start to impact the aesthetics of your garden in Ruislip, so rubbish removal HA4 is your best answer.
Book Cheap Rubbish Clearance Service in HA4
You don't always have the time off work to do it, so why not give us a call on 020 8610 9182 today and speak to one of our team members. We give you a free estimate that is valid for 30 days! You don't have to think of doing your Ruislip waste clearance HA4 by yourself, especially when Go Rubbish Go is there to help you with it! We have over ten years of experience and we are confident that we can help you with all your HA4 rubbish disposal needs.
Welcome in Summer the Proper Way – Get Our Rubbish Disposal Service in Ruislip!
Welcoming in summer is fantastic when you arrange for a Ruislip rubbish clearance service for your garden. How many times have you thought of clearing your garden in Ruislip up and you didn't know when you would get the time to do it? With the help of Go Rubbish Go, you will be able to have your garden in H2 looking just the way you want it to. So how do our garden waste removal HA4 services work? The answer is simple. All you need to do is call us on 020 8610 9182 now and speak to one of our specialists who will tackle all your rubbish clearance in Ruislip for you in no time. We understand that you don't always have the time to clear out your own garden and junk can rapidly pile up.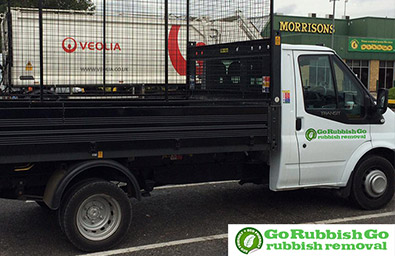 Testimonials
I was pretty desperate as I needed a waste removal service in HA4 at extremely short notice – the in-laws were coming to stay with us the next day and the spare bedroom was full of old clothes, a sofa and useless knick-knack I'd been meaning to discard but somehow never got around to it. A quick search online produced the name of Go Rubbish Go who offered such services in Ruislip and I called them right away. They managed to send a crew over the same afternoon and they removed all the junk in less than an hour, including the heavy sofa. Great job, can't thank you enough!

The Best Garden Clearance Help in Ruislip
In less than a few hours, our Ruislip waste disposal team can make your garden neat and clean as well as dispose of any old furniture and green waste that you may have ruining your garden. It is also noted that if you want to sell your house, having a clean, well manicured garden will definitely raise the price. Our team works professionally and swiftly and always ensures perfect results. For a quote on our HA4 waste collection Ruislip services, simply call us today or alternatively, use the contact form on our website to request a quote via e-mail. We look forward to being your clearance company!
List of services we provide in Ruislip, W12:
Household Rubbish Clearance Ruislip, W12
Commercial Rubbish Disposal Ruislip, W12
Garage Clearance Ruislip, W12
Garden Rubbish Removal Ruislip, W12
Electronic Waste Collection Ruislip, W12
Building Waste Removal Ruislip, W12
Book Our W12 Rubbish Removal Services and Watch Your Rubbish Disappear
If you've got a rather unsightly mess of junk in your house or garden and have been meaning to do something about it, we can provide you with a fantastic hassle free solution. We have been helping people with their rubbish related needs for many years and have enjoyed an unprecedented amount of success as one of the best waste removal companies in London. Our rubbish collection team are efficient, polite, and strive to make your life easier by taking care of all the hard work. Our hardworking employees will arrive promptly at a prearranged time, and will get to work straight away, clearing away your rubbish and waste without any fuss. Call now to book and save money!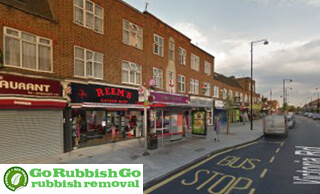 Ruislip, the Leafy Suburb of the North West
Ruislip, based in North West London, comes under the London Borough of Hillingdon. Comprising the HA4 and H2 postcodes, it is the perfect mix of urban build up and leafy suburban feel. It is one of the wealthiest areas in West London and has a dense population of mixed ethnicity. Its surrounding areas include South Harrow, Northolt, Northwood, Eastcote as well as Pinner. It is home to Ruislip Lido, which is a manmade beach and lake. Most people flock to the Lido in the summer and take their children along. Ruislip is connected to Central London by Underground lines – the Metropolitan and Piccadilly lines. The tube stations that Ruislip includes are Ruislip, Eastcote and Ruislip Manor as well as South Ruislip, West Ruislip and Ruislip Gardens on the Central Line. Ruislip has a fair bit of farmland surrounding it, very wide roads and is generally very peaceful. It is also very close to RAF Northolt that is technically in South Ruislip.