Rubbish Removal Soho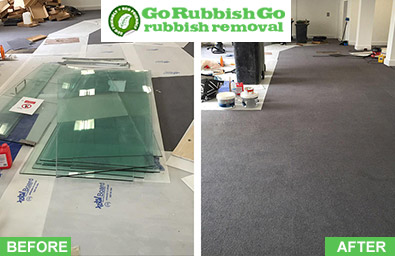 Rubbish clearance Soho is a task that a lot of people look to undertake for their house because they either want to convert the loft into something new, or they just need more space. Months and years can pass and you can often get into the bad habit of practically just sticking everything into the loft, until you find that the attic door is refusing to close! So what should you do? Hire a team of W1 waste clearance professionals.
Book Cheap Rubbish Clearance Service in W1
You may want to add insulation to your house in Soho as it gets rather cold in the winter and the draft can come in. Having an attic clearance done is very simple when you hire Go Rubbish Go. We have over ten years of experience in rubbish removal and our staff is highly reliable and efficient in all types of rubbish disposal! For more information on all our services, simply call us on 020 8610 9182 now and speak to one of our experts on how we can serve you best! Don't leave your rubbish removal in W1 to chance!
We Will Help You Get a Cosier House in Soho by Hiring Our Waste Disposal Experts
Loft clearances are best done by rubbish clearance professionals, especially ones who know what they are doing! When you hire Go Rubbish Go, we ensure that we are always there to provide the best waste removal in Soho. We ensure that you do not waste time clearing things out when you can simply hire us and it will be done for you! One of the most salient bits that people miss out is that if you want to attract better things towards yourself in life, you always need to keep your house as clean as possible. Hoarding extra things means that money slows down in coming in and that is most definitely not something that you would want.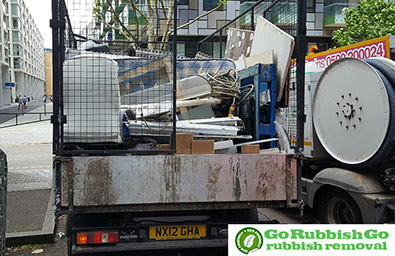 Testimonials
There were heaps of rubble and bricks scattered across my driveway after the builders finished my house extension in Soho and I kept tripping over waste – I almost sprained my ankle once. All that building junk had to go, and go fast, so I hired this company to do the rubbish disposal. Their deals for W1 were very appealing, so, in the end, I didn't spend much either. Well done, keep up the good work!

Let us Handle Your Loft Clearance in Soho Professionally
Hiring a junk removal service means that you won't have to do it all the clearing up by yourself and you can dedicate your time to something else. Our W1 rubbish disposal services are very affordable and won't leave you feeling that you have broken the bank! You don't only just get a clean and free space after everything has been taken out; you also get the opportunity to do whatever you want with your loft. Perhaps you are looking to convert it into an office to work from home or a bedroom, the choice is completely yours! For more information on our waste collection Soho, W1 services, to call us today on 020 8610 9182 and speak to one of our advisors about what rubbish clearance services we can offer you!
List of services we provide in Soho, W1:
Household Rubbish Clearance Soho, W1
Commercial Rubbish Disposal Soho, W1
Garage Clearance Soho, W1
Garden Rubbish Removal Soho, W1
Electronic Waste Collection Soho, W1
Building Waste Removal Soho, W1
Get rid of Bulky Waste the Easy Way by Hiring us for Waste Removal in W1
General junk and rubbish about the house, although taking a lot of time and effort to remove, can be relatively easy to dispose of in comparison to large pieces of furniture. Big and bulky items of furniture can be a nightmare to navigate out of the house and fit into a car. That is why many of our customers prefer to seek out the expertise of our well reputed rubbish removal company. Our W1 Soho waste disposal services will have your furniture and bulky waste removed from your property in no time at all, and we can assure you that your walls won't succumb to any scratches and damage in the process. Book now and see the results for yourself!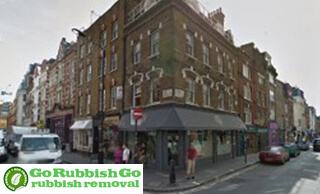 Soho – Central London's Star
Soho, a district of Central London with the postcodes W1, WC1 and WC2 is famously known for its red light district as well as being home to the sex trade industry. It is also home to a lot of bars, clubs and pubs and many tourists visit it. Nearby places include Piccadilly Circus, Fitzrovia, Marylebone and Great Portland Street as well as Leicester Square. Soho is also home to the Palace Theatre, as well as being a small but very multicultural area in London. A lot of the area is meant for pedestrians and cannot be driven through. Soho is also home to a few clip joints as well as adult cinemas and is still very well known for the sex trade that has continued over the years. Nearby is Chinatown, which is always buzzing with tourist trade as well as a lot of fabric and old school vinyl shops.