Rubbish Removal Alperton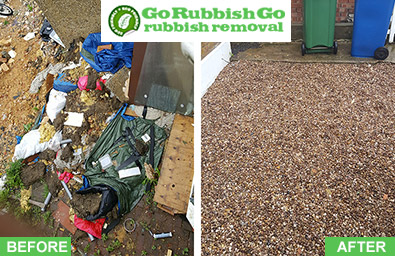 There are times when the standard waste collection offered by the local council isn't enough to deal with the waste that's built up.
Whether it's the result of a gardening, DIY or spring cleaning project, we've all encountered times when we need a more immediate and effective Alperton rubbish removal. But where can you turn in Alperton if you do need that extra support? Which is the right service for you? Well, we'd like to put ourselves forward as the solution because we have the expertise, availability, and great prices to make easy and affordable throughout HA0. So don't let that waste get you down any more, come to Go Rubbish Go and we'll deal with it for you. Just call 020 8610 9182 and book today.
Book Cheap Rubbish Clearance Service In HA0
Affordability; it's something we all look for when choosing to hire a professional service, and yet all too often it's something that's no available. Instead you get promises of great value, and then get tricked by all the extra fees and taxes that were conveniently forgotten. However if you are looking for an affordable rubbish clearance in Alperton, HA0 then Go Rubbish Go is the solution. We not only make sure our prices are genuinely affordable, we also make them transparent and easy to understand, so you can trust you're not going to get fooled or tricked into paying more than you should. Get the best prices in town and the best service, by coming to the rubbish disposal experts in HA0.
Want To Hire The Best Alperton Waste Removal Team?
Of course you want to hire the best rubbish removal service in Alperton; we know it's a bit of a silly question, but how can you make sure you're hiring the best Alperton waste removal? Well there are a few things to consider: do they have experts in waste disposal HA0 on the team? Do they offer a guarantee for their service? Do they fully vet their team? Is every team member fully trained and has the necessary qualifications and experience? If the answer to any of these is 'no' then you're not getting the best service. And if you answered yes, then you're probably already working with Go Rubbish Go because we are one of the few to offer all of the above.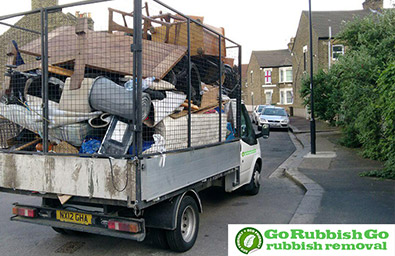 Testimonials
It really couldn't be easier to get your rubbish in Alperton HA0 dealt with. The company were brilliant and made things incredibly easy. There was no jargon, no hidden fees or tricky ideas, just an easy job and plain good service. I initially used them for help with waste disposal after a DIY project, and I've already used them again since. Looking forward to working with them again in the future.

Book Your HA0 Waste Collection Appointment Now, And You're Waste Will Be Gone In A Jiffy
If you don't want to have to wait for your waste collection in Alperton to happen, then we recommend you don't wait and instead call us today on 020 8610 9182 and take advantage of our same day service. After all, why would you want rubbish hanging around your home when we can send a professional HA0 waste clearance team today? Maybe you're in the middle of a big DIY or gardening project and know there will be more rubbish coming, and figure it's better to wait until it's all ready to be collected. We are more than happy to come and do a complete job for you, but we can also come on a regular basis and do it bit by bit, that way you'll have less rubbish and more space.
List of services we provide in Alperton, HA0:
Household Rubbish Clearance Alperton, HA0
Commercial Rubbish Disposal Alperton, HA0
Garage Clearance Alperton, HA0
Garden Rubbish Removal Alperton, HA0
Electronic Waste Collection Alperton, HA0
Building Waste Removal Alperton, HA0
The Simple Solution To Your Waste Clearance Alperton Needs
If there's one thing we strive for at our company it's simplicity; we know what we offer and we just want to do a good job. So we don't try and make rubbish clearance more complicated than it needs to be, with us if you need help with rubbish disposal Alperton then that is what we will help you with. Our processes are simple: you call us on anytime 020 8610 9182 and tell you what support you need, we give you a free, no obligation quote; you decide if you want to hire us and if you do, just let us know when and where you need our team to come, and then we'll come and take your rubbish away.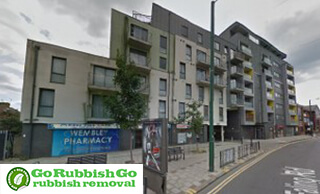 Getting The Most From Your Time In Alperton
Not necessarily one of the most well-known areas of London, Alperton is nonetheless a fun place to spend a day, and a great place to live. It's located in the London Borough of Brent and forms part of Wembley. Some of the local attractions include the Sudbury Golf Club, Hangar Hill Pitch and Putt, and Hangar Hill Park. It's an extremely diverse area in terms of culture, so it's also a great place to try the cuisines of the world. It boasts an excellent transport system, so getting there's no problem. It has its own tube stop, but is also served by nearby Hangar Lane station, and even Wembley Park, and being so close to Wembley means there's a never ending line-up of sport, music and entertainment on your doorstep.