Rubbish Removal Bankside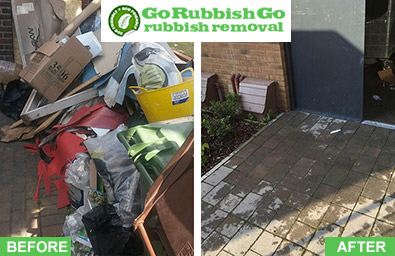 Looking forward to taking on a new home improvement project or gardening upgrade, but put off by the prospect of having to go to the top all the time to dispose of the waste?
Or worse, worried about it all just building up so you end up trapped by it? It's something we hear all the time at Go Rubbish Go and it's one of the main reasons we do what we do. Our Bankside rubbish removal is designed to make our customers' lives easier and less stressful when it comes to waste disposal. So whatever project you are planning, please don't let the rubbish that will result put you off. Instead call now on 020 8610 9182 and book your appointment today.
Book Cheap Rubbish Clearance Service In SE1
We don't think it should be hard to find reasonably priced waste collection in Bankside, unfortunately from what our customers tell us it's not as easy as it should be. There are a lot of cowboys out there, and it's hard to tell the good from the bad. Luckily that's where we come in! Our low cost, highly reliable service is designed to go against the grain of what's currently on offer. So when you want to book cheap Bankside waste removal services, there's only one place to come: Go Rubbish Go. Call us any time to discuss your needs, and get a service you can actually afford without selling your car. For the best prices call 020 8610 9182 any time.
Why Choose Us Over Other Bankside Waste Removal Services?
There's a lot of choice out there when it comes through rubbish clearance in Bankside, SE1. There are big name companies, small independent firms, and everything in between. So no matter what it is you need, you're covered. So why choose us over anyone else around? Well, we are extremely fortunate to have the finest SE1 waste clearance team around. Our rubbish experts are all fully trained, have tons of experience and just generally really know their stuff. So when you come to us you know you'll be getting a world class service. We are also one of the only rubbish disposal services in the area that prioritise recycling as much as customer service, allowing you to rest easy knowing that when you hire us you're reducing your carbon footprint.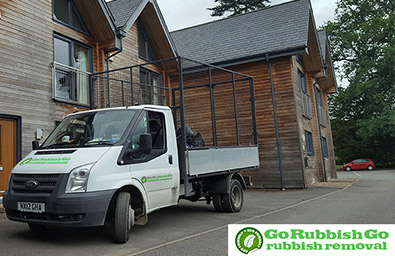 Testimonials
Can't believe I waited this long to call. I'd never bothered with a waste clearance service before as I thought it was a waste of money, but I was so wrong. Needed a quick and easy way to get rid of some garden waste before visit from in-laws and the team came in the Bankside SE1 same day and were in and out on no time. I will definitely be using them again, definitely worth the money!

Call Today And We'll Take Your Junk Away With Our Speedy SE1 Waste Collection Services
Are you in desperate need of a rubbish removal service? Ideally one that can come as soon as possible? Then you are in the right place, because we are one of the few waste disposal SE1 services to offer a same day service. We know that people don't like to wait, especially when it comes to smelly, dirty rubbish, so we make sure they don't have to. When you call and book now on 020 8610 9182 you can let us know if you need a same day or next day service and we'll get our team on the case. There's no more waiting with our rubbish disposal superior service, so get in touch today.
List of services we provide in Bankside, SE1:
Household Rubbish Clearance Bankside, SE1
Commercial Rubbish Disposal Bankside, SE1
Garage Clearance Bankside, SE1
Garden Rubbish Removal Bankside, SE1
Electronic Waste Collection Bankside, SE1
Building Waste Removal Bankside, SE1
Simple Waste Clearance In SE1, Bankside – It's What We Live For
Simplicity, it's one of the words we use to sum ourselves up. We simply offer rubbish removal – we'll come to your home or business, pick up the rubbish you want to be rid of and dispose of it for you. Simple. We simply offer the best prices around – we check our prices regularly against our competitors so we know this is true. Simple. And we simply offer the best service in town – our team are highly trained experts in their field. Simple. With us you know what you're getting; simple, hassle free rubbish disposal Bankside at a great price. We honestly don't think it needs to be any more complicated than that – do you?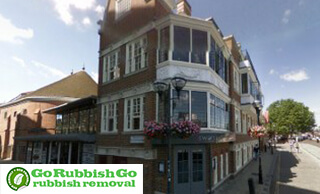 Bankside Has A Lot To Offer
Getting its name due to its literal bank-side location by the river Thames, Bankside is a district in the London borough of Southwark, and is on the south side of the river. The most famous attraction in the area is probably the art gallery, the Tate Modern, which is housed in the former Bankside Power Station, and remains a prominent landmark even without going inside. The area now has a direct walking route from the Tate Modern to St Paul's Cathedral, via the Millennium Bridge. Other transport links include Blackfriars railway and tube stops, which are mere miles away from central Bankside, and also Southwark station, a similarly short distance away. There are also a number of local bus routes, and cycle hire destinations.