Rubbish Removal Beckton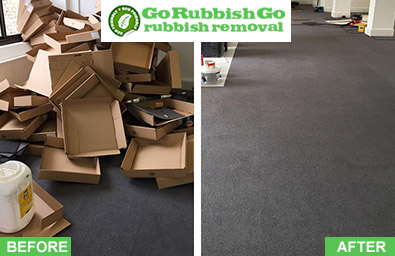 There is no getting around the fact that living in a single space usually ends up with a lot of items that pile up and become unbearable to deal with.
There is no sense in letting these gather dust if you can find a new way to utilise them in new products via recycling. You can also get the items you cannot recycle to the tip and this will get them out of the way for you. Here at Go Rubbish Go we focus on just that, taking care of all your E6 rubbish removal needs with speed and efficiency. Give us a call at 020 8610 9182 and get a free quote for your rubbish disposal in E6, Beckton.
Book Cheap Rubbish Clearance Service in E6
With our great rubbish removal service in Beckton, E6 you will be left with an empty spot where all your waste used to be within a single day. We know the difficulties involved in taking care of the heavier furniture pieces as well as having to clear old appliance pieces. You can count on our staff to provide the highest quality services possible without them becoming a major drain on your wallet. Whether you are looking for simple a waste disposal solution or you need a better organised Beckton rubbish clearance job, we have you covered all the way.
What Makes Us Your Best Choice For Beckton Waste Removal On The Market?
When you have been in the rubbish removal business for as long as we have, you know your clients' needs inside and out. We have seen it all – crowded basements filled with sometimes a decade's worth of items in various shapes, sizes and amounts. We have worked with small and large homes, businesses and corporations. If you want an experienced and professional team of specialists to take care of the task, then we have what you need and more. Nothing beats experience and manpower in this line of work and we have both aplenty, giving you a level of waste disposal Beckton service you will be proud of at the end of the day.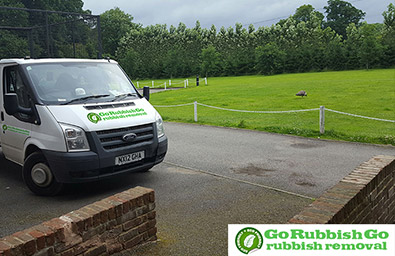 Testimonials
I still can't believe it only took them almost 2 hours to get rid of the stuff I had been accumulating for more than 5 years in my home in Beckton, E6. Their rubbish disposal service was decently priced and it turned out to be a lot faster than I expected. I'd definitely use them again if the need arises.

An Efficient Beckton Waste Collection Service with One Simple Booking
If you have a basement or an attic filled with items you simply cannot deal with at this time, then you should consider how our service can help you out. Go Rubbish Go has you covered – we can cater for all your waste collection in Beckton, E6. We know how quickly things need to be done, especially during work days. Nobody wants to have their home clutter in the way, so just call now on 020 8610 9182 and you will see the answer for yourself. With more than a decade of experience in the waste disposal industry we have been doing this long enough to know the need for speed is essential.
List of services we provide in Beckton, E6:
Household Rubbish Clearance Beckton, E6
Commercial Rubbish Disposal Beckton, E6
Garage Clearance Beckton, E6
Garden Rubbish Removal Beckton, E6
Electronic Waste Collection Beckton, E6
Building Waste Removal Beckton, E6
Waste Clearance in Beckton Made Simpler Than Ever
There is no sense in wasting your time trying to dig through entire piles of waste you need gone. It doesn't take much to pull it off, so get started on it by simply calling us on 020 8610 9182. We will grab what you need gone, recycling it and disposing of it safely, giving you a chance to free up much needed personal space. Waste clearance in E6 is what we have been doing for many years, so have seen the best and worst of it. You can find out more about our services with that phone call, but you will also receive a free quote on your waste removal E6 task, as well as any details of the job. Nothing more is needed to start the process! Hire us and we'll take the load off your hands.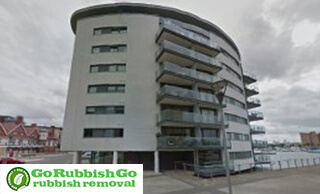 Life around Beckton
As one of the more urban neighbourhoods around east London, Beckton stands as a part of the London Borough of Newham. Beckton was named after the governor of the Gas Light and Coke company, Mr Simon Adams Beck. Most of the urban development happened after World War II, when many prefabs were built in the area and the new prefab-lined streets were named after war heroes and generals, but they were all swept away apart from the only one left – Eisenhower Drive. The nearby Docklands Light Railway goes from Beckton Station toward Canning Town, Tower Gateway and Stratford International. You can also see a lot of bus lines connected to a number of areas around London and the surrounding areas.