Rubbish Removal Beddington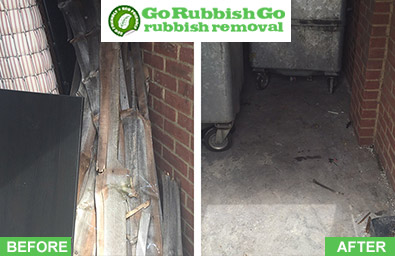 If you have recently found yourself in need of getting rid of large quantities of items you simply don't need anymore, then you will struggle to find a way to get rid of them alone.
You can easily solve the issue by utilising our Beddington rubbish clearance services in full, allowing us to get rid of these items quickly and efficiently. You can get them out of the way and recycle them or even get them in the local tip with our help. Here at Go Rubbish Go we make it our priority to ensure our clients have everything they need gone out of the way with discretion and speed. Call now on 020 8610 9182 and get your rubbish removal started today.
Book Cheap Rubbish Clearance Service in SM6
We offer a professional and quick rubbish removal in Beddington, SM6 as well as CR0 areas of London. No matter how much waste you have lying around or how many or how heavy your items may be, we have the people, tools and long years of experience to have it all gone quick and easy as you see fit. We go for a combination of affordable prices and a professional attitude to allow the largest amount of people to benefit from our services. From big rubbish removal projects to the smaller waste disposal needs, we will be there for you every step of the way.
What Makes Us the Best Beddington Waste Collection Company Around
Age is no substitute for experience, but we have both on our side. With more than a decade of experience dealing with SM6 rubbish disposal we know the ins and outs of the business, the finer details of the jobs and how to better utilise it all into one single, professional and affordable package. You can count on us to get the job done and we will take care of every single detail of the job whenever you need us to. If you want a company with experience and professional attitude, look no further than what we have to offer. Give us a call, explain your situation and the number and materials of the items in question and we will be there in a jiffy, taking your waste removal in SM6 to the next level.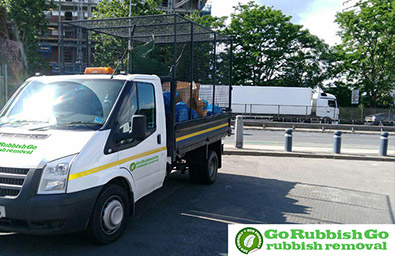 Testimonials
Live in Beddington SM6 and hired them a few days ago. There is no greater sense of relief after emptying out an entire garage full of clutter collected over two generations. Now I use this space as my pottery workshop and I can finally move around without tripping on the random junk I had around. That was rubbish removal done right, thanks again.

Doing SM6 Waste Removal within the Span of a Single Day
What may be a bold claim for some companies is simple routine for us. We have done a number of jobs over the years that required great levels of speed and accuracy, since our clients' needs aren't always the same. Go Rubbish Go believes in proper SM6 waste collection that is organised and fast, as well as waste disposal in SM6, Beddington with safety and efficiency in mind. Weekdays or weekends, we are there to help, just a phone call away, so call 020 8610 9182 and let us know more about your needs. We can tailor a package to meet your needs and budget! We can visit you on the same day of your call so what are you waiting for?
List of services we provide in Beddington, SM6:
Household Rubbish Clearance Beddington, SM6
Commercial Rubbish Disposal Beddington, SM6
Garage Clearance Beddington, SM6
Garden Rubbish Removal Beddington, SM6
Electronic Waste Collection Beddington, SM6
Building Waste Removal Beddington, SM6
Waste Clearance in Beddington Made Effortless and Simple
It is not easy to get the random piles of items turned into a neat group of boxes for disposal, especially if they have resided in your basement or attic for nearly generations. Thankfully you can figure it out with a single move – one phone call to 020 8610 9182 to explain your situation. We will collect them and recycle whatever we can in the process. Rubbish removal in CR0 will never be easier – with our professionals you will be able to rest assured your items will not harm the environment and will be reused whenever possible. When it comes down to waste clearance SM6 you will need to break your back working on it alone, but thankfully you have us to give you a much needed hand or ten. One call with information on the amount of items you need to dispose of and our team will give you a free quote as well as information on the size of the van and the tools we'll bring along. Book now!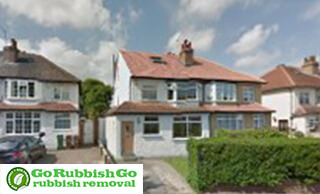 Exploring Beddington
Located in the London Borough of Sutton, Beddington was formed from what used to be a village bearing the same name before the early 20th century. Places worth visiting in in the area include the Beddington Mill, believed to be the one of two such mills surviving today, as well as Beddington Park. The latter is located in what used to be the manor house of the Carew family lost due to unpaid debts in the 1850s. Another place worth visiting is St Mary's Church with incredible monuments from 1200 all the way to the 20th century, a restored and elaborate looking mid-Victorian scheme and fabrics dating back to the 14th and 15th centuries.