Rubbish Removal Bloomsbury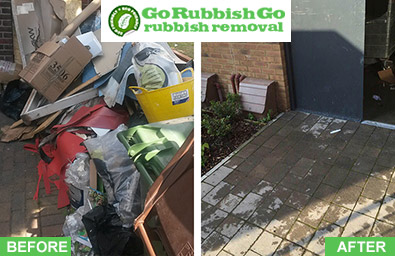 Living spaces tend to accumulate a lot of clutter, leaving you with enormous pile of unwanted items that just takes place.
If you are stuck with stuff you no longer need or use, let Go Rubbish Go help you get rid of it. Whether you want us to remove regular household rubbish, some old appliances or bulky construction materials, we can provide you with excellent rubbish removal in Bloomsbury. Our simple and pricing system based on the volume of your junk guarantees that you will not pay more than you should. You can choose from a wide selection of affordable WC1 waste removal services. Simply call 020 8610 9182 and we will take care of all the details.
Book Cheap Rubbish Clearance Service in WC1
Have a garage or attic full of junk? Is your property cluttered with bulky building materials? Or maybe you don't know what to do with your garden waste? Whatever type of waste clearance in Bloomsbury you require, we will be able to provide it at the best price. Our cost-effective solutions are designed to suit any needs and budget. We have years of experience and knowledge of the rubbish removal industry, allowing us to offer excellent rates without compromising on the quality of our services. Our high standards and affordability made us a go-to Bloomsbury rubbish disposal company for the residents and businesses in the WC1 area. If you are looking for a cheap and quick way to get rid of the unnecessary items, call now 020 8610 9182 and get a free quote.
Let Our Bloomsbury Waste Removal Professionals Take Away the Junk
As a rubbish removal company with over a decade of experience, we at Go Rubbish Go know how to dispose of all types of rubbish. With our fleet of modern vans and team of experts, we can haul and transport your junk safely to nearest recycling facility. Removing heavy furniture or electronic items is not a problem for our experienced crew. They will come to your property at a convenient time for you and will load your junk and dispose of it all. We offer a wide range of low- cost Bloomsbury, WC1 waste disposal services for both commercial and residential needs. Give us a call now and one of our expert teams will be on their way to your property.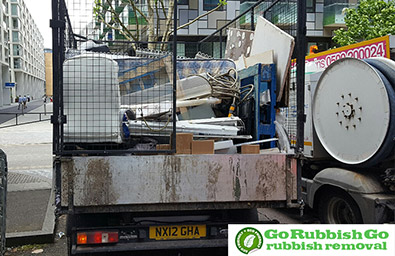 Testimonials
I hired these guys to help me clear my basement in Bloomsbury because I haven't cleared the place for 5 years and it was pretty messy. They did a wonderful job removing an enormous amount of clutter from my home in WC1. Their waste collection services are not only fast, but also quite affordable. I would definitely recommend them!

Schedule Your WC1 Waste Disposal Service Today and Get Rid of the Junk
The focus of our rubbish removal services is great customer service. We will work closely with you to meet your needs and expectations. Our diligent and reliable team will handle the job with the utmost care. When collecting and disposing of your junk, they will take into account the local rubbish disposal regulations and will manage the process in an eco-friendly way. We are committed to the environment and we strive to recycle as much as possible. Our company works with licensed recycling facilities to ensure that your waste is managed properly. Don't let the rubbish ruin the look of your property. Get in touch with on 020 8610 9182 and organise your waste collection in WC1, Bloomsbury today.
List of services we provide in Bloomsbury, WC1:
Household Rubbish Clearance Bloomsbury, WC1
Commercial Rubbish Disposal Bloomsbury, WC1
Garage Clearance Bloomsbury, WC1
Garden Rubbish Removal Bloomsbury, WC1
Electronic Waste Collection Bloomsbury, WC1
Building Waste Removal Bloomsbury, WC1
Simplify Your Life with Our Waste Clearance in Bloomsbury
With us, rubbish clearance in WC1 is easy and trouble-free. Once you contact us we will give you a free no obligations quote, based on the amount of junk you want us to remove and the manpower needed to complete the job. Then we will schedule a service that suits your schedule and we will send a team to your property. The professionals will arrive at the day of the appointment, fully equipped and ready to take all your unwanted goods. Then they will haul and dispose of the junk safely and timely. Don't worry about the details. We got each aspect of the rubbish removal process covered. All you need to do is to call 020 8610 9182 and point at the rubbish that needs to be removed and we will collect it in a jiffy.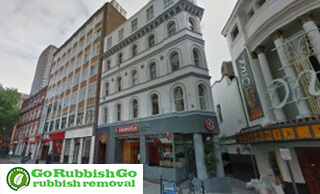 Bloomsbury –the Intellectual Hub of London
Tucked between the Euston Road and Holborn, Bloomsbury forms part of the London Borough of Camden. The area is situated in the West End, central London and is known for containing a wide variety of specialised institutions. Home to a number of museums including the British Museum, there is a lot to see in the neighbourhood. Various educational and healthcare facilities are located in the area such as the University of London, University of Law, Birkbeck and New College of the Humanities. If you fancy a day out, you can take a walk in the leafy parks of Russell Square, Bloomsbury Square, Gordon Square and Bedford Square.