Rubbish Removal Canning Town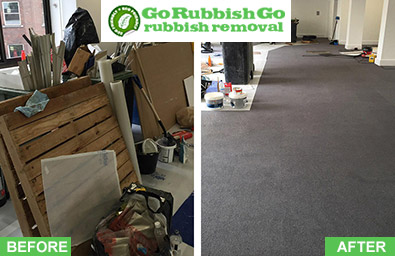 Getting rid of a large quantity of junk or unnecessary goods from your property requires expert rubbish removal services.
Finding the best rubbish disposal firm can be a challenge especially due to serious competition among the various firms providing such services in London. If you're a resident of Canning Town, Go Rubbish Go is the best firm to hire to help you remove junk from your place. We are on one of the leading providers of Canning Town waste collection services and you can depend on us for all your needs related to rubbish. Book today by contacting us on 020 8610 9182 or visit our official website to get more details and make an instant booking.
Book Cheap Rubbish Clearance Service in E16
At Go Rubbish Go we make sure that all rubbish clearance Canning Town tasks are carried out in a professional manner without any mishaps. All kinds of rubbish will be cleared from your place and we work equally well regardless of the type of waste or the area. When it comes to payment, you only have to pay for the junk that is removed by our team. No extra fee will be charged and if anything goes wrong, we'll even provide a refund. Hence the services of our rubbish removal crews can be hired by everyone who requires cost-effective services of the highest quality. Call now on 020 8610 9182 and place your order to get the best waste disposal services in Canning Town.
Why Our Rubbish Disposal Company Is Better Than The Rest?
Our friendly team does all the clearance work so you can free yourself from the burden of handling junk. We provide both domestic and commercial services so that all kinds of waste can be cleared safely. The waste collection process includes three steps, namely removal of the junk, collection and disposal. We remove all the junk using the latest equipment, use large containers to carry it all away in our vans and dispose of it in a safe manner. Maximum effort is taken to reuse, reduce and recycle waste materials so that they can be used again instead of harming the environment. After the initial rubbish disposal in E16, Canning Town, we even do an inspection to ensure that your place is free from any kind of dirt or dust.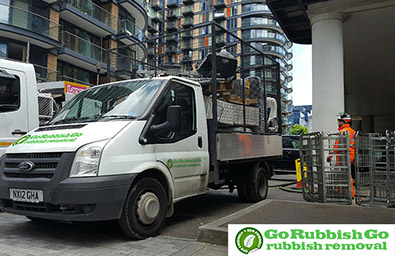 Testimonials
Chose this company to clear out a property for me and they turned out to be everything I needed to get rid of all of the clutter in my home. They were very quick to respond and sent a great team to Canning Town, E16! All of the junk was handled very professionally and the place was made rubbish-free in no time. Brilliant rubbish disposal services!

Book Now to Get Quick and Reliable Waste Collection Services in E16, Canning Town
We are a fully licensed E16 rubbish removal company which provides 100% reliable services and uses proper disposal methods. Expert waste management solutions can be obtained by hiring us and our services are better than those of all other waste disposal companies in E16. We even provide emergency services for those who need to clear their messy living spaces post-haste. There are plenty of choices to make when it comes to the type of service you can book. You can choose from services such as house clearout, office decluttering, disposing of furniture and many more packages which are mentioned on our website. Visit it today or call 020 8610 9182 to learn more about our waste removal Canning Town, E16.
List of services we provide in Canning Town, E16:
Household Rubbish Clearance Canning Town, E16
Commercial Rubbish Disposal Canning Town, E16
Garage Clearance Canning Town, E16
Garden Rubbish Removal Canning Town, E16
Electronic Waste Collection Canning Town, E16
Building Waste Removal Canning Town, E16
The Most Recommended Waste Clearance Service in Canning Town
Our Canning Town rubbish removal service comes with eco-friendly disposal techniques which can be customized in order to meet the requirements of every customer. Describe the kind of waste you want cleared and get an estimate of the final price from our experts. Get a 10% discount for online bookings and make an appointment with our team to fix the date as per your convenience. Our expert collectors will reach your place with all the required equipment and accessories as soon as you make a booking. Call today on 020 8610 9182 to get a free quote and book right away. Don't miss the chance to make use of our highly reliable waste clearance E16 services at the best prices on the market.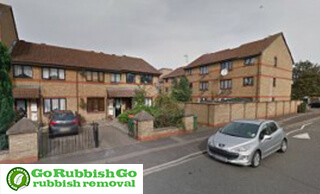 Experience Life along the River in Canning Town
Canning Town can be found in the Borough of Newham, East London and on the northern bank of the River Thames, where River Lea flows into the mainstem and where once the London docks used to stand. Although it borders extensively redeveloped areas like the Docklands, Canning Town is still one of the most deprived London districts. In the Victorian era, the area was occupied mostly by slums, but with the Housing Act of 1890, construction of council housing began, first in the form of terraced houses, which were cleared later, in the 1930s, and replaced with high-rise buildings. Currently, Canning Town is scheduled for regeneration and the project is aimed at physically, economically and socially transforming the area. Canning Town station has tube services on the Jubilee Line and it's also a junction with the DLR.