Rubbish Removal Forest Gate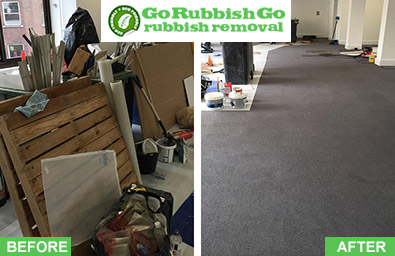 Rubbish in or around your property can be unsightly but difficult to get rid of.
The council may not pick up in your area or you may have to wait days – if not longer – for them to come and collect it. If this is the case and you need a waste removal service Forest Gate, don't hesitate to call 020 8610 9182 today and arrange to have our rubbish clearance Forest Gate team come and take away your waste. No matter how big or small the amount of waste you need to get rid of, call Go Rubbish Go today for a free quote.
Book Cheap Rubbish Clearance Service in E7
If you're looking for a reliable waste disposal in E7, Forest Gate who are friendly and professional, then look no further. Our teams will get the job done and for a small price, which we will agree on before the rubbish removal takes place so there are no surprises. We don't want to hide anything from our customers so we will present you with any and all facts up front. Our no fuss hire will mean you can simply book us on 020 8610 9182, we'll arrive on time and take away your rubbish whenever you want us to without any complications.
Why Our Rubbish Disposal In Forest Gate Is The Best?
Not only will we get the job done efficiently, but our unrivalled knowledge of the Forest Gate area means we can find you and dispose of your rubbish quickly. We're also incredibly experienced in the waste disposal field and know exactly how to load your waste safely onto the van with no mess, splits or spillages. We also aim to recycle as much of the waste as we can in order to help the environment. We will take any type of rubbish you need removing, whether it's furniture, garden waste or other equipment – we're here to help. We also deal with urgent rubbish removal in case you need to get rid of waste very quickly. Perhaps you're moving out or going on holiday, or perhaps the amount of rubbish is particularly unsightly, we will arrange to come over as soon as possible to deal with the issue. Call 020 8610 9182 now and we can advise you on the best waste removal in E7, Forest Gate for your needs.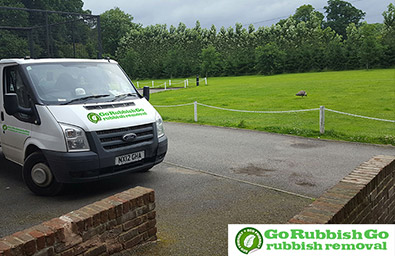 Testimonials
First class waste disposal services in Forest Gate! I'm so glad I hired this company! They cleared the junk from my entire house in E7 in just a few hours! Very fast and efficient staff!

Hire The Waste Collection E7 Experts Today And You Won't Regret It
Our staff are the best at what they do and have years of experience in E7 rubbish removal. They can be trusted 100% to turn up on time, load your waste onto the vehicle efficiently and take it away without any hassle or mess. They're also friendly and helpful, and can provide you with any advice you may need about waste clearance E7. We offer a money back guarantee if you are not completely satisfied with our service. At Go Rubbish Go we pride ourselves on happy customers so why hesitate? Book us today and see for yourself!
List of services we provide in Forest Gate, E7:
Household Rubbish Clearance Forest Gate, E7
Commercial Rubbish Disposal Forest Gate, E7
Garage Clearance Forest Gate, E7
Garden Rubbish Removal Forest Gate, E7
Electronic Waste Collection Forest Gate, E7
Building Waste Removal Forest Gate, E7
Book Our Waste Clearance Service Because We Recycle As Much As We Can
At our Forest Gate rubbish removal company, we understand that keeping the environment clean and looking after it is vital. Therefore, we try and do our bit to help it. We sort through everything we collect, no matter how big or small to see what we can recycle. Plastic, glass and other materials are all easily recyclable. We will dispose of these and everything else in the proper, safe manner for the environment. For example, white goods, such as fridges, contain chemicals and materials which can be harmful to the environment if not disposed of properly – we take care of this so you don't have to. We offer the best Forest Gate waste collection service.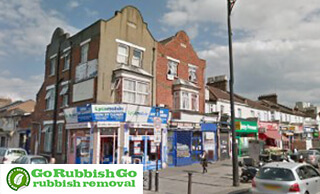 Forest Gate – A Truly Multicultural Area
Forest Gate is an area located around 7 miles away from Charing Cross and based in the London Borough of Newham. It is mainly a residential area which borders Manor Park to the east and Stratford town centre to the west. There is a great public park in the district which is called "West Ham Park". It is an excellent place where you can play different sports. To the north of Forest Gate there is another great place for recreation which is the Wanstead Flats. There are lots of football pitches and nice areas for walking. The station that serves the E7 is the Forest Gate railway station.