Rubbish Removal Gospel Oak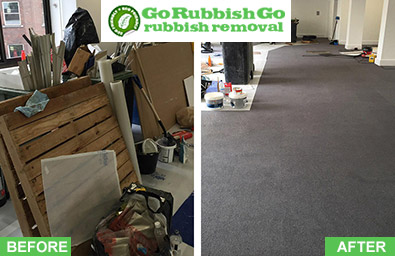 Do you need a large amount of waste, large items or white good disposed of in a timely fashion? Are you outside the limitations of the council service and on too tight a budget to hire a skip? Hire our Gospel Oak rubbish removal service in the NW3 area and we will offer you a professional service that's great value for money. Don't worry about doing the heavy lifting and sorting yourself, let Go Rubbish Go do it for you. Our trained waste removal NW3 team are on hand to help you dispose of your waste. Call 020 8610 9182 today and find out about our great deals on waste clearance in Gospel Oak. We'll even provide you with a free quote to give you an idea of how much you can save by choosing us.
Book Cheap Rubbish Clearance Service in NW3
When it comes to your hard earned cash, we understand that spending large amounts of it just for us to do a job you feel you could do yourself isn't very appealing. This is why we provide you with a fantastic service using our expertise in the Gospel Oak waste disposal field and the NW3 area to ensure this certainly isn't a task you could carry out yourself. We also make sure we give you the best NW3 rubbish removal Gospel Oak service your budget allows. We won't charge you over the odds or try and con you out of your money. We're not that type of company. We thrive off positive feedback and happy customers so duping you is not in our business plan. Call 020 8610 9182 now and speak to one of our lovely team. They can then advise you on the best package for your budget.
Hire Our Cost-effective NW3 Rubbish Removal Service
These days, many people turn to the council for their Gospel Oak waste collection NW3 needs and this is fine. However, what most people don't realise is that there are limitations on this service. For example, if you have over a certain amount of items, they won't collect it, or if you have used their service a certain amount of times, they won't collect it. In addition, if you live outside of a certain area, they may not collect. We will collect it wherever you are in a prompt fashion. Unlike the council collection service, Go Rubbish Go won't make you wait days or weeks until we take away your waste. In contrast, we won't charge you nearly as much as it costs to hire a skip. Give us a call and find out how our Gospel Oak, NW3 rubbish disposal team can help you.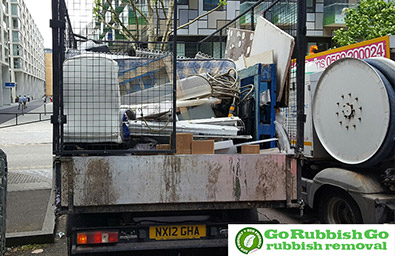 Testimonials
Finding a reliable rubbish removal company in Gospel Oak, NW3 was not an easy thing to do. A few friends directed me to Go Rubbish Go and told me that they were very pleased with the services they got. I have to say that this company really impressed me because of the great way they handled the job. They were very nice on the phone and promised to take care of everything. That's exactly what they did! I'm really thankful for the services they delivered!

Why Hire the NW3 Waste Collection Experts Today?
You may be tempted to try and cut even more costs by hiring a skip or trying to take your waste to the dump yourself. If you only have a couple of simple items, this isn't a huge problem for you. However, if you're filling the skip yourself, the task is bound to take longer than you originally anticipated. Loading heavy items into a skip takes time and sometimes special training. In addition, there are certain items you can't just take to the dump as the materials and chemicals they used can be incredibly harmful to the environment. These items need to be disposed of properly. This is why you need us. Our fully trained Gospel Oak rubbish removal NW3 experts will disposed of everything properly and do the heavy lifting so you don't have to. Call 020 8610 9182 right now and book the best waste disposal NW3 service in the entire region.
List of services we provide in Gospel Oak, NW3:
Household Rubbish Clearance Gospel Oak, NW3
Commercial Rubbish Disposal Gospel Oak, NW3
Garage Clearance Gospel Oak, NW3
Garden Rubbish Removal Gospel Oak, NW3
Electronic Waste Collection Gospel Oak, NW3
Building Waste Removal Gospel Oak, NW3
What Makes Us Different from Other Gospel Oak Waste Clearance Companies?
Most waste removal companies in Gospel Oak will charge you an arm and a leg for a minimal service. They're simply out to get your money and don't care about their business practice in the process. These companies shouldn't be trusted with sensitive materials and chemicals, as they may dispose of them improperly, putting the environment and other people in danger. We won't do this. We have years of experience in rubbish disposal industry and know the harm we could be causing. Therefore, we never practice anything but the upmost professionalism. We will also give you the best Gospel Oak, NW3 rubbish clearance deal possible as we understand customers may be on a tight budget and don't want them to feel pressured into spending more money than is necessary.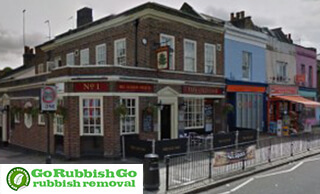 The History of Gospel Oak
Gospel Oak is a district in located in North London. It is part of the London Borough of Camden. It bears the NW3 and NW5 postcodes. The name of the area comes from a local oak tree. The parishioners used to gather under the tree and hear gospel readings in the past. Some of the most famous residential areas in Gospel Oak are the Oak Village, the Mansfield Conservation Area, the Lissenden Gardens, the Kiln Place and also the Waxham. The district is very well-served by the London Overground trains. Gospel Oak has been the focus of many rebuilding and community projects. Parliament Hill School and Gospel Oak Primary & Nursery School are 2 of the schools in the area.