Rubbish Removal Grove Park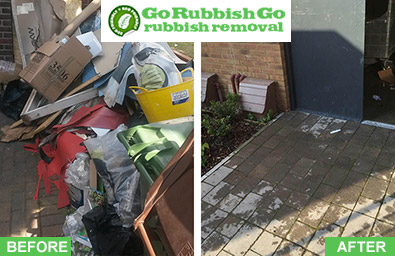 Most people nowadays are so worried about being construed as lazy that they actually put themselves at risk by taking on jobs themselves.
If you hire a skip and try to load it yourself, the heavy lifting, which you're not trained to do, could seriously hurt you. Also, hiring a skip can be really costly. On the other hand, if you hire the waste collection service of your local council, you could be waiting days if not weeks for them to collect only a limited amount of waste. With our waste collection company, these aren't thing you have to worry about. We're trained Grove Park rubbish removal professionals with years of experience who will carry out of the job properly and safely. We also won't charge you ridiculous amounts of cash to get it done. Call 020 8610 9182 today and find out about what rubbish disposal Grove Park services we can offer you.
Book Cheap Rubbish Clearance Service in SE12
Instead of hiring a skip or booking with the council, why not give our rubbish removal service a call? We'll give you the best deal for your budget, while providing you with a top-notch waste disposal SE12. Our staff are not only professional but friendly, so don't hesitate to give one of our team a call on 020 8610 9182. We can provide you with a no obligation required quote straight away and won't pressure you into making an immediate decision. With us, the customer comes first. We can offer you a package to fit your budget so call now and ask for your free estimate!
We Try To Be An Environmentally Friendly Waste Disposal Company In Grove Park
Part of our practice is also to minimise our chances of harming the environment. Not only do we do this by taking items that contain toxic materials and disposing of them in a safe, legal manner, we also recycle more than 85% of the rubbish we take. This means that whatever you're throwing away, doesn't necessarily end up as rubbish. Therefore, by using our rubbish removal service, you can actually be helping the environment more than if you hired a skip, which would almost certainly just end up dumping your waste in a landfill. Go green and save money by booking our waste collection in Grove Park!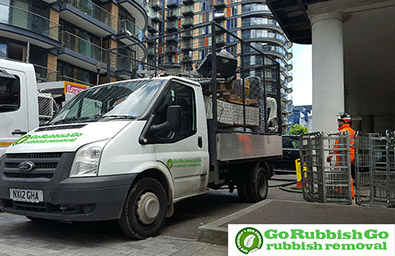 Testimonials
Best company in Grove Park! I got an excellent waste disposal service last week and I must say they worked very professionally! My property in SE12 has never looked better! Thank you so much guys!

Years Of Experience In The SE12 Rubbish Disposal Business
One of the many reasons you should pick us is our years of experience in the field. We know the industry and this means we know what the customers want from our rubbish clearance in Grove Park, SE12. We therefore exercise our professionalism and ability to get the job done as efficiently as possible but for the best price. We don't want you to feel duped or led on, so we don't charge you more than is necessary to get the waste disposed of safely. It's vital that you get the rubbish removal experts to carry this out, as certain waste needs to be thrown away properly and cowboy workers may cause harm to environment if they do so improperly while also breaking the law and charging you too much.
List of services we provide in Grove Park, SE12:
Household Rubbish Clearance Grove Park, SE12
Commercial Rubbish Disposal Grove Park, SE12
Garage Clearance Grove Park, SE12
Garden Rubbish Removal Grove Park, SE12
Electronic Waste Collection Grove Park, SE12
Building Waste Removal Grove Park, SE12
Always Hire The Rubbish Removal SE12 Experts
We live in an age where we're constantly encouraged to try and get the job done ourselves. However, if we're not properly trained to do the job, we often end up cutting corners, wasting time and even putting ourselves at risk. This is why you need to hire us for your SE12 waste clearance needs. Although hiring a skip and loading it yourself seems like an easy option, in reality, it can end up being really costly. Also, if you're trying to load it yourself and the items are heavy, it can not only be time consuming, you could end up hurting yourself. This is why you need us, the Grove Park waste removal experts. We're trained professionals who can get the job done safely and won't charge you huge amounts of money to do it properly. Don't hesitate to call us on 020 8610 9182!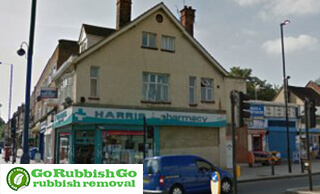 Places Of Interest In And Around Grove Park
Grove Park is an electoral ward and suburban area located in South East London in both London Boroughs of Lewisham and Bromley. It is covered by the SE12 and the SE9 districts. Some of the nearest places around this area include Catford, Bromley, Hither Green, Downham, Lee and Horn Park. Most of the development in this area was due to the building of the Grove Park railway station in the 19th century. Nowadays, this station serves the area of Grove Park with frequent services to Charing Cross, Cannon Street, Sevenoaks, etc. There are two primary schools in Grove Park –Coopers Lane School and Marvels Lane School.