House Clearance Clerkenwell EC1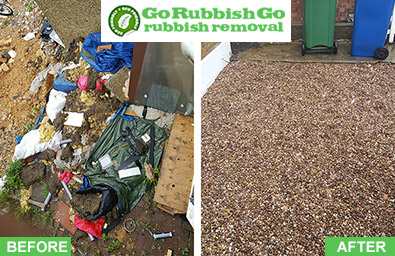 If you currently find yourself peering around your cluttered home and feeling uninspired due to the amount of junk, waste no time and call Go Rubbish Go today!
Our quality team in the EC1 area will happily assist with any shape or amount of junk which needs to be disposed of. Our company has been a reliable presence within many homes and communities throughout the past 10 years. We understand the heavy task that is house clearance Clerkenwell, EC1 and so let us do it for you! You can trust us to bring you efficient and professional work when called upon, so pick up the phone today and call us on 020 8610 9182. Get the lowest Clerkenwell house clearance EC1 prices today!
Hire Cheap House Clearance Services in Clerkenwell
We believe that your bank should not suffer when clearing the clutter from your once spacious abode. With our many deals designed to combat the many problems which money may cause, you can now choose a suitable deal to suit your pocket. It is also worth mentioning that with our house clearance service Clerkenwell we will charge you only for what we take out of your house. We aim to remove hidden costs, and so with us you can trust that you truly get what you pay for. Call us today for a free quote and discuss the many deals which will ultimately make your EC1 house clearance a financial breeze!
The Work Put Into Our Team Will Shine Through In The Work Put Into Your EC1 House Clearance
With our expertly equipped and trained team we promise that you won't need to do any of the work yourself. Our employees always have the right attitude and are fully pleased to follow any given requests. Your junk will be disposed of quickly and professionally without any further or hidden costs. Our Clerkenwell house clearance team in EC1 are thoroughly checked by legitimate authorities and are given training from us which is sure to make them the best in the business. They are also given the right tools to ensure that the house clearance job is done with utmost care. Here at Go Rubbish Go we aim to give you workers which we are genuinely proud of and which will treat your home with respect.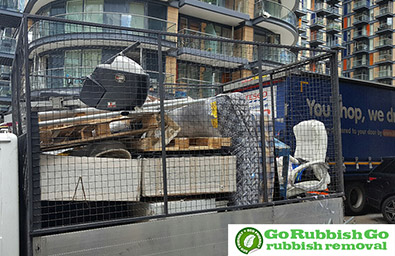 What Are The Positives Of Having A Clerkenwell House Clearance EC1?
If you're tired of not having enough space, you need space to insert new furniture, or maybe you are fed up looking at all the clutter, hire us our house clearance EC1 company and we will solve all these problems. Many homes have been utterly transformed in such a short period of time through such simple means. Nobody should have to endure the mess or tidy it all without help. We are that help, and at an affordable price, we can uplift your house by lifting all of the junk out of it. Breathe some new life into your home and perhaps breathe some new life into your lifestyle. Call today to book your house clearance in Clerkenwell on 020 8610 9182.
List of services we provide in Clerkenwell, EC1:
Household Rubbish Clearance Clerkenwell, EC1
Commercial Rubbish Disposal Clerkenwell, EC1
Garage Clearance Clerkenwell, EC1
Garden Rubbish Removal Clerkenwell, EC1
Electronic Waste Collection Clerkenwell, EC1
Building Waste Removal Clerkenwell, EC1
Booking A House Clearance Clerkenwell Will Help Benefit The Environment
It is with genuine pride that we can say that we have the best interests of the environment in mind. We pay extra attention when working in order to maintain an eco-friendly environment, as around 85% of the trash we remove from your homes is recycled. So bear in mind that your EC1 house clearance Clerkenwell is improving both your home and the outside world. In addition to this fact, our vehicles are fully fuel-efficient and our drivers travel only the exact miles necessary to your home in order to ensure this. So clear the junk from your house and help clear the junk out of our environment. Call today on 020 8610 9182 and get a free estimate!
We Are Sure To Always Provide Service For Your House Clearance In The EC1 Area
If it is the weekend, a public holiday, or even if you finish work late and we are unable to work, we are still perfectly able to carry out a Clerkenwell house clearance! We work quickly and efficiently, wasting no time when called upon for your house clearance in EC1. We offer same-day action for those of you in EC1, meaning we can be at your home the very same day you lift the phone. Ultimately, the clock or the calendar is not an obstacle for us if it is not for you. Call today on 020 8610 9182 and you could have our team working on your Clerkenwell, EC1 house clearance right now.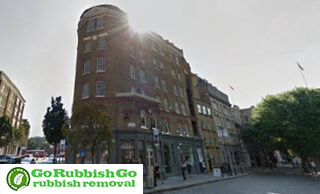 So What's Great About Clerkenwell?
The historical area of Clerkenwell is situated in central London and belonging to the London Borough of Islington. Due to the areas many Italian settlers in the middle of the 19th century, Clerkenwell was once known as London's "Little Italy". The area also has a long-standing history with monastic traditions and other important religious customs. The Clerks' Well, in which the place derives its name and now a tourist attraction, was once an area used for miracle plays. Today, the area is home to many great pubs, public houses and restaurants. Farringdon station is the only available station in Clerkenwell, though Chancery Lane, Barbican, King's Cross St Pancras and Angel lie on the outskirts of Clerkenwell.