House Clearance Friern Barnet, N10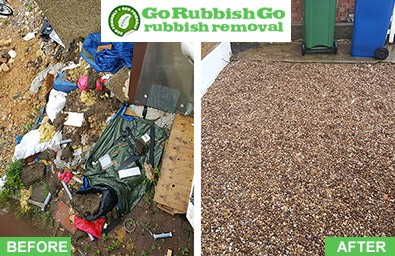 There are many reasons why you would want to clear your home of clutter and unwanted junk and that's where Go Rubbish Go can be of service.
We have an established reputation for the ultimate in customer service in all aspects of house clearance in Friern Barnet . When you have a need for professional services and have to keep your N10 house clearance costs down, we can give you the best deal. Whether you have a single item of unwanted furniture, a houseful of junk or even a whole building to keep clear of waste, call 020 8610 9182 for a FREE estimate today!
Hire Cheap House Clearance Services in Friern Barnet
It doesn't have to cost a fortune to hire the best in houcse clearance in N10! We have become so big over the years that we're able to offer the most effective service at fantastically low prices! We offer the most comprehensive package and that includes advising on how best to shift your rubbish! You may have heard our satisfied customers talking about what a great job we did because it's through word of mouth that we've become number one in the district! Why don't you call us for a free estimate? No matter if it's a small or a large amount you have for professional clearance, you won't find a better house clearance in Friern Barnet!
Why Are We Simply the Best N10 House Clearance Firm in Friern Barnet?
Of course, we are far too modest to boast about our own credibility in the N10 house clearance business but this is the consensus of our regular and loyal customers. For many residents and businesses in the N11 area, money is tight and so they expect great value for money, particularly with disposal of rubbish. You can't just offload or dump your household or builders' junk anywhere – you need to know what you're doing. If you don't pay attention to the local bye-laws, you'll find yourself falling foul of the law, which can be expensive. Make the reliable choice for your house clearance in Friern Barnet and speak to an experienced adviser today by calling 020 8610 9182 now!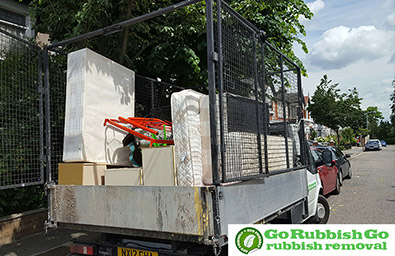 We're at Your Service for First-Class House Clearance in N10
We have a proud history for giving the best customer service in the N10 house clearance trade. That's because we hire the best available people to join our team. We do complete background checks before employing anyone as we need to trust our staff in your homes, offices or building sites. That means you have total peace of mind your Friern Barnet house clearance is being undertaken by reliable professionals who can be on hand to assist with your house clear-out – even at short notice! We offer our services at your convenience and will fit the job around your schedule, even taking care of everything in your absence. Find our more by calling us today!
List of services we provide in Friern Barnet, N10:
Household Rubbish Clearance Friern Barnet, N10
Commercial Rubbish Disposal Friern Barnet, N10
Garage Clearance Friern Barnet, N10
Garden Rubbish Removal Friern Barnet, N10
Electronic Waste Collection Friern Barnet, N10
Building Waste Removal Friern Barnet, N10
Let Us take the Strain of Your N10 House Clearance for the Best Deal in Friern Barnet!
Shifting even the smallest loads of junk from your N10 home can be extremely hard work. Why would you want to even waste your leisure time at weekends or take a day off work to do it yourself when there's a cheap and effective alternative. We have experienced Friern Barnet house clearance teams who are highly effective in their work, getting the job done without wasting time. We can make it easy for you just by allowing you to stand back and watch how quickly your junk is transported to an appropriate vehicle to be taken away and disposed of correctly. You don't even have to break into a sweat over the bill either as we guarantee you the best deal on your house clearance N10. Put your feet up and let us do the hard graft for you. Call 020 8610 9182 today for a free estimate.
A Cheap and Environmentally Sound House Clearance Solution in Friern Barnet
You probably know that getting rid of your old furniture and household appliances isn't as simple as you think. If there's a risk of contamination or obstruction from the things you want to dump, you can incur hefty fines if you don't comply with legislation. Go Rubbish Go takes environmental issues seriously and is complicit with all relevant legislation for N10 house clearance in order to reduce our company's carbon footprint. We feel that our customers need to know they are not contributing to pollution through hiring our Friern Barnet house clearance services! If you want to be sure of an eco-friendly service, call 020 8610 9182 today to book an appointment.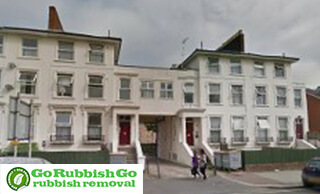 More Information about Friern Barnet!
Formerly a highly affluent London suburb, Friern Barnet has retained the Victorian and Edwardian grandeur in its large residential buildings, although the majority are now apartments and studios. Land values have increased hugely in the years since the huge homes were owner-occupied and this is now considered a highly desirable residential area. Much of the new development locally has been at the prime end, with luxury housing attracting more successful city types and celebrities to the area. Friern Barnet is home to the Grade II listed St John The Evangelist. It's well-connected to central London via the Piccadilly and Northern Lines of the London Underground. The area is part of the London Borough of Barnet and it is located just 7.4 miles away from Charing Cross.