House Clearance Hackney Marshes E9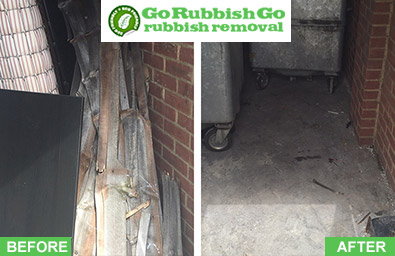 House clearance in Hackney Marshes can be costly and time-consuming unless you hire the best in the business – Go Rubbish Go.
We have a perfect track record of delivering the most comprehensive and cost-effective E9 house clearance services. If you have a single sofa to shift, we can give you a great price to get it done quickly. If you have a whole building full of unwanted junk and clutter in E10, we can do that for an equally great price. The job size doesn't matter to us as we'll take on anything and guarantee the best price. Your house clear-out doesn't have to be a hard slog when you hire experts. Call us on 020 8610 9182 today and find out more about how you can claim a first order discount!
Hire Cheap House Clearance Services in Hackney Marshes
Services can be expensive so if you live in the E10 area, you have a great solution available to you if you need rubbish shifted from your home. Our Hackney Marshes house clearance is second to none not just for customer service but unbeatable prices! We just can't be beaten on any level of E9 house clearance by any other company. Got anything from a single item through to a house full to get rid of? Call us today and get a quote for the cheapest and most reliable firm in the district. You can compare E9 house clearance prices if you wish but you'll always be guaranteed the best deal.
Why Are We the Best House Clearance Company in Hackney Marshes?
We have become known as the best E9 house clearance company having spent years building a great reputation for customer service. Because we have satisfied so many customers across the E9 area for so long, they've told all their friends and family. That means word of mouth recommendations have propelled our business to grow to the size it has. There's an extra benefit to that growth too and that's the level of our service is unbeatable! We have such a wide range of vehicles to take all sizes of loads that we can respond to your exact Hackney Marshes house clearance requests– even at short notice! If you need the most reliable team, call today on 020 8610 9182.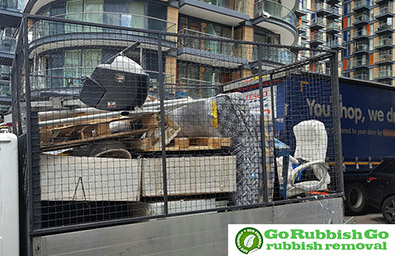 We're At Your Service for House Clearance in E9
We can take away your unwanted rubbish with our same-day Hackney Marshes house clearance service if you wish – even on Bank Holidays! Our customers are landlords and residents don't have the time to deal with this kind of a job during the working week. That's why we are open over the weekends and holiday periods to handle your rubbish at your convenience. We will always fit around your daily schedule to get the job done when it's the right time for you. Because we are so flexible and low cost, we've risen through the ranks to become number one. Call us to find out how you can be impressed with our expert house clearance E9!
List of services we provide in Hackney Marshes, E9:
Household Rubbish Clearance Hackney Marshes, E9
Commercial Rubbish Disposal Hackney Marshes, E9
Garage Clearance Hackney Marshes, E9
Garden Rubbish Removal Hackney Marshes, E9
Electronic Waste Collection Hackney Marshes, E9
Building Waste Removal Hackney Marshes, E9
No More Hard Work for House Clearance in Hackney Marshes E9!
Now there's a cheap and simple solution for your Hackney Marshes house clearance needs. Our firm offers the best value to remove the smallest to largest loads of unwanted junk from residential premises. We only hire the best people for our teams too and they've passed rigorous checks and training courses to qualify them to deliver the ultimate in E9 house clearance customer service. You can have total peace of mind when you book our incredibly low cost solutions. Find out what we can do for you by calling 020 8610 9182 today.
We're the Greenest in House Clearance anywhere in Hackney Marshes!
It's important to our customers that we limit the damage we do the environment in the course of our Hackney Marshes house clearance work. In fact, Go Rubbish Go have a strict green policy that ensures the majority of the stuff we collect goes on to be recycled – 85% of it to be precise. That means your unwanted junk can be processed to become a material to make something else. That also means there's less threat to the environment and one less hazard removed. We all care about our lovely surroundings here in the E9 and E10 areas and so when you have a requirement to get rid of something you no longer need, it pays to be environmentally-friendly about it. You get the guarantee of a reduced carbon footprint when you hire our E9 house clearance services so call 020 8610 9182 now to find out more.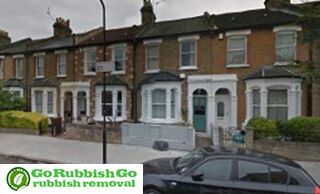 Visit the Hackney Marshes Area
The Hackney Marshes is a green and attractive area of common ground with significant residential development in the London Borough of Hackney. Originally marshlands, the area was drained during medieval times and went on to have rubble dumped there from the many local buildings damaged by air raids during the Second World War. The River Lea runs through the area and it is home to a handful of rowing clubs and coxed four skull racing. The A12 highway provides the area with direct links to central London and to connections to the A1 and M1 motorways heading to the north of England. The area forms part of the 2012 Olympic Park and has been subject to significant regeneration in the last decade.