House Clearance Swiss Cottage NW3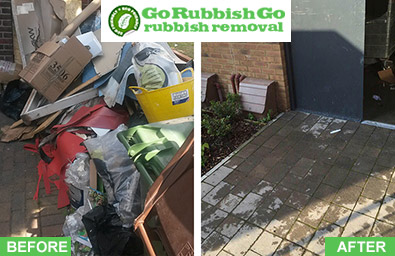 House Clearance Swiss Cottage NW3 is something that should be of premium grade and professional in every way.
Therefore, you do need to make sure of one thing – get a top of the line house clearance Swiss Cottage NW3 at low price. Hire us and we can get the job done successfully in no time at all. Simple as that! You should never settle for anything less than that in quality. Because if you do, then you are setting your own self up for grave disappointment, and a job that will not be to your liking at all. Contact Go Rubbish Go for information on how to get the best experience possible. You will be amazed at what we can do for you at a price you can afford!
Hire Cheap House Clearance Services in Swiss Cottage
Besides getting a high quality and totally done right kind of a house clear-out, you do also want to make sure to get a service that won't charge you an arm and a leg for their help. In addition to being professional and caring, they should also be a NW6 house clearance service provider that is affordable and not pricey. Because, to be honest, excellent house clearance Swiss Cottage service shouldn't be something that is tremendously costly. It should be something that people are able to pay for and not cause a dent in their pocket to have it done. Give us a call on 020 8610 9182 to find out more about our house clearance prices NW3.
What Makes Us The Best Swiss Cottage Clearance Service?
Go Rubbish Go is the best Swiss Cottage house clearance NW3 service provider for a number of reasons. Not only will we give you the finest of all house clearance services NW3 possible but we will make sure that the project is done right and on time. We are thorough in all the ways that it should be done from the get go. You never have to worry about a job not being done properly with us. Because our company gets it right, does it right, and cares enough to make sure that you are happy with what we have done from start to finish. We will dispose of your rubbish at a time and date that suit you and we will not interrupt your daily routine. Hire us and see for yourself!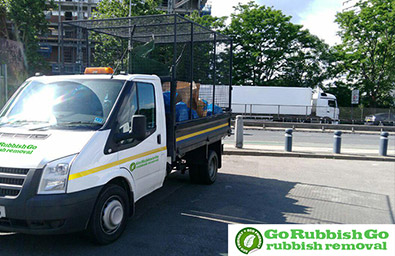 Book with Our House Clearance Company NW3 and get a same day service
If you want a service that gets all of the old stuff out from your home, and gets it done quickly, we are the one choice that you can depend on totally and completely on all fronts. You can book a Swiss Cottage house clearance with our company by calling 020 8610 9182 and getting in touch with one of our customer service representatives. We only do Swiss Cottage, NW3 house clearances of the very best kind and that is all we know how to do. Customer happiness and satisfaction come out ahead of all else to us now and always will. We know how to deliver a cost-effective service and we do it all the time! Hire us for a same-day service and we won't charge you additionally!
List of services we provide in Swiss Cottage, NW3:
Household Rubbish Clearance Swiss Cottage, NW3
Commercial Rubbish Disposal Swiss Cottage, NW3
Garage Clearance Swiss Cottage, NW3
Garden Rubbish Removal Swiss Cottage, NW3
Electronic Waste Collection Swiss Cottage, NW3
Building Waste Removal Swiss Cottage, NW3
We Make NW3 House Clearance Simple With A Service in Swiss Cottage That Is All Professional And Caring
We offer a service that will make a difference to your home. We have a professional team of experts who will handle your NW3 house clearance Swiss Cottage quickly and efficiently. They are highly experienced, friendly, fully-vetted and reliable. You can rely on us to provide you with a first class service at a cheap price. You won't have to lift a finger r get your hands dirty to clear out your home. We make it our business to remove anything and everything that you no longer want and care to have around your home. We can be reached on 020 8610 9182 24/7! Call now and get your free quote!
Key Things That Make our house clearance service in NW3 Stand-Out
If you're wondering what makes us stand out from other local firms check out some of our key defining factors. We offer flexible house clearance NW3 services, including Monday-Sunday pick-ups and same day services for emergency collections. We have a fully-trained team of house clearance experts who have had many years of experience working in this industry. We utilise state-of-the-art vehicles and work with recycling facilities that enable us to attain our highest eco-friendly targets. As well as the above, we also offer an outstanding range of services in NW6 that are suitable for homes and business alike. So if you want to make sure that you hire the best firm in Swiss Cottage, call us on 020 8610 9182 now!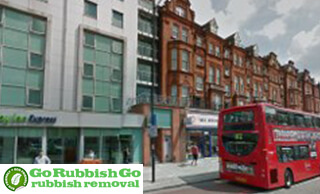 A Quick Guide To Swiss Cottage
Swiss Cottage is an area in northwest London that is part of the well-known London Borough of Camden. Located just 3.2 miles away from the central area of Charing Cross, it has its own tube stop in zone 2 of London's transport districts. With links to the Jubilee Tube Line and excellent bus links, it is a well-connected part of the city. Popular nearby areas include Hampstead Village, Camden Town, St John's Wood, West Hampstead and Belsize Park, while there are also a bustling array of shops, restaurants and bars to frequent in the local area. With its proximity to the centre and excellent transport links, house prices here tend to be above the London average.