Rubbish Removal Holland Park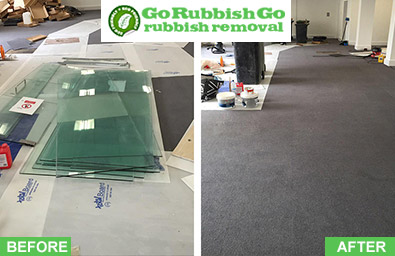 If over the years you have amassed many goods or you have inherited or bought many items at once, then you can find yourself with little space.
This can be at home or work, either way old and unwanted items will take up useful space, require more cleaning work, prevent you from purchasing newer items and make a move difficult. In order it combat this problem, you have to undergo a rubbish clearance. You will need to sort through these items, bag them, get them safely from the building, onto vehicles, and transport them to proper sites and dispose of everything. This is no easy feat, but with the help of Go Rubbish Go, your waste clearance in Holland Park will be simple.
Get the Best W8 Rubbish Removal Help
Call us on 020 8610 9182 today and you can discover that we are a top rubbish removal team based in W2 who can help with the process in the area. We deploy expert W8 waste removal teams to an address where they will be able to help with every aspect of the chore. Our property clearance team will help you go through goods, move them carefully from the building and then transport them away. We see to every part of the process in W8 and can help in any way you need. We can help you with your garden clearance, office clearance, builders waste disposal and much more.
What Waste Clearance in Holland Park We Offer You
Our clearance teams are based in W8 and we can help with all aspects of the waste collection in W8, Holland Park. We can send our top team to your address in Holland Park and they will get to work immediately. Each member of our staff is skilled, trained and experienced, so they will do the job properly and safely. They will assist in sorting objects with you, bagging them and then moving things from the building. They can handle furniture removals with ease and care. We have appropriate vehicles for moving all these goods so we can shift all your unwanted items in one. Our Holland Park rubbish clearance team works with other companies to ensure that all items are disposed of correctly. We will follow all laws and guidelines when destroying, disposing of, or recycling items.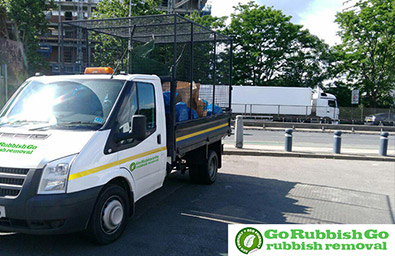 Testimonials
I can finally convert my loft into a study, all thanks to this company and the convenient rubbish clearance services they offer in Holland Park. Thank you for making it possible to add so much more useful space to my home in W8!

Book with Our Holland Park Rubbish Removal Company Today!
Our rubbish disposal in W8 is available when you call. We will provide a quote that will reflect your needs and wants for the process. You select from our home clearance services and we charge accordingly. This allows you to customise the experience and only pay for what you need. The quote requires no commitment, so you can work on a deal right for you. Go Rubbish Go can be contacted on 020 8610 9182 today, so get in touch for expert house clearance professionals in W11.
List of services we provide in Holland Park, W8:
Household Rubbish Clearance Holland Park, W8
Commercial Rubbish Disposal Holland Park, W8
Garage Clearance Holland Park, W8
Garden Rubbish Removal Holland Park, W8
Electronic Waste Collection Holland Park, W8
Building Waste Removal Holland Park, W8
100% Customer Satisfaction Guaranteed – Only With Our W8 Waste Disposal Services
Our hardworking team are utter professionals when it comes to rubbish removal in Holland Park, W8, and have a vast amount of experience disposing of different types of waste and junk. The lengths we'll go to in order to achieve ultimate customer satisfaction know no bounds. Everything we provide as a company is geared towards making sure our customers enjoy the best possible experience when they book with us. So if you have some rubbish that you need to get rid of, make the smart choice – call our waste disposal W8 company on 020 8610 9182 and book one of our services today.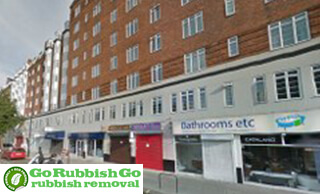 Coming Home to Holland Park
Holland Park is within the Royal Borough of Kensington and Chelsea, near the centre of London. It uses the W2, W8 and W11 postcodes, with W10 and W14 close by. Nearby places include Notting Hill, Kensington, Westbourne Grove and more. It was a rural area for most of its history but this changed when it became more residential in the 19th century. Artists then began to move to the area and it became a middle class suburb. Numerous homes from this period are now apartments, with many Victorian homes also being available. Holland Park has become fashionable place to live thanks to its array of high class shops and restaurants. The park in the centre of the area is very popular and there is woodland to the north. Sports centres, gardens, a youth hostel and more can be found in the park, with events taking place regularly. Some of the notable residents of the area have included Brian May, Kenneth Branagh, Anita Dobson, Bryan Ferry and Simon Cowell.