Rubbish Removal Romford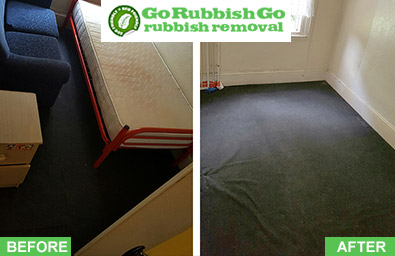 At Go Rubbish Go we offer the best rubbish removal in Romford.
We have a wide range of high quality waste disposal solutions that can help you get rid of anything you don't need any more. Your house will be completely rubbish-free if you hire us now! All you have to do is call 020 8610 9182 and book our team of professionals. We guarantee that your home will be entirely cleared out quickly and very efficiently. We are reliable, flexible and professional. We try to provide our customers with an excellent waste removal service so that you will use our services again when you need an expert help. Call us today and see for yourself how great our services are!
Book Cheap Rubbish Clearance Service in RM1
We strongly believe that our prices are the best in Romford. We combine great quality of RM1waste clearance services and low prices. We have great offers that you can choose from to help you save even more. We guarantee that you will be fully satisfied with the final results. You don't have to search any more. Go Rubbish Go is here to provide you with an excellent rubbish disposal service at a fantastic price. You will definitely be amazed by the great way our waste collectors work. They are diligent and extremely helpful. We know that removing heavy items is a hard task to do, so we train our staff to the highest standards. By hiring us you will get a professional Romford waste collection service at an affordable price!
Why Should You Choose Our Romford Waste Removal Company
We offer high quality waste disposal services and reasonable prices. Our company is well established in Romford and has built a reputation of a truly reliable company. Our waste collectors are always friendly and ready to help you with anything. We offer cost-effective solutions that will help you get rid of anything you don't want in your home or office. We pay extra attention to every detail. We offer different services to cater for all your needs. From furniture to construction waste we can deal with it all. Whatever you need, call 020 8610 9182 and ask our professionals about the services you require. We will be more than happy to help you and organise your waste disposal in RM1, Romford!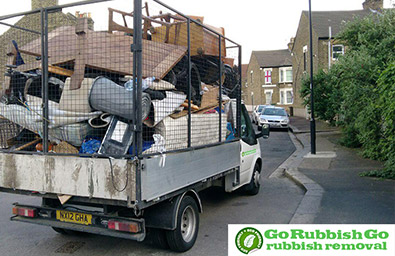 Testimonials
Hired Go Rubbish Go for a garden clearance job. There was so much green waste that I couldn't dispose of by myself. They had some of the best offers in Romford, RM1 – a variety of services and affordable prices. I must say that I was really impressed with the way their waste collectors worked. They worked very quickly and efficiently. These guys helped me get rid of all of the waste that I've accumulated in my garden. I couldn't have asked for a better service! Definitely worth the money! I won't hesitate to hire their services again!

Hire Our RM1 Waste Collection Service Today and Get Rid of the Junk
With one call to 020 8610 9182 you can make sure that your property clear-out is well-organised and will be done efficiently. We have the right tools and the team of experts that can guarantee the high quality of our rubbish removal service. Waste removal in Romford, RM1 can be a difficult task. Hiring the right company can really take the pressure off your shoulders. That is what we promise to do. We will load, transport and safely dispose of all of your junk. We pride ourselves on being able to provide first class waste collection services in Romford. You can easily get your waste removed by the end of the day without having to lift a finger. Our team will do their best to complete the service quickly and efficiently.
List of services we provide in Romford, RM1:
Household Rubbish Clearance Romford, RM1
Commercial Rubbish Disposal Romford, RM1
Garage Clearance Romford, RM1
Garden Rubbish Removal Romford, RM1
Electronic Waste Collection Romford, RM1
Building Waste Removal Romford, RM1
Waste Clearance in Romford Is Simple With Our Top Quality Service
Let our rubbish removal experts take control of any junk situation in your home or garden. They will make sure to dispose of everything you don't need safely and responsibly. We don't ignore the need of recycling. Recycling is the best way to protect our environment when it comes to rubbish removal. We focus on providing responsible rubbish clearance in RM1. We will recycle more than 85% of the waste in order to make sure that a minimum amount of junk is sent to the landfill. Our company will make rubbish disposal RM1 so much easier for you. You can be sure that your waste will be disposed of properly in an eco-friendly way.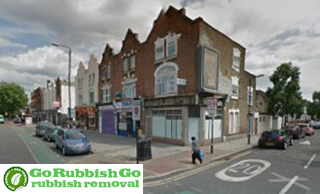 What Should You Know about Romford
Romford is a town located in East London in the London Borough of Havering. It is around 14 miles away from Charing Cross. During the 20th century Romford expanded its territory and increased in population. It appears to be one of the biggest commercial, entertainment and leisure areas outside central London. It has also very well-developed night time economy which is even greater than any other metropolitan centres in London. There are lots of theatres, cinemas and concert halls in Romford making it an amazing cultural place. There are also lots of shops, restaurants, cafes, pubs and bars. Entertainment facilities include Brookside Theatre, Romford Bowls Club and Romford Greyhound Stadium. You can definitely have some great time there enjoying traditional English dishes and drinks. There are a number of parks throughout the town, perfect for a nice walk and a picnic. Romford railway station serves the town.