Rubbish Removal Maida Vale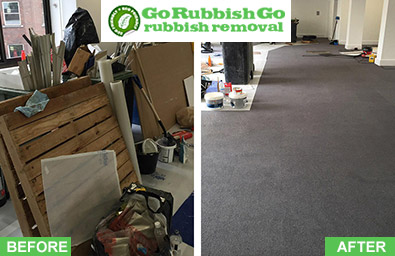 Handling a house clearance in Maida Vale can be a lot of work.
You will need to go through every inch of your home, looking for unwanted goods. You will need to determine what to do with all these, whether they need to be broken up, bagged or donated. You will then have to carry everything through your home and moving large and heavier goods can be difficult. Getting these things downstairs and through doors can be a nightmare. You may not be able to place things among your usual rubbish clearance in W9, Maida Vale, so you will need to dispose of them yourself. You will need appropriate vehicles that can get your goods to these places.
Book Cheap Rubbish Clearance Service in W9
This will all be simple though if you let Go Rubbish Go handle it. We are a Maida Vale waste clearance company that operates within the W9 area. Call us on 020 8610 9182 and you will discover ever what we do and book our services. We deploy house clearance professionals to your address in W2 who can see to everything. They will sort your goods, take them apart, carry even large items from the building, take them away and ensure they are properly disposed of. Our services in W11 cover not only home and office clearances, but also garden waste disposal, builders waste clearance, furniture disposal, rubbish collection and more.
Our Top W9 Rubbish Removal Team
Our staff work hard to give you the best rubbish removal W9 services. Each member of our team has years of experience and knowledge for the task and when put to use ensures you that the job goes quickly, safely and well. Our staff will assist you when you need help and we can send as many people as necessary. They will bring all the equipment, tools and vehicles to do the task fully. When working in your building they will be careful so no damages or injuries occur. When we take your goods, we ensure that everything is disposed of correctly. We work with recycling agencies and firms in W9 so that you items will be destroyed, recycled or whatever properly. We follow all laws and environmental guidelines.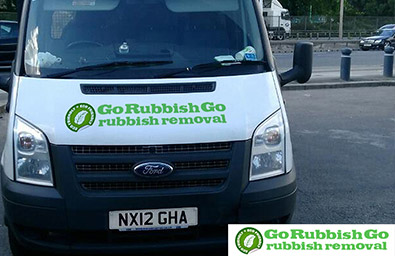 Testimonials
Great team! Booked a comprehensive rubbish clearance service from them for my home and garden in Maida Vale, W9 and they came on the prearranged date and worked their magic, leaving behind a lot of free space and one very happy customer. I've already recommended them to my friends and colleagues.

Save Money On Rubbish Removal In Maida Vale. Call Us Now!
To hire our top team in W11, simply call 020 8610 9182. We can run through our Maida Vale, W9 waste removal services so you can get exactly what you need. We will send a team to estimate the job and once we know more about the task, we can give you a free estimate. This will reflect and charge you only for the services you need, guaranteeing the perfect rubbish disposal in Maida Vale and an affordable price. These quotes need no commitment, so there is no need to hesitate in requesting one. Go Rubbish Go is available to help in Maida Vale now, so contact us today.
List of services we provide in Maida Vale, W9:
Household Rubbish Clearance Maida Vale, W9
Commercial Rubbish Disposal Maida Vale, W9
Garage Clearance Maida Vale, W9
Garden Rubbish Removal Maida Vale, W9
Electronic Waste Collection Maida Vale, W9
Building Waste Removal Maida Vale, W9
Get Your Property Spick-And-Span With Our Rubbish Clearance in W9
Ever thought that your home or outdoor space is in need of a clear-out? Or perhaps you've had some building work done and you still have a lot of rubbish left over that's just been left to sit at the back of your garden? Don't let waste put you off enjoying your outdoor space, particularly when a garden is such a rare commodity to have in and around the busy residential streets of London. So if you want to make proper use of your outdoor space and sort out any junk and waste in your home that you no longer need then hire our waste disposal W9 services. Give us a call and we will offer you a great deal on waste collection in Maida Vale, W9.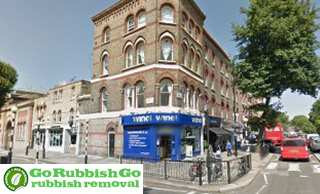 Get to Know the Area of Maida Vale
Maida Vale is in the west of London and within the City of Westminster Borough. It uses the W postcode. It is close to St John's Wood, Maida Avenue, Kilburn Park Road, Maida Vale Road and Regents Canal. The area has been developed heavily from the 19th century, with various Victorian and Edwardian flats still existing here. Various radio and television studios can be found here that belong to the BBC. Little Venice is an area of town known for its canals. The local synagogue is a Grade II listed and serves the large Jewish community in Maida Vale. The south of Maida Vale is the main residential district and also features numerous restaurants and popular pubs. The tube and water buses are the main means of transport to, around and away the area. Lords Cricket ground is located in the town.