Rubbish Removal Walthamstow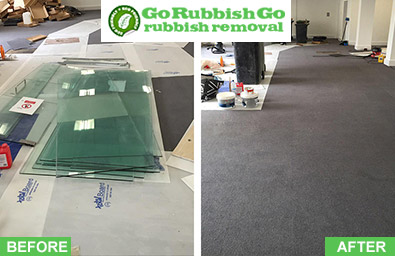 If you're based in Walthamstow, there's no reason why E17 rubbish removal has to be a long and arduous process.
You hire a Walthamstow waste collection company to take the hassle out of the process, and that's exactly what we do here at Go Rubbish Go. Operating in and around the E17 district, we work with you to ensure that all your requirements are met. We're careful and meticulous in our approach to rubbish removal and know how to go about things properly. With years of experience working in E17, our workforce have plenty of experience, which when combined with the right level of training, makes for a fantastic and highly professional service.
Book Cheap Rubbish Clearance Service In E17
You want a rubbish removal service but don't want to break the bank to fund it. We understand that and realise that's it's a very reasonable desire to have when searching for a rubbish clearance company in E17. That's why we've put together our range of Walthamstow rubbish disposal services the way we have, and have priced them in such a way so that they should be accessible to everyone in need in Walthamstow. Whether you have a load of rubbish that needs to be removed from your garden, or you want us to clear out a spare room, get in touch with Go Rubbish Go on 020 8610 9182 for a free quote.
Why We Stand Apart From Other Walthamstow Rubbish Disposal Companies
We know what makes a good waste removal E17 service and so we strive to provide the same level of service to all of our customers in Walthamstow. That's why we stand head and shoulders above the other waste clearance Walthamstow companies and the industry as a whole, because we're well aware what people seek from their local company – a hassle-free service, and that's exactly what we provide. We'll stick to all the prearranged agreements throughout the service and when we arrive at your property we'll get straight to work. Your rubbish removal needs will be sorted in a timely and efficient manner, so call 020 8610 9182 today and make a booking.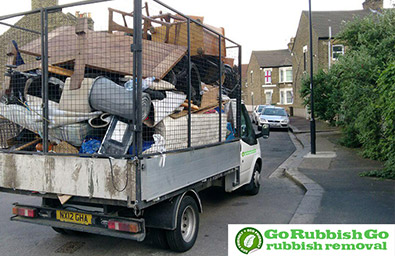 Testimonials
I want to say a big thank you to their team for providing me with a hassle-free rubbish disposal service in Walthamstow, E17! all the prearranged plans were met and the team got to work right away, clearing everything quickly and efficiently. I'll certainly be keeping their contact details handy!

Same-Day Services For A Quick and Convenient E17 Waste Removal Job
Long gone are the days where you'd have to wait around and if you're lucky, get a booking slot for a waste disposal team to come by and remove all your unwanted waste. Get in touch with our team of experts and you won't have to put up with your junk for any longer than you want to. You can get all your waste removal needs sorted here and now if you want, because we offer same-day waste clearance in E17, Walthamstow – the convenient solution for people in a hurry. So if you have left over rubbish you need cleared away sharpish and need a team to come around and cart everything away – we're that team.
List of services we provide in Walthamstow, E17 :
Household Rubbish Clearance Walthamstow, E17
Commercial Rubbish Disposal Walthamstow, E17
Garage Clearance Walthamstow, E17
Garden Rubbish Removal Walthamstow, E17
Electronic Waste Collection Walthamstow, E17
Building Waste Removal Walthamstow, E17
Hire Us For Waste Collection In E17, Walthamstow - Professionalism Guaranteed
Professionalism makes for a great hassle-free Walthamstow, E17 service that runs like clockwork – that's what we aim to deliver on each and every job we carry out in the local area. When we've completed waste disposal jobs, many of our customers reveal that they wouldn't have changed a thing – wouldn't have wanted anything else from their rubbish removal service. That's a testimony to our entire team, everyone who works at our company from the management, the backroom staff, phone representatives, and last but not least, the teams who go out and represent our name in the local area. Book today by calling 020 8610 9182 and we're certain that you too will feel the same.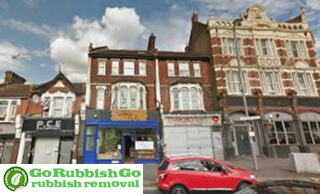 What To Do In Walthamstow
Based in the London Borough of Waltham Forest, the suburban town of Walthamstow is one of the most popular areas to visit in North East London. It's located between the North Circular Road and Epping Forest – easily accessible from the rest of the city. Walthamstow is renowned for being the home of the famous Walthamstow Market – a mile-long market selling an assortment of different items, the longest street market in Europe. Also in the vicinity is Waltham Forest Town Hall – a sight to behold and a stunning example of the finest 20th-century architecture. The art deco building – Walthamstow Assembly Hall – is also close by and is a very popular music venue.