Rubbish Removal Dagenham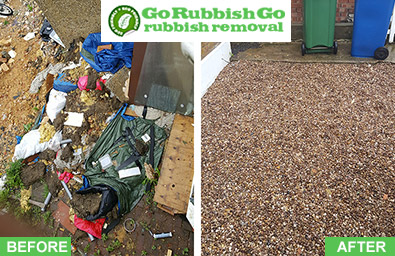 Keeping your home clutter-free can be a lot of work. There are many chores to do and they can all take a long time.
It can be tougher to do this though when you have lots of junk taking up space that also needs clearing. Are you stuck with junk and clutter after building and construction work? You just want to enjoy your newly-renovated property? If you need space or just want to declutter your home, hire our Dagenham rubbish removal services. Rubbish disposal can be a difficult challenge but Go Rubbish Go can help. We have an expert team to help you with your waste collection in Dagenham and who will carefully collect and remove all of your unwanted items for you.
Book cheap rubbish clearance service in RM8
You don't have to pay much to get quality Dagenham waste removal services from us. Call 020 8610 9182 today and our staff will fill you in on all of our services. They will make sure you know what we do, how much we charge with and how it all benefits you. You can book the extract waste removal you require from us with our flexible booking system. Simply choose from our variety of RM8 waste disposal services and get your free quote. This quotation is free and requires no obligation, so there is no worry involved. You can also get as many services as you need so you can work on getting the best deal.
The Best Quality Rubbish Disposal in Dagenham, RM8 For The Job
Book a rubbish clearance in RM8, Dagenham by calling us on 020 8610 9182 today. Hire our top team who can handle all the junk in your home or business premises. Our service is swift and efficient, and we can quickly remove all the rubbish from your property. Our rubbish clearance support covers a huge range of items so whatever junk you have, we can remove it. Everything will be removed carefully and taken away on our vehicles. Our rubbish removal service in RM9 includes properly disposing of all goods and recycling, and we will do it strictly following the legal regulations. We guarantee a full service that can't be beat.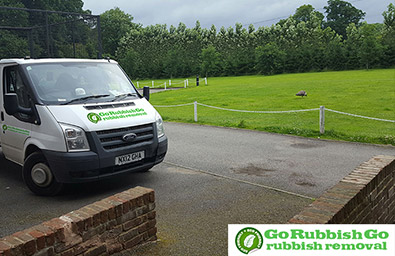 Testimonials
The job was done in no time. I was worried it would take a while to get done but thanks to this team it was over before I knew it. They didn't rush it though, as they were careful when collecting my items. The job went smoothly. This is the best waste clearance service in Dagenham, RM8.

A Swift Dagenham Waste Collection Service
Our RM9 waste clearance service is carried out efficiently and quickly. We understand that you may want to get rid of all of your junk on short notice for a certain reason, or you may be sick of it and the sooner it's gone the better. We understand this so we will work to have things done in no time. Our team will complete the job in a few hours, but we can do it quicker depending on the amount of goods. Once everything is off your property, the task is done for you, as we will take things away and finish off the rest of the job. With a quick waste disposal service like this, your rubbish will not be a problem any more.
List of services we provide in Dagenham, RM8:
Household Rubbish Clearance Dagenham, RM8
Commercial Rubbish Disposal Dagenham, RM8
Garage Clearance Dagenham, RM8
Garden Rubbish Removal Dagenham, RM8
Electronic Waste Collection Dagenham, RM8
Building Waste Removal Dagenham, RM8
Hire our Excellent RM9 Rubbish Removal Team
When you hire Go Rubbish Go to handle your rubbish removal Dagenham, you are getting the best people for the job. Our waste clearance team have the experience, knowledge and the training to carry out the job fully and correctly. They know how to remove a huge range of goods, bag and collect them, load vehicles and ensure things are disposed of the right way. They work carefully to avoid all accidents and injuries. They can answer questions, give advice and do whatever you need. They will follow you instructions and make sure the job is done to your liking. To hear more about our prices and our services, call 020 8610 9182 now.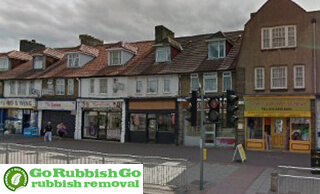 Interesting information about Dagenham
Dagenham is a suburb in the east of London. It is part of the Borough of Barking and Dagenham. It is 11.5 miles away from Charing Cross, 9.5 miles from the City of London. It was a village for most of its existence, with the earliest record being from 666 AD, but this changed when the Becontree estate was created in the 1920s. It is now a residential area with some waning industry. In recent years, many people have moved to the area from Africa, making it much more diverse. Rail and underground service operates here, as do various buses. Valence House is a major landmark in the town, being a surviving Dagenham manor house that hosts the Fanshawe collection. The Moby-Dick, The Roundhouse and The Eastbrook are prominent public houses.