Rubbish Removal Knightsbridge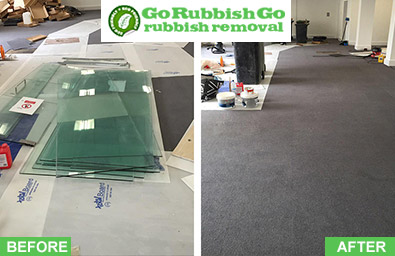 If you have ever cleaned up your home or offices from top to bottom you know how much work it can be to sort all your goods, wipe every item and surface, and vacuum every floor and so on.
This is a necessary chore to keep your abode sanitary and orderly. Clutter can ruin all of this though. Old items such as furniture, electronics, toys, books, clothes, appliances, tools, building a materials, old boxes, and more will take up valuable space and make a room look a mess. These unwanted items will have to be shifted, cleaned and sorted as part of your chores, adding more work. Getting rid of these items will result in more space, a cleaner abode and the chance to buy new goods. Disposing of all your junk though isn't easy but we can help. Go Rubbish Go can cover every aspect of a rubbish clearance in Knightsbridge. Call 020 8610 9182 today to find out more about our top quality rubbish clearance services. Currently we offer huge discounts on all of our services. Get in touch now to find out more!
Book Cheap Rubbish Clearance Service in SW1
We are the best Knightsbridge waste disposal team and we can take care of all the work for you. We can see to a domestic clearance, garden clearance, builders waste removal and much more, as well as provide a skip hire alternative. All these chores in SW3 will be carried out by our expert staff. We will come to your address to sort items, remove them, transport them away and ensure they are properly disposed of. With us handling the rubbish removal in SW1, you are guaranteed the process will be swift, simple and safe.
Tackling Rubbish Disposal in Knightsbridge
Our staff are the professionals who can help with all rubbish disposal in Knightsbridge, SW1. They will endeavour to do all the work you face and do it well. They will bring tools and bags, so goods can be sorted and taken apart. They have the strength to carry large and heavy objects from your building carefully and will load them all onto their vehicles. We will transport everything to proper waste disposal sites around SW3 to be destroyed, disposed or recycled. We do all this legally and follow every guideline. You are assured that any goods taken from you will be handled according to all environmental regulations.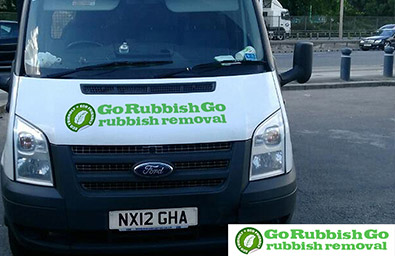 Testimonials
Wasn't sure who to hire for rubbish removal in Knightsbridge, but this firm had pretty good offers, so I thought I'd lose nothing if I gave them a try. The only thing I lost after the job was done was the mountain of waste that was gathered in my home in SW1, and I gained lots and lots of space. Thanks so much for all the hard work!

Hire the Knightsbridge Rubbish Disposal Experts Today
Our rubbish clearance services in SW7 are all offered with free quotes. Our free estimates allow you to get the perfect service for you and at an affordable price. Select what you want from us, such as how many staff members, when they are needed, let us know what items we will have to handle and how many, etc. We can then show you a price that matches all of this. This guarantees the service you need at a price right for you. To hear more from Go Rubbish Go and our waste removal Knightsbridge, call 020 8610 9182 today. Book now and claim your discount!
List of services we provide in Knightsbridge, SW1:
Household Rubbish Clearance Knightsbridge, SW1
Commercial Rubbish Disposal Knightsbridge, SW1
Garage Clearance Knightsbridge, SW1
Garden Rubbish Removal Knightsbridge, SW1
Electronic Waste Collection Knightsbridge, SW1
Building Waste Removal Knightsbridge, SW1
Tailor Made SW1 Rubbish Removal Packages at Low Prices
At Go Rubbish Go, all of our services can be hired at fantastic rates, because we believe that everyone should have the opportunity to make use of our SW1 waste clearance services, regardless of how much money they have. That's why all of our waste collection Knightsbridge, SW1 services are affordable and we can guarantee you that we won't compromise on the quality of service. So, you can be sure that you'll be left with exactly what you wanted – a clean and rubbish-free London home! Hire us and you will be amazed at the result! You will save money if you book with us now! Call now as the offer ends soon!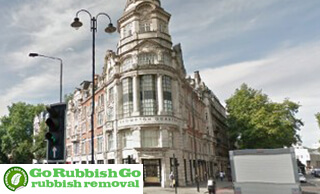 Living in Knightsbridge
Knightsbridge was once a small rural parish, outside of The City of London. It would become a famous spot in the 19th century when it featured an exhibit of Japanese art and culture. It is current in Greater London and within the Borough of Westminster. It uses the SW1, SW3 and SW7 postcodes. Nearby places include Hyde Park, Pont Street, Exhibition Road, Beauchamp Place, Brompton Road and Sloane Street. SW5, SW8, SW10, SW11, W2 and W8 are local postcodes. Knightsbridge is known for its luxury housing. It also features up market shops and department stores, including Harrods and Harvey Nichols. In Knightsbridge you can find top restaurants, banks, salons, antique dealers, banks and much more. Hyde Park is here, and is one of the most popular open spaces in London.