Rubbish Removal Hornchurch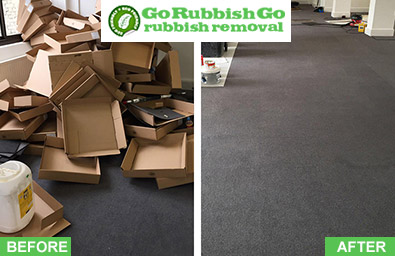 We end up needing rubbish removal eventually in our lives, making it a present need since living tends to create plenty of items we buy as time goes by and the need for waste collection pops up.
You may be dealing with small and large items alike, but in the end it will be up to you to find a way to dispose of them. How can you do that you say? Well it is quite simple as it can be done with the act of hiring a Hornchurch rubbish clearance company instead of working on it alone. All you need to do to deal with the task is to hire a good company in Hornchurch RM11 to do it for you. Go Rubbish Go has what you need. We can take care of the task with professionalism and great speed and you will not have to worry about the details. With our aid you can do all your waste disposal chores with no issues at all, so call us on 020 8610 9182 today.
Book Cheap Rubbish Clearance Service In RM11
Our RM12 waste clearance service, is the way to go for green waste removal Hornchurch, RM11 if you are looking for a way to control your recycling process in a meaningful way. We have your back all the way and you won't have to worry about the little things. We are aware of the importance of recycling, hence we focus on recycling first and disposal second if that is possible with the amount of items you have ready for us. Our team of professionals will get things done for you, all around the Hornchurch area, giving you a chance to make it happen with a simple phone call on 020 8610 9182. Make that work and we will be there to help you.
What Make Us Stand Out From The Rest Of The Hornchurch Rubbish Removal Companies
Not only do we have years of experience under our belt, but we also have the tools, vehicles and people to deliver a high quality rubbish disposal RM11 service at a low price. If your garden work has resulted in plenty of trash you need gone, then you will need help. If you have large pieces of furniture you want gone or appliances that are being replaced, but have no place to go, Go Rubbish Go has you covered! You won't have to worry about any of it, we're the best at what we do and what we do is waste removal in RM12, Hornchurch. All you need to do is give us a call and receive your free quote to get things started.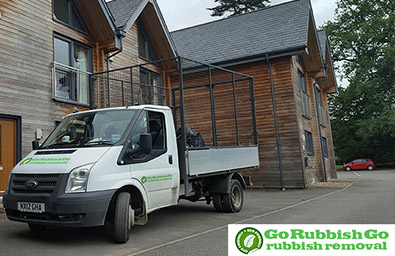 Testimonials
I was doing a complete redesign of my kitchen and had to get most of the furniture and old appliances out of the way. Making this decision and hiring this waste disposal company in Hornchurch was a great choice as they did it in well under a day, great work. The best in RM11! Will recommend them to my friends!

Take Advantage Of Our Top-Notch Hornchurch Waste Collection Services And Wave Goodbye To Rubbish
We have a wide range of rubbish removal capabilities and waste collection services you can count on. From smaller items to the largest things you have on hand, we can dispose of them in an eco-friendly way. Simply call our professional team and our waste collectors will be there for you, collecting your items in a quick and safe way you can rely on. No matter how large your home is and how many items you have, you can count on us to have it all done in no time, anywhere in the Hornchurch area. There won't be any issues with timing, as we will deliver a quick and reliable Hornchurch waste clearance service. Get your free quote now!
List of services we provide in Hornchurch, RM11:
Household Rubbish Clearance Hornchurch, RM11
Commercial Rubbish Disposal Hornchurch, RM11
Garage Clearance Hornchurch, RM11
Garden Rubbish Removal Hornchurch, RM11
Electronic Waste Collection Hornchurch, RM11
Building Waste Removal Hornchurch, RM11
Waste Removal In RM11, Hornchurch Has Never Been Easier
Our rubbish removal Hornchurch team will be there for you all the way, making it much easier for you to live your life without worrying about hauling items and worse. All it takes is a simple phone call on 020 8610 9182 and you will be able to get your free no obligations quote and benefit from our affordable prices. We will deliver great results and a level of speed you will witness for yourself. No matter how large an item, piece of furniture, appliance or something similar is, we will be able to dispose of fast and efficiently. Hire us for rubbish disposal and we guarantee that you will be impressed! Call us today, find out more about our rubbish removal services and let's get started! Rid your home of all that pesky waste that has been bothering you. Save money and time by getting in touch with us now!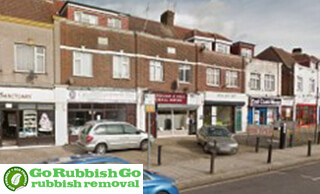 Explore Hornchurch
Hornchurch is an interesting suburban town with a quiet charm located in East London and in the London Borough of Havering. It once used to be an old parish falling under the county of Essex, having also served as an important station for the Royal Air Forces during WWII and quite a few squadrons of the iconic Spitfires. There are no stations in the central area of Hornchurch, but there is a tube station at Upminster Bridge just within its eastern parts. You can also find the Elm Park tube station about a mile and a half southwest as well as the Emerson Park railway station in the north. Hornchurch is also home to the drum and bass RAM Records label as well and the local A.F.C. Hornchurch football team.