Rubbish Removal Ilford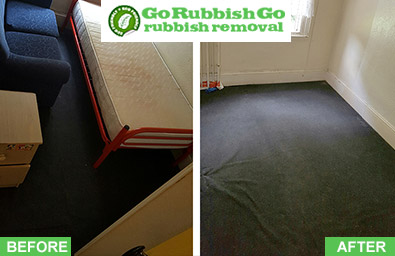 If you have tried to keep your home clean but suffer from clutter, then you face a big problem.
If your office is full of unwanted items you will work in mess and have little space. If you have had building or decorating work done at your property you can be left with lots of junk. All of these things can reduce space, make mess, cause cleaning and removals to be difficult, ruin the look and feel of your building. Handling all this mess can be easier said than done because old and unwanted objects can be tough to sort, shift and dispose of. You don't have to worry about this work though because Go Rubbish Go can offer waste clearance in Ilford for you. Call us on 020 8610 9182 and find out more.
Book Cheap Rubbish Clearance Service in IG1
We can see to your rubbish removal in IG1. We can handle everything from a house clearance, garden waste removal, office clearance, furniture clearance, a basement junk clearance and builders waste removal. Our experts will ensure that no aspect of the process is abandoned or ignored. Our top team will arrive in IG2 and help you go through your junk and move it and transport it. The can shift the goods from your property carefully and then drive everything away to be disposed of.
Our Expert Ilford Waste Removal Services
Our property clearance services will cover everything you need. Our staff are all trained and experienced for the chore, so they are able to do the job well. They will arrive at your house when you need them and they will get to work. They will have bags and tolls so that all items can be covered. They are able to shift goods from your home or office carefully, so nothing is damaged and no one is hurt. We have suitable vehicles so we can transport all of your goods easily and in one go. We work with local IG1 waste disposal sites so that everything we take from you is disposed of, recycled, destroye, properly, safely and legally.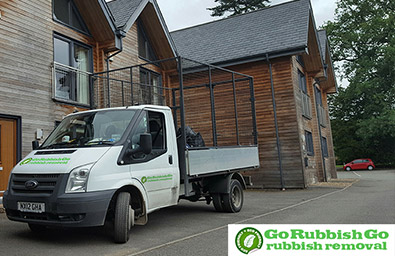 Testimonials
My garden in Ilford had become the dumping ground for all manner of junk, old boxes, broken furniture and whatnot. I decided to take action and hire a waste collection company to take all that waste away and give me back my outdoor space. This firm had really appealing offers for IG1, so I hired them and I haven't looked back ever since! They helped me reclaim my garden from the piles of rubbish, and I'm very grateful for that! Big thanks to the whole team!

Hire Us Today! Let Us Help You with Rubbish Removal in Ilford, IG1
Our waste removal in IG1, Ilford, is very flexible. We don't present you with package deals and instead let you customise your experience. Our quotes will ensure that you get the exact support you require and present you with the price. You can pass on this offer if it isn't to your liking and work on another deal. Our estimates are free of charge and need no commitment, so there is no risk in requesting one. We can send our clearance team to IG2 whenever you need, to tackle the work you face. For more info on Go Rubbish Go's waste collection in Ilford, IG1, call today on 020 8610 9182. Book now and get a great deal on all of our services.
List of services we provide in Ilford, IG1:
Household Rubbish Clearance Ilford, IG1
Commercial Rubbish Disposal Ilford, IG1
Garage Clearance Ilford, IG1
Garden Rubbish Removal Ilford, IG1
Electronic Waste Collection Ilford, IG1
Building Waste Removal Ilford, IG1
A Service Tailored to Meet All Your IG1 Rubbish Disposal Needs!
Our hardworking team have the expertise, experience, skills and know how to tackle any Ilford rubbish clearance job. So there's absolutely no danger of you not getting what you asked for from our IG1 rubbish disposal company. We won't stop until your task has been completed to the very highest of standards, your requirements have been met and your property has been cleared up. All that's left for you to do is to figure out how you're going to make use of all your newly discovered space! So give us a call today for the best solution when it comes to getting rid of your rubbish and waste.
Be Involved with Ilford
Ilford is a town in the eastern section of London. It is part of the Borough of Redbridge and uses the IG1 and IG2 postcodes. It is close to Manor Park, Newbury Park, Leytonstone, Gants Hill, Upton Park, Seven Kings, Barking and Redbridge. These are part of the IG2-4, E6, E11, E13 and E15 postcode areas. The area was listed in the Domesday Book as Greater Ilford. The town served as an important point between London and Colchester, so many travelers passed through. When the railway opened in the 19th century, new businesses and homes were created. The Ilford Photo and the Plessy electronics company have long been institutions in the area. John Logie Baird worked on the first television here. Ilford today is a prominent spot and a fast growing tourist destination. It has a diverse population, with people from Asia, Poland, Ireland and more, with many religious institutes reflecting this.