House Clearance Beckton E6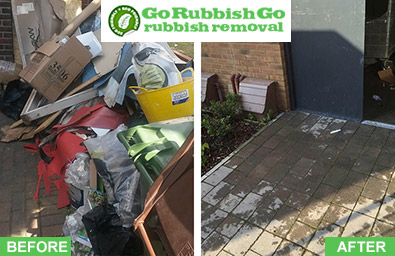 Every house needs de-cluttering on a regular basis and your house in Beckton is not an exception, especially if you love hoarding useless objects in the cellar or the garage.
From broken appliances, to old rusty metal parts in the garden and big boxes of useless electronic devices – there is a lot of clutter that you probably want to throw away. The best way to do it is to book our Beckton house clearance services, because we at Go Rubbish Go do it professionally. House clearance in E6 with us is much easier and more effective, because we save you time and effort, and there is no chance of getting into trouble which could happen if you do everything yourself. Our services are also very cost-effective!
Hire Cheap House Clearance Services in Beckton
Our professional Beckton house clearance services come bundled with the lowest prices and that's not just an empty claim. We have managed to combine high quality and low prices, and you can easily get more info about how you can take advantage of it just by calling us. There is nothing better than a professional service at low price, and we know that very well. This is just the beginning of our money-saving programme, because booking more E6 house clearance services reduces the total cost even more. Our special seasonal discounts make our services even cheaper. Find out more today on 020 8610 9182.
Our Eco-Friendly House Clearance Services Make Us the Best in E6
We care for the environment and the public safety in London, and this is another great advantage that makes us the company of choice for professional house clearance Beckton. From eco-friendly vehicles with a low carbon footprint, to recycling programs that are the best way to reduce the waste sent to landfills – the care for the environment is one of our top priorities. Your neighbours in Beckton don't have to worry about loud noises or dirty vehicles. With our skilled and professional crew at your disposal the house clearance in E6 will be finished in no time.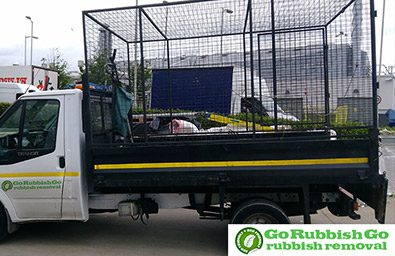 Go Rubbish Go Delivers the Fastest E6 House Clearance Beckton
It's not uncommon that we get a request for clearing a big house that desperately needs de-cluttering. That's why we have developed our same-day service that allows us to act immediately upon your request. Talk to an expert from our team to learn more about how we could meet your emergency E6 house clearance needs – usually you will get your house de-cluttered by the end of the day. Call us and share your expectations with our team. One call to 020 8610 9182 is enough to make a booking, to request a quote or to get more details about our house clearance in Beckton.
List of services we provide in Beckton, E6:
Household Rubbish Clearance Beckton, E6
Commercial Rubbish Disposal Beckton, E6
Garage Clearance Beckton, E6
Garden Rubbish Removal Beckton, E6
Electronic Waste Collection Beckton, E6
Building Waste Removal Beckton, E6
It is Our Professionalism That Makes Beckton House Clearance Look Easy
Numerous years of experience and the advanced skills of our crew is all that you need for a quick and efficient house clearance in Beckton. We have professional equipment that helps get the job done even more quickly and efficiently. From ladders, to ropes, heavy-duty collection materials, lights, etc. – we have it all. Most people are afraid of dark cellars, dust, spider webs and tiny spaces, but we are not. Most people are afraid of the chaos or the big piles of useless junk objects, but we are not. Hire us for your house clearance E6 today – call 020 8610 9182 now!
Take Advantage of a Vast Array of House Clearance Services in E6
We do a quick and professional assessment of every situation, which allows us to decide where to start from. Our wide range of house clearance services in Beckton will help you select the best solution available. Our company deals with clearing sheds and gardens, lofts and garages, cellars and basements. Our specialised pick-up vehicles ensure a safe house clearance E6. For the recyclable objects or items in good condition, we will ensure they are recycled or reused in another way. What better way to clear your house from the rubbish and save money at once!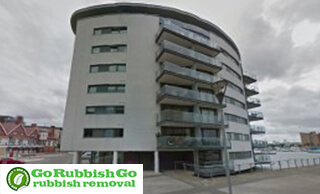 It's Time to Explore the Local Area
While waiting for our men to arrive or to de-clutter and collect the rubbish from your house, what better thing to do than to take a walk through Beckton! The great transport system of Beckton in the London Borough of Newham allows visiting numerous interesting places in a short time. Explore the green corners within the Beckton District Park and New Beckton Park. There are numerous shopping centres, bars and eateries along the Woolwich Manor Way. London City Airport and the beautiful bank of the River Thames are located at the edge of the neighbourhood as well.