House Clearance Becontree Heath RM8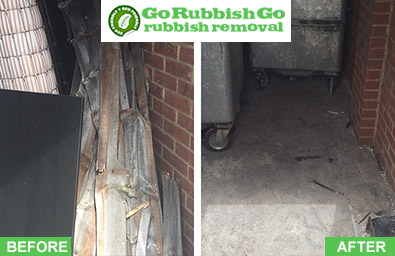 House clearance Becontree Heath is much easier and more efficient with the help of Go Rubbish Go, because it is done professionally!
We deliver a wide range of services to answer your needs, so there is no need to worry about the piles of useless objects in the basement, cellar, garage or anywhere else in your house. We will make your RM8 house free from rubbish and useless objects that you may have been hoarding for years. It's enough to call 020 8610 9182 today share tell your expectations or requirements with our experts. We guarantee the best advice, while the advantages of our RM8 house clearance services are numerous.
Hire Cheap House Clearance Services in Becontree Heath
Our RM8 house clearance services come at exceptionally low prices. This is one of the main benefits which help reduce the total cost for house clearance Becontree Heath and you could even save some more money with our special deals. We have partnerships with many recycling depots and charity organisations to ensure your waste isn't just dumped into a landfill. Our experts are ready to answer all your questions on 020 8610 9182 and our consultations are free as well. Don't forget to ask about the discounts, because we have awesome offers for Becontree Heath, RM8 that reduce the price even more.
The Best House Clearance Services for Your Home in Becontree Heath, RM8
What really makes our RM8 house clearance services the best is the fact that we offer you a comprehensive solution. We can help you by clearing your shed garage, loft, basement and cellar in Becontree Heath, and more. Our specialized vehicles ensure a quick and proper collection of all the rubbish. We can handle big, heavy and bulky objects or even scrap metal. Check out the extensive list of Becontree Heath house clearance services Go Rubbish Go offers – just call 020 8610 9182 now for more insight into what we could do for you.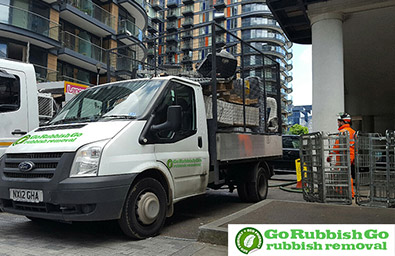 Save Time by Hiring our Becontree Heath House Clearance Crew
Saving time is another great benefit that you get by hiring our crew in RM8. We have a crew of experts with many years of experience which help them select the best place where to start the job from. Sometimes, the enormous piles or the chaos of rubbish and useless objects are frustrating, but there is no need to worry. Our experts will deal with what they have to deal with in the best manner possible. This is a guarantee for quick and efficient house clearance Becontree Heath. In most cases, you can get your house cleared by the end of the very same day, and the best bit is that we act immediately. Book your RM8 house clearance service on 020 8610 9182 today.
List of services we provide in Becontree Heath, RM8:
Household Rubbish Clearance Becontree Heath, RM8
Commercial Rubbish Disposal Becontree Heath, RM8
Garage Clearance Becontree Heath, RM8
Garden Rubbish Removal Becontree Heath, RM8
Electronic Waste Collection Becontree Heath, RM8
Building Waste Removal Becontree Heath, RM8
A Skilled House Clearance Team is Everything You Need to De-clutter Your RM8 House
Fast and easy de-cluttering is possible only by hiring a highly skilled team with knowledge in numerous areas and professional equipment. Our great teamwork ensures that our men can take care of different things or de-clutter different rooms at the same time, but everything is done with great coordination in order to reduce the overall time for house clearance in Becontree Heath. We use special tools like ladders, lights, pulleys, heavy-duty boxes and more, which let us move big, heavy and dusty scrap objects quickly. Our team will assess every situation very carefully and will propose the best house clearance RM8 method.
Our Becontree Heath House Clearance Services Preserve the Environment
We deliver what we promise – nothing less, nothing more. Yet the care for the environment is always our priority. Trust us and we will prove you that our crew provides the "greenest" methods for house clearance in RM8. From special vehicles with low carbon footprints, to recyclable boxes and transportation materials – we really care for nature and it shows in all our Becontree Heath house clearance services. Keeping low level of noise during these operations is not an easy task, but you won't get any complaints from the neighbours in Becontree Heath. Recycling is another green way to reduce the amount of rubbish and scrap objects, which on the other hand means less waste disposed at landfills, and we incorporate recycling practices throughout our services.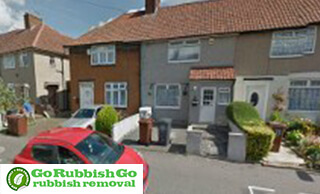 Explore Your Favourite Locations in Becontree Heath
This big, remote and quiet residential area within the London Borough of Barking and Dagenham tempts with a number of interesting places to visit. There are golf courses, sport grounds, leisure parks, green alleys and many other places where you could enjoy a relaxing walk. Becontree Heath Leisure Centre and Valence Park are only two of the most appealing spots here. The Barking and Dagenham Civic Centre is another popular place in the district. The conjunction of Green Lane and Wood Lane is a place where you can come across numerous shops, restaurants and other amenities. The easy transportation links offer you to reach other London areas in a very short time.