House Clearance Camberwell SE5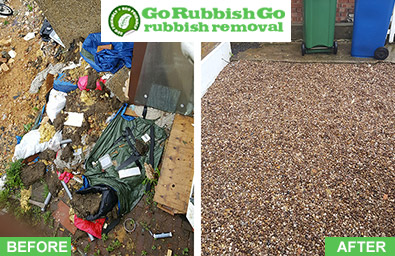 When it comes to house clearance Go Rubbish Go is a company that knows our stuff.
Armed with years of experience and a sense of professionalism that rivals any seen in any other Camberwell house clearance SE5 company, it should come as little surprise why so many Londoners turn to us when it comes time to clear unwanted goods from their homes. Our company puts the needs of the client first. This means that we work with you to determine what you want to keep and what you want to dispose of, without pressuring you in any direction. As a company we believe that this is your house, we are simply here to clear it of goods you no longer want. Contact us now on 020 8610 9182 and get a free quote!
Hire Cheap House Clearance Services in Camberwell
On top of letting you as the customer lead the way in the calibre and amount of house clearance you are seeking, we also strive to keep our prices low and affordable. By maintaining costs that the average SE5 resident can afford, we ensure that customers will wilfully return to us for their house clearance Camberwell needs as goods continue to accumulate and become useless over time. Our prices stay reasonable because we only charge you for the amount of junk that we remove form your home. No more money is charged for the trip out, or for the recycling of your waste. By only focusing on the goods you want removed, we are able to keep prices affordable for you, which assures us that you will return to us the next time you need some assistance.
Learn More About Our House Clearance Company In Camberwell
Above all else, we make it a point to keep our customers in the forefront of our business model. We know that our customers are inviting us into their homes to help them rid their accommodation of the junk and clutter that you have accumulated over the years. We do not judge or question the items which our customers want to dispose of, and those they wish to keep. Our SE5 house clearance team are here for you, to help you get back the home that you have spent years creating and outfitting. We want your home to feel comfortable and safe to you. We are simply a middle man to help you regain the home that exists under all that clutter. And the best thing is that we offer low-cost house clearance services of high quality!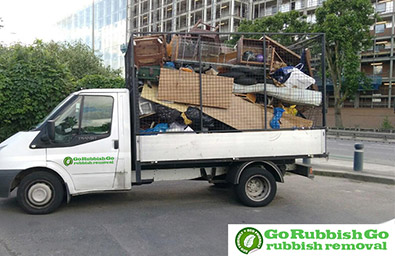 For Timely SE5 House Clearance Services Camberwell Turn To The Experts
We know that on top of price and a lack of judgement in service, we are one of Camberwell's top house clearance SE5 companies because we are timely and dependable. We arrive at your home when we say that we will, and we work quickly to get the rubbish removed from your home as speedily as possible. Camberwell, SE5 house clearance need not be an all-day affair – let us show you how quick and painless the process can be! Book with Go Rubbish Go and enjoy same day services without additional charges! We want to help you save money that is why we offer our service at low cost!
List of services we provide in Camberwell, SE5:
Household Rubbish Clearance Camberwell, SE5
Commercial Rubbish Disposal Camberwell, SE5
Garage Clearance Camberwell, SE5
Garden Rubbish Removal Camberwell, SE5
Electronic Waste Collection Camberwell, SE5
Building Waste Removal Camberwell, SE5
Wave Good Bye To Clutter With Our House Clearance In SE5
We want to make your Camberwell house clearance as painless a process as possible. Call us today to see what we can do for you! We are a house clearance company that works in the neighbourhood of SE5 and provides high quality services at all times. In our many years of experience, we have learned that customer satisfaction is the best thing to aim at – and for this reason you can really expect us to be the kind of service providers that go above and beyond to make you happy as our client. Call us now on 020 8610 9182 and talk to one of our customer support representatives – they will provide you with advice, information and a free estimate of how much you are going to pay for our service in SE5. Do not hesitate anymore!
Haven't Decided Yet? Book A Camberwell House Clearance Service Today And Save Big!
If you are not yet sure if you want to hire our house clearance Camberwell, SE5 team think again. As mentioned before, we truly care for our clients and we will go the extra mile to make them happy – and that's something even our oldest clients can agree to. Furthermore, we have put up a money back guarantee offer meant to show you just how secure we are when it comes to the quality of our service. We believe in our team so much that we are willing to give you back the money if you are unsatisfied in any way by our service – no questions asked, no hassle whatsoever! Just pure transparency and the high quality of our SE5 house clearance Camberwell services! Call us today on 020 8610 9182 and hire the best and cheapest service in the entire SE5 area!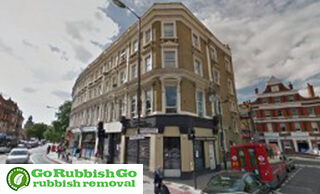 Enjoy the Artistic Atmosphere of Camberwell
Camberwell is located in the London Borough of Southwark in South London with a small portion of it falling within the London Borough of Lambeth. This is a densely built-up district situated relatively close to the city centre, just 2.7 miles away from Charing Cross, to its southeast. A number of art galleries, such as the South London Gallery and Camberwell College of Arts, as well as many smaller art spaces can be found here. Another entertainment venue in the district is the Blue Elephant Theatre. Camberwell Arts Festival is held annually and attracts many visitors. The area gave its name to the Camberwell Beauty, a rare species of butterfly first identified here in 1748. Numerous bus routes serve the district Loughborough Junction and Denmark Hill are the nearest railway stations.