House Clearance Stockwell SW8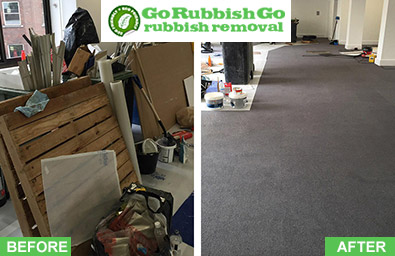 Are you downsizing your living arrangements? Finding it overwhelming to try to go through three floors and forty years' worth of clutter and unused goods?
Why don't you stop all the chaos and frustration, and hire our professionals to get your SW8 house clearance done right, the first time? If you did not know that there were clearance companies out there to assist in removing clutter from a home, you are living behind the times! Go Rubbish Go is one of the top house clearance companies in Stockwell, and we know what it takes to get your home clutter-free in the shortest time period possible. Call 020 8610 9182 and get your free quote!
Hire Cheap House Clearance Services Stockwell
And don't worry that you will be spending a significant amount of money in outsourcing the job to a professional organisation. On the contrary, Go Rubbish Go is affordable because the only charge carried by the customer is for the waste removed. That's right, you will only be charged for the rubbish that is cleared from your home. Nothing more! There is no fee for waste recycling and you do not pay until the job is done. No more getting left high and dry by Gumtree house clearance Stockwell "professionals" who choose not to show up to do the job. We offer the lowest house clearance prices in Stockwell SW8 so why wait? Book now and you will be impressed!
Why We Are The Best House Clearance Company in SW8?
The benefits of hiring Go Rubbish Go really are endless. With extensive experience clearing all sizes of homes and apartments from mansions to flats, our Stockwell, SW9 house clearance company has the knowledge and expertise required to get your living space as bare as you would like it in no time at all. Our experts in Stockwell know what clutter is and what is valuable, ensuring that you are not going to accidentally lose a priceless heirloom by bringing a SW8 house clearance company into your home. That is why bringing in only those who are experienced in house clear-outs is advisable, over asking the neighbour's kid to do it for a bob. You will save lots of money if you hire us now as we offer great discount! Contact us on 020 8610 9182 now and take advantage of them!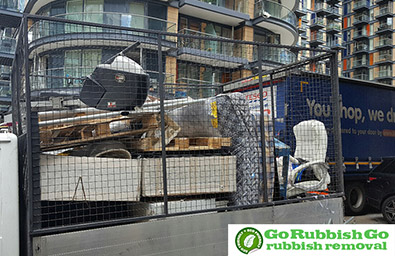 House Clearance Stockwell Works For Any Kind of Clutter in SW8
Whether you need to clear out a closet full of unworn clothing, broken children's toys or unusable furniture, hiring our SW8 house clearance Stockwell company is a great way to remove the headache from your own to-do list, and get a rubbish-free house in the deal. Deciding what to sell or take to a new abode is significantly easier when the clutter is out of the picture, so bring in our house clearance team as the first step to your downsizing aspirations. You have enough to think about, and our professionals know how to clear the clutter in record time.
List of services we provide in Stockwell, SW8:
Household Rubbish Clearance Stockwell, SW8
Commercial Rubbish Disposal Stockwell, SW8
Garage Clearance Stockwell, SW8
Garden Rubbish Removal Stockwell, SW8
Electronic Waste Collection Stockwell, SW8
Building Waste Removal Stockwell, SW8
House Clearance in Stockwell is Made Simple with Our Professional Service
Call 020 8610 9182 today and see for yourself why so many people are turning to the skills of our experienced Stockwell house clearance team. Take the headache out of clearing your home as you prepare to enter a phase of your life that will require less constantly house cleaning and dusting. Everyone who has downsized before understands that house clearance Stockwell, SW8 can be a real pain, but it does not have to be. Let the joys of that clutter-free existence start before you even leave your home, by hiring us to get rid of your mess for you!
Call today and book one of our affordable house clearance services SW8
If you have rubbish that you need removed, don't give it a second thought, call 020 8610 9182 now and speak to one of our helpful staff. We promise professionalism from the start and will only treat you with the upmost respect. We won't charge you over the odds and offer a fantastic house clearance service in Stockwell from start to finish. Don't try and take on the mess yourself – book us now and let us do it for you. We'll use our expertise in the field to take away your junk, recycle what we can and dispose of the rest properly. We will deliver a cost-effective service in SW9 that will blow your mind! Call us now for the best deal on Stockwell house clearance SW8 possible and your free quote.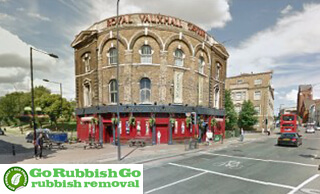 What Stockwell Has To Offer
Stockwell is an up-and-coming area in the London Borough of Lambeth that is 2.4 miles southeast of the central Charing Cross area. With its own tube stop on the Victoria and Northern tube lines, it is well-connected to the popular neighbouring districts of Clapham, Brixton and Kennington. Known for its large areas of social housing, it is one of the poorest areas of London and has relatively low house prices. Despite this, it has managed to retain some of its original beauty and has a flourishing conservation area. Places of interest in the area include Stockwell Bus Garage, Stockwell War Memorial Clocktower, London Deep Level Shelters and Jean Charles de Menezes Memorial. With a revival of fortunes and a large Portuguese community, it is now considered to be increasing in popularity and has a vibrant multi-cultural vibe with many restaurants, bars and shopping outlets.