House Clearance Tooting SW17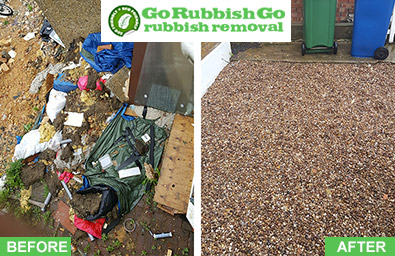 If you are looking for house clearance services in Tooting SW17 then turning to the professionals at Go Rubbish Go is going to be your best bet.
Whether you have an aging parent or relative who you are trying to move into assisted accommodation or you are just trying to remove the clutter from your own home, our professional Tooting house clearance SW17 service is truly the way to go. This is because our experts have the skills to do a speedy and efficient house clear-out. They are not going to dawdle and meander like your ungrateful nephew. Therefore, our SW18 house clearance company is well worth it! Get a free estimate today by booking with us on 020 8610 9182!
Hire Cheap House Clearance Services in Tooting
The price for hiring a professional company isn't even that much more expensive than your ungrateful nephew would be. Don't believe us? Our house clearance Tooting, SW17 company only charges for the rubbish that is removed from your property. That's right – if you only have one closet full of clutter that you want removed, you will only be charged for the waste that is pulled from that closet and disposed of. We won't charge you for the estimate or the recycling part of the process. The house clearance price changes only depending on how much rubbish is hauled out of your home. There are no hidden fees. Want to find out more? Call us now and see the value for yourself!
Why We Are The Best Choice for SW17 House Clearance?
We are the number one choice for everyone in Tooting SW17 looking to clear space in their homes because we do the job right the first time. That's right – with years of experience under the belts of all of our employees, our house clearance skills are far above par. We know what to remove and what to leave, we are gentle with the goods you want to keep, and efficient in removing the rubbish that you want out of your sight. Trustworthy and reliable, our fully-vetted house clearance Tooting team is easily the safest group of people you could invite into your home.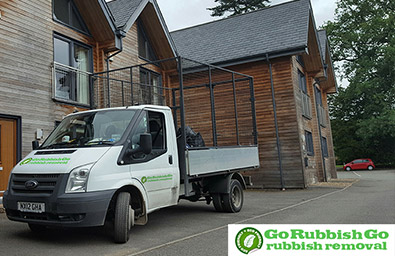 Book Our House Clearance Service in Tooting SW17 to Clear Physical and Mental Space
Using eco-friendly house clearance techniques when necessary, Go Rubbish Go improves the state of your home by removing the clutter that can cause mental and physical fatigue. Living in a cluttered home is overwhelming and exhausting even if it does not seem so on a day-to-day basis. Removing that clutter not only improves the environment in which you and your family live, it also clears up a lot of mental space. Constantly thinking about the stuff that you have, and whether or not that stuff is of any use is very tiring. Hiring our SW17 house clearance Tooting service to haul away the rubbish will clear your mental and physical environment right up. Contact us on 020 8610 9182 and see for yourself!
List of services we provide in Tooting, SW17:
Household Rubbish Clearance Tooting, SW17
Commercial Rubbish Disposal Tooting, SW17
Garage Clearance Tooting, SW17
Garden Rubbish Removal Tooting, SW17
Electronic Waste Collection Tooting, SW17
Building Waste Removal Tooting, SW17
Do Yourself a Favour and Hire Our Professional House Clearance Service in SW17
The benefits of hiring our team in SW18 as described above are tremendous. The benefits to your own feelings of joy in finally clearing out that pesky closet or your mother's enormous home, however, are priceless. Do yourself a favour and remove the headache of clearing the rubbish in your life. Outsource the house clearance to our team in Tooting who will get the job done in a timely and efficient manner. Allow yourself the privilege of living in a clutter-free home by calling in our house clearance SW17 professionals to bring you peace of mind and peace of home. You deserve the opportunity to outsource the pesky side-jobs. A big task like moving a parent into assisted accommodation has a lot involved, let Go Rubbish Go take over the side-work of removing the clutter. Get a free quotation with no strings attached by dialling 020 8610 9182 today!
Why hire our house clearance team in Tooting?
Not only are we professional in our work and will dispose of any and all items correctly, we also have years of experience in Tooting, SW17 house clearance. Our knowledge of the SW17 and SW18 areas helps us to navigate a quick path to your home and to the nearest area we can dispose of your items. We understand that fly-tipping is a huge problem, it's not only an eyesore but it harms the environment. Therefore, we don't wish to perpetuate this and will get rid of your waste in a legal, safe, professional way. Call 020 8610 9182 today and speak to one of our friendly team about booking with our Tooting house clearance company.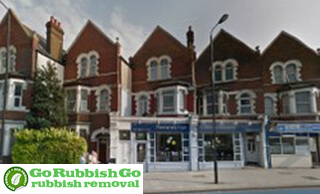 Explore the Delights of Tooting
Found in South London, within the Borough of Wandsworth, Tooting existed as a settlement even before Saxon times, but it developed as a London suburb around the end of the Victorian era. Tooting Library was first opened in 1902, and it was extended in 1906 and refurbished in 2012. Granada Cinema was opened in 1931 and now its art deco building is Grade I listed and home to the Gala Bingo Club. The Tooting Bec Lido, located in the Tooting Commons, is a large swimming pool that serves the local community. There's a conservation area here too – the Totterdown Fields estate. There's a railway station located within the area and three more found nearby.