House Clearance Canning Town E16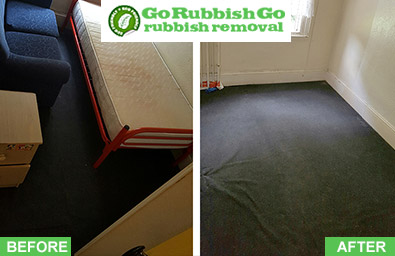 Have you heard about house clearance Canning Town but are feeling unclear on what it is all about? Do you have friends who seem to endlessly get rid of their belongings yet never have bags of things to donate lying around their entryways?
These two scenarios may well benefit each other. Those friends who choose not to keep goods that provide no benefit to their current lives may well be hiring Canning Town, E16 house clearance services to assist them in ridding themselves of those unnecessary goods. Unsure on what that entails? Professional services like ours simply come into your home, and cart away the waste that you no longer want. You do not have to travel to the donation centre, nor do you have to carry all those bags of belongings down stairs. We come in and do all the heavy lifting for you. Book now on 020 8610 9182 and see for yourself!
Hire cheap House Clearance Services in Canning Town
One of the reasons that so many customers refer to us and continue to seek out our services for their E16 house clearance needs is our reasonable pricing structure. We only charge you for the rubbish that we remove from your home. That's right – our pricing structure is set by you. If you want a single closet worth of goods hauled away, we only charge you for that rubbish. At Go Rubbish Go we will not charge for the recycling process because this is part of our commitment to nature. And there is no limit to how much rubbish we will cart away for you. We are a professional service and with that professionalism comes a fair pricing strategy. We keep our services affordable so you will feel comfortable returning to us for your future E16 house clearance Canning Town needs.
What Is Your Canning Town House Clearance Service E16 Like?
We are a professional and experienced Canning Town house clearance E16 company that has years' worth of customer referrals backing up the work that we do. Ensuring to only hire professional and experienced E16 house clearance experts, we know what it takes to come into your home and put your mind at east about the belongings that you are trying to dispose of. We work quickly and quietly, and we strive to always be on time to every appointment. We know that you are busy and have places to be. We do not want you to have to wait around for us all day, just to have us get rid of rubbish you did not want in the first place. Contact us now and find out more about our same day services!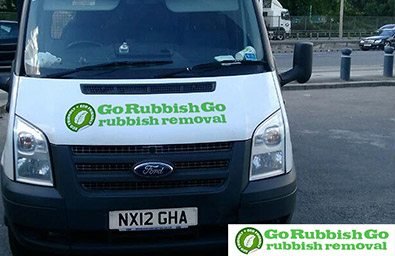 House Clearance in E16 Leads to Mind Clearance
Let our house clearance Canning Town, E16 team remove the clutter in your mind about all the stuff that you have lying around your house. The mental health benefits of having a rubbish-free house are tremendous and you would do well to engage our services if you have found yourself feeling overwhelmed by the amount of junk your house is holding. We can appease your worries and calm your mind, so call us today! Let us help you with your house clearance needs. Let us do what we do best – help you with your house clearance E16 requirements so that you can have a calmer mind and a cleaner home. Call us on 020 8610 9182 and you will receive a free quote with no obligation required!
List of services we provide in Canning Town, E16:
Household Rubbish Clearance Canning Town, E16
Commercial Rubbish Disposal Canning Town, E16
Garage Clearance Canning Town, E16
Garden Rubbish Removal Canning Town, E16
Electronic Waste Collection Canning Town, E16
Building Waste Removal Canning Town, E16
Why Hire Our House Clearance Company In Canning Town And Not Anyone Else?
Because Go Rubbish Go is the best one in Canning Town, really! And it is not us who are saying this, but the people who have worked with us before. We understand that you may be a bit reticent right now, but if you talk to anyone who has hired us before, you will learn that we truly keep our promises and that we do deliver the very best there is in terms of Canning Town house clearance. We are dedicated, professional, reliable and always there to help you out – even with E16 same day house clearance service too. Thus, calling us on 020 8610 9182 will bring some of the very best people right at your footsteps, to take care of the waste that has piled up.
Do Our E16 House Clearance Team Work In An Environmentally Friendly Way?
For many of you, the issues related to the environment are very important – and they are very important for us as well. We take our mission as a house clearance company as one that belongs to the community located around Canning Town, E16 – and for this reason, we believe in being truly friendly with the nature that accommodates us all. Whatever type of junk we may remove from your property, we will make sure to dispose of it in an appropriate way and to make sure that it will not hurt the environment in any way. This way, we can be comfortable with the idea that our actions have not harmed the nature around us. We offer the safest Canning Town house clearance services in the E16 area.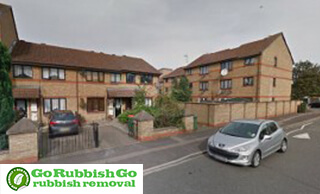 Getting Acquainted with Canning Town
Canning Town can be found in the London Borough of Newham in East London and occupies the site on the northern bank of the Thames where the London docks used to be. Poplar, Plaistow, Silvertown, West Ham and North Woolwich are all located nearby. Rathbone Market is a large local market and there's a modern development with the same name adjacent to the market square. Although located close to fast-developing areas such as the Docklands, the area remains one of the most deprived in the UK, but there are extensive plans for its regeneration. Canning Town station has tube services on the Jubilee line and also DLR services.