Rubbish Removal Earlsfield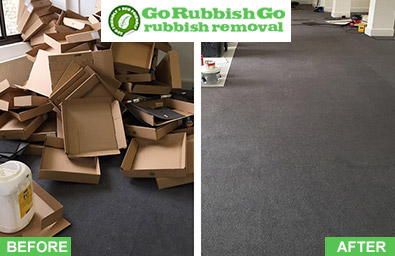 Don't like getting your hands dirty? Don't worry. You won't have to if you use our professional and reliable rubbish removal Earlsfield services today!
Whether you have just had a home renovation or you've been having your own personal clear out, we are always right here, just a phone call away, if you ever need help in getting rid of all that junk. Instead of you having to deal with paperwork, permits and all the rest, let us take the rubbish away properly. We will do it all with ease. Our Earlsfield rubbish clearance service is ideal for anybody who doesn't have time or energy to clear away the rubbish they have accumulated themselves. So if you need help, just call 020 8610 9182 today and you will get expert assistance as well as a free quote! Go on and treat yourself to professional help.
Book Cheap Rubbish Clearance Service in SW18
Nobody wants to pay over the odds for rubbish removal, do they? And why should you? We do not believe in charging a fortune for our SW18 waste clearance services available in the SW18 district and that is exactly why our prices are the best value for money around. You get more than what you pay for with us! Generally, as a word of advice, when you are searching for a company to help you with your waste removal Earlsfield, SW18, if their prices seem too good to be true, as the old saying goes, it's probably because they are. So do bear that in mind when choosing a company. You don't want to be let down. While you may be paying a lot less, you might be getting awful quality services. Do not risk it! Go Rubbish Go is the most amazing company around and we offer the most cost-effective services. We are confident we will meet your budget.
Why Should Our Earlsfield Rubbish Removal Service Be Your First Pick?
Of course, there are dozens of companies out there offering rubbish removal services but that certainly does not suggest that they are all worthy of using. A lot of companies out there are in Earlsfield providing clients with less than suitable and professional rubbish disposal SW18 services. So, hiring us would be your best bet. Why? Because we are one of the most professional companies around and we won't let you down. We have been operating in the SW18 region for many years now and we have a huge and loyal clientele to prove it. So instead of waiting around feeling sorry for yourself or worrying about who to hire, take a few minutes out of your day to call us. We'll provide you with a quote for free if you call 020 8610 9182 now!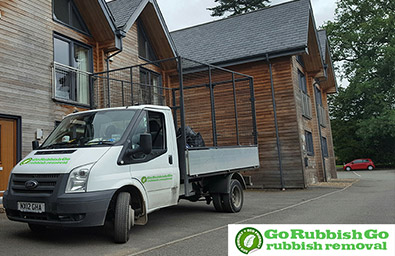 Testimonials
I was planning on renovating my entire house in Earlsfield but I first had to get rid of all the old junk to make some room. Hired this team for the waste collection and they delivered superb results. Will tell all my friends in SW18 about your great work! Thanks!

Why Does Using a Professional SW18 Waste Removal Service Beat Doing It Yourself?
Clearing away your own rubbish may seem appealing because you don't have to worry about costs and hiring a company and so forth. However, it isn't always the wisest idea – especially if you don't have adequate amount of time. Unless you have plenty of time, experience and the right equipment, we suggest you hire us, the professionals, for top-quality rubbish removal within the SW18 area. When you let the experts help you out, you do not have to worry about taking hours out of your busy day to clear away your rubbish. If you need help with waste collection in Earlsfield, call us now on 020 8610 9182 and you will receive a free estimate! What are you waiting for? Use our waste disposal services now for amazing results.
List of services we provide in Earlsfield, SW18:
Household Rubbish Clearance Earlsfield, SW18
Commercial Rubbish Disposal Earlsfield, SW18
Garage Clearance Earlsfield, SW18
Garden Rubbish Removal Earlsfield, SW18
Electronic Waste Collection Earlsfield, SW18
Building Waste Removal Earlsfield, SW18
We Are the Most Eco-friendly Earlsfield Waste Collection Company Around
If you want to find someone tackle your waste disposal in SW18, Earlsfield, you will get the most eco-friendly service as long as you hire Go Rubbish Go. The more waste you have, the more you need to dispose of, and this is why we try to do it in as green a way as possible. Landfill dumping is one of the worst rubbish removal methods of all. Millions of tons of waste fill up landfills in the UK and this is doing so much harm to our environment. It's one of the biggest causes of global warming. That is why we try to recycle everything we can, to make our service as eco-friendly as we can.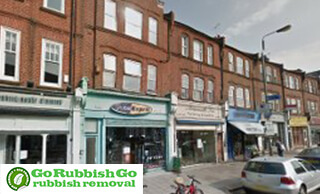 Get Some Peace and Quiet in Earlsfield
Earlsfield is the quintessential London suburb – located in the Borough of Wandsworth, it is relatively close to the centre of the city yet not as popular as nearby areas like Clapham, Battersea, Balham or Tooting. Comprising chiefly residential properties from the Victorian era and a high street with bars, restaurants and shops, Earlsfield offers a peaceful atmosphere to its close to 13 000 inhabitants, many of which are young families. The River Wandle passes through the area and Tara Theatre, operated by Tara Arts theatre company, can be found in Garratt Lane. Other points of interest include Earlsfield Library, St Andrew's, St Gregory's and Earlsfield Baptist Church. Earlsfield railway station has services to Central London and South London.